Mediterranean Salad with Toasted Pita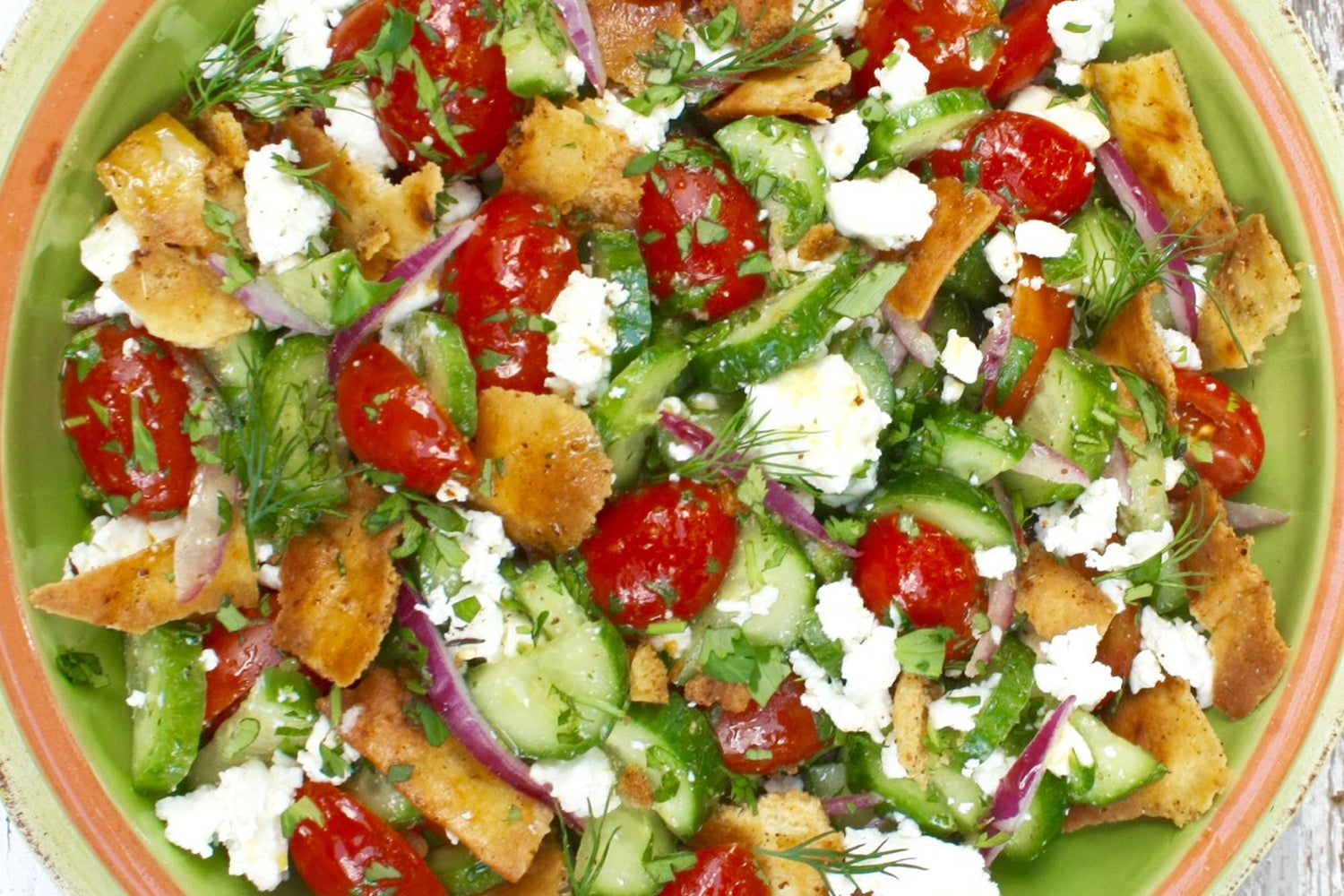 Mediterranean Salad with Toasted Pita
About this recipe:
Sometimes, during the holiday months we just 
crave
 whole veggies. With all the holiday parties, and extra cookies at the office, it's important to balance your body with a fresh salad - filled with refreshing ingredients. Trust us, this Mediterranean salad isn't all vegetables though - delicious toasted pita drizzled with EVOO does just the trick.
Ingredients
3 TBSP. Kosterina extra virgin olive oil
2 tsp. za'atar
2 6-inch pitas, sliced in half crosswise and ripped into 1-inch pieces
2 Persian cucumbers, unpeeled, cut lengthwise, then crosswise ½ inch thick
1 cup cherry tomatoes, cut in half
¼ cup small red onion, sliced paper thin, or minced
¼ cup fresh parsley, minced
¼ cup fresh mint, minced (optional)
1 TBSP. fresh dill (optional)
½ cup Greek feta cheese, crumbled
For the Olive Oil-Lemon Vinaigrette:
½ cup Kosterina extra virgin olive oil
¼ cup lemon vinegar
1 tsp. dried Greek oregano
1 med clove of garlic, minced finely, or grated in the microplane
1 tsp. sea salt
¼ tsp. black pepper
Directions
Preheat oven to 350°
In a small bowl, mix the Kosterina extra virgin olive oil and the za'atar. Cut the pita into pieces and add them to the bowl. Toss well to coat and spread on a parchment-lined baking sheet. Toast the pita, tossing once, until golden and crisp, about 10–15 minutes. Let cool and set aside.
Make the simple vinaigrette. Place all ingredients in a glass jar and shake well.
Place the vegetables and the fresh herbs in a large bowl. Pour two thirds of the vinaigrette over the vegetables and mix well. Next, add the pita chips and the crumbled feta and toss gently to coat. Taste and adjust the seasoning. If necessary, add more vinaigrette.
Serve the salad at once.
Shop Mediterranean Essentials