Greek Style Air Fryer Chicken Wings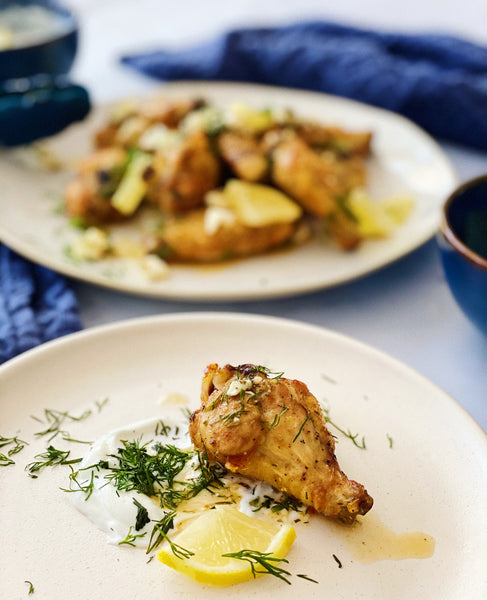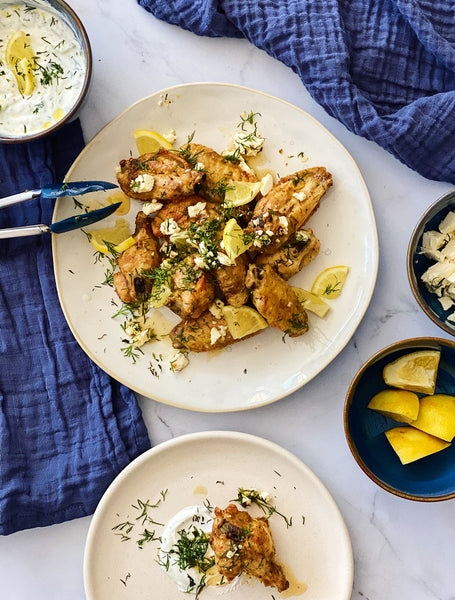 Greek Style Air Fryer Chicken Wings
About this recipe:
Our 
Greek Herb & Lemon Olive Oil
 is the secret to these delicious air fryer chicken wings. We gave these a Mediterranean kick by spicing them with some fresh herbs and chunks of feta for a salty, creamy punch. Serve them with our Tzatziki sauce for the perfect dip!
Ingredients
For the Sauce:
1 lemon, juice and zest
1 Tablespoon dried oregano
1/4 cup chopped dill
1/2 cup feta, chopped into small pieces
Directions
For the Chicken Wings:
Cut up chicken and place on a paper towel lined baking sheet. Put in the refrigerator for 1 hour.
Remove from oven, allow to come to room temp.
Drizzle with oil and sprinkle with salt, pepper and onion powder.
Air fry at 375 degrees for 12 minutes. Flip and cook for 12 minutes more.
Increase temp to 400 for 5 minutes.
While wings are cooking, make the sauce.
For the Sauce:
Mix all the ingredients (except feta) in a large bowl and whisk to combine.
Add hot wings to the sauce and toss to coat. Add feta and toss again.
Serve with Kosterina Tzatziki sauce for the ultimate dipping sauce.
Shop Mediterranean Essentials