Smoked Salmon & Cucumber Bites with Cool Buttermilk Sauce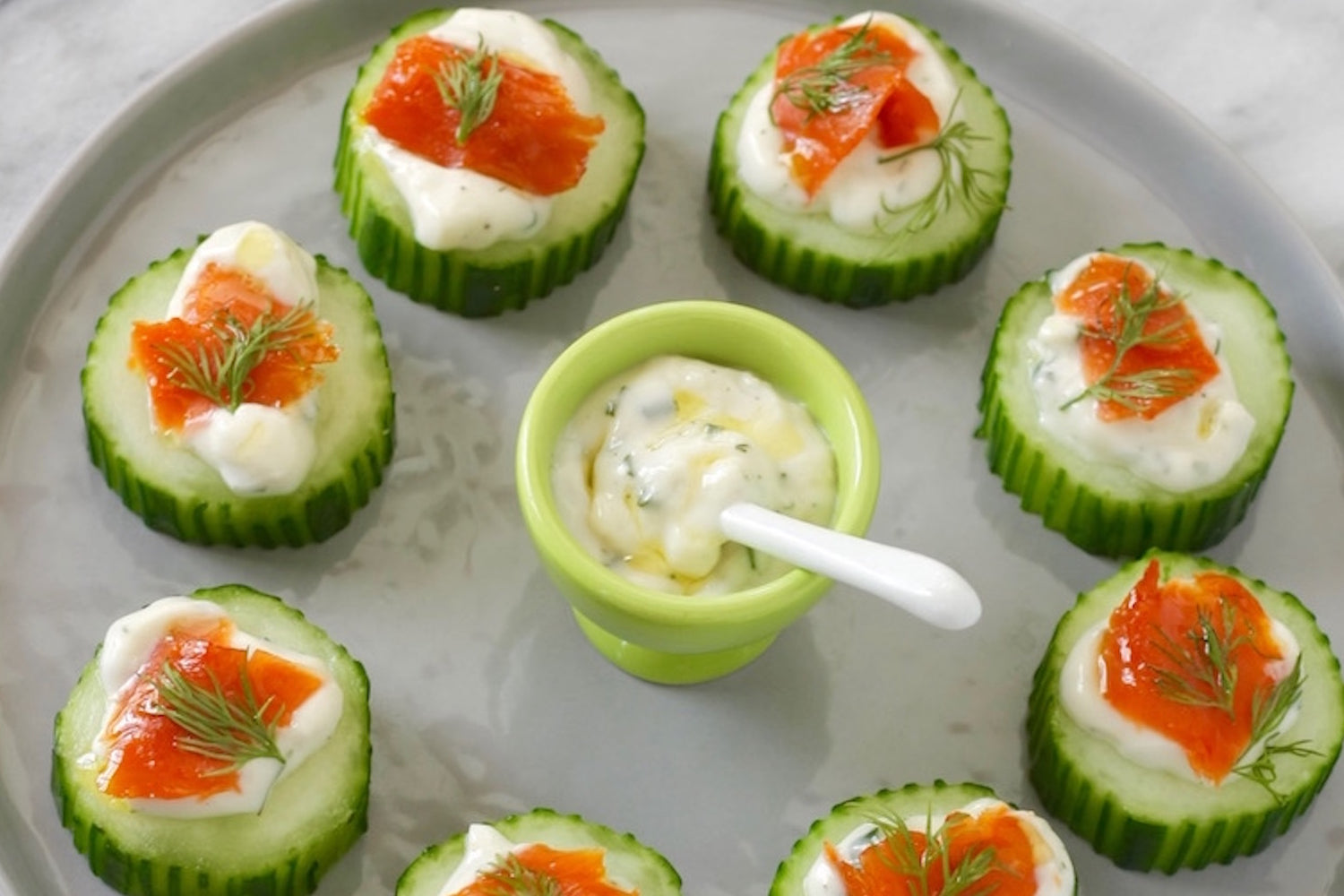 Smoked Salmon & Cucumber Bites with Cool Buttermilk Sauce
About this recipe:
This dish is a perfect after-work snack or party appetizer that combines veggies and protein. 
Ingredients
1 large English cucumber
3-4 oz. wild Alaskan smoked Sockeye salmon
¼ cup cool Buttermilk-Ranch sauce (recipe follows)
fresh dill
Kosterina extra virgin olive oil
For the Cool Buttermilk-Ranch Sauce:
¼ cup buttermilk
¼ cup sour cream
¼ cup light mayo
½ tsp. fresh lemon juice
½ tsp. Dijon mustard
1 TBSP. fresh dill
½ tsp. fresh chives
¼ tsp. salt
pinch of freshly ground pepper
Directions
Wash the cucumber and peel it with a serrated peeler, or, score it lengthwise with a fork (you can also leave it unpeeled, if you prefer). Slice it in thick pieces and place on paper towels to dry slightly.
Separate the salmon slices and cut them into smaller pieces. 
Place the cucumber pieces on a serving platter and top with the smoked salmon, a dollop of the Buttermilk-Ranch sauce, a sprig of dill, and a drizzle of extra virgin olive oil. Serve at once.
For the Cool Buttermilk-Ranch Sauce:
Whisk together the buttermilk, sour cream, and mayo in a small bowl. Add the lemon juice, mustard, fresh dill and chives, salt, and pepper. Place in an airtight container and refrigerate. It tastes better after an hour in the refrigerator.
Author notes
You can store the sauce in the refrigerator for up to a week.
Shop Mediterranean Essentials