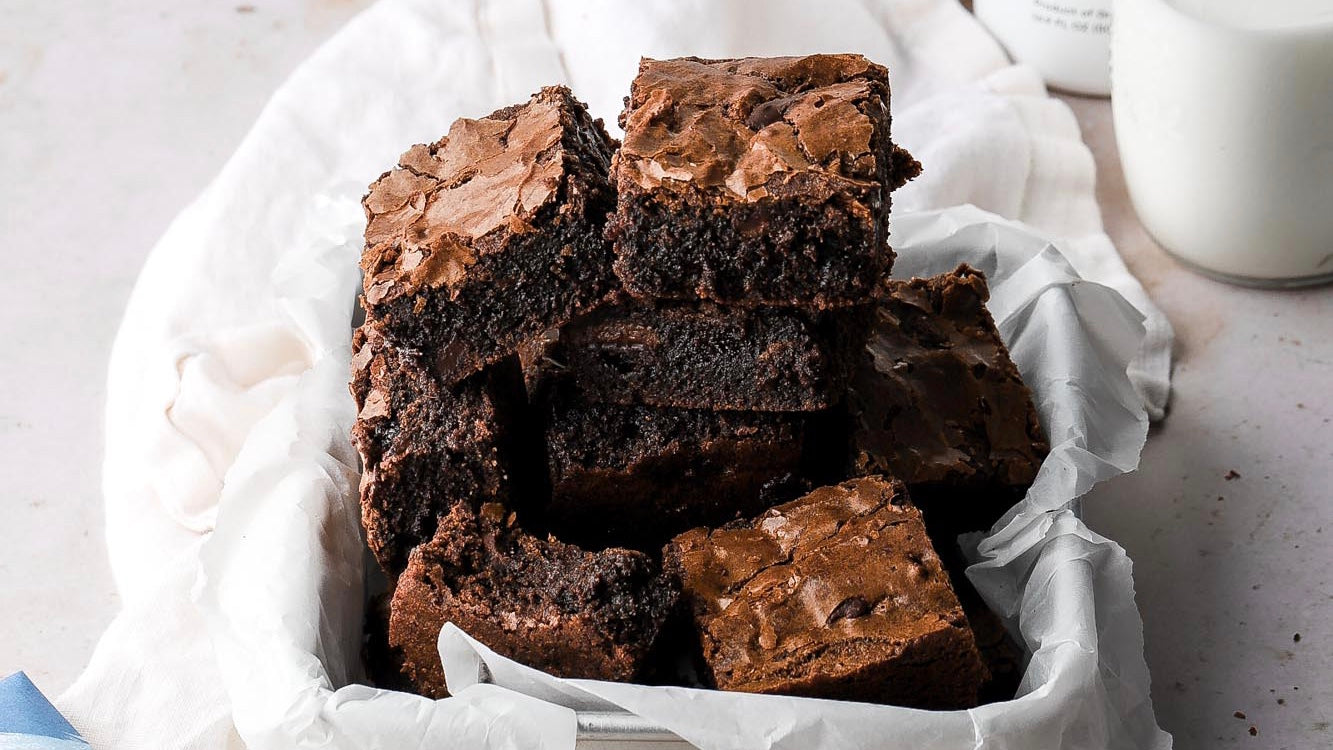 Olive Oil Brownies
About this recipe:
The stars of this brownie recipe are a perfect pair - our Original EVOO meets our Almond Butter & Vanilla Dark Chocolate. The result is a deliciously chocolatey treat with a dense, fudgey finish!
Ingredients
1 cup semi-sweet chocolate morsels
1/2 cup Kosterina Extra Virgin Olive Oil
1 cup flour
1/4 cup cocoa powder
1/2 tsp salt
4 eggs
1 cup granulated sugar
1/2 cup brown sugar
1 tsp vanilla extract
1 bar Kosterina Almond Butter & Vanilla Dark Chocolate
Directions
Preheat the oven to 325°F. Use cooking spray and parchment paper to grease and line an 8-inch square pan.
In a heat-safe bowl or saucepan, microwave the semi-sweet chocolate with the olive oil until smooth. Set the mixture aside to cool.
Combine the flour, cocoa powder and salt in a medium bowl.
Use a whisk to combine the eggs, granulated sugar and vanilla until they are just barely combined; Don't over-mix.
Slowly whisk together the chocolate mixture with the egg mixture.
Use a sieve to sift the dry the ingredients into the wet ingredients and fold together until just barely combined.
Cut the chocolate bar into small pieces and fold into the batter.
Pour the brownie batter into the prepared pan and bake for about 35 minutes, until the edges are visibly baked through and the center is set.
Remove brownies from the oven and allow the brownies to cool for about 30-60 minutes, until they can be sliced without falling apart.
Shop Mediterranean Essentials
Regular price
Sale price
$19.95
Unit price
per
Specifically crafted with cooks and bakers in mind.
Regular price
Sale price
$29.95
Unit price
per
Our highest polyphenol EVOO straight from Southern Greece.
Regular price
Sale price
$159
Unit price
per
Always have the Original on hand with a half case of 500ml (6 bottles).