Mediterranean Quinoa Salad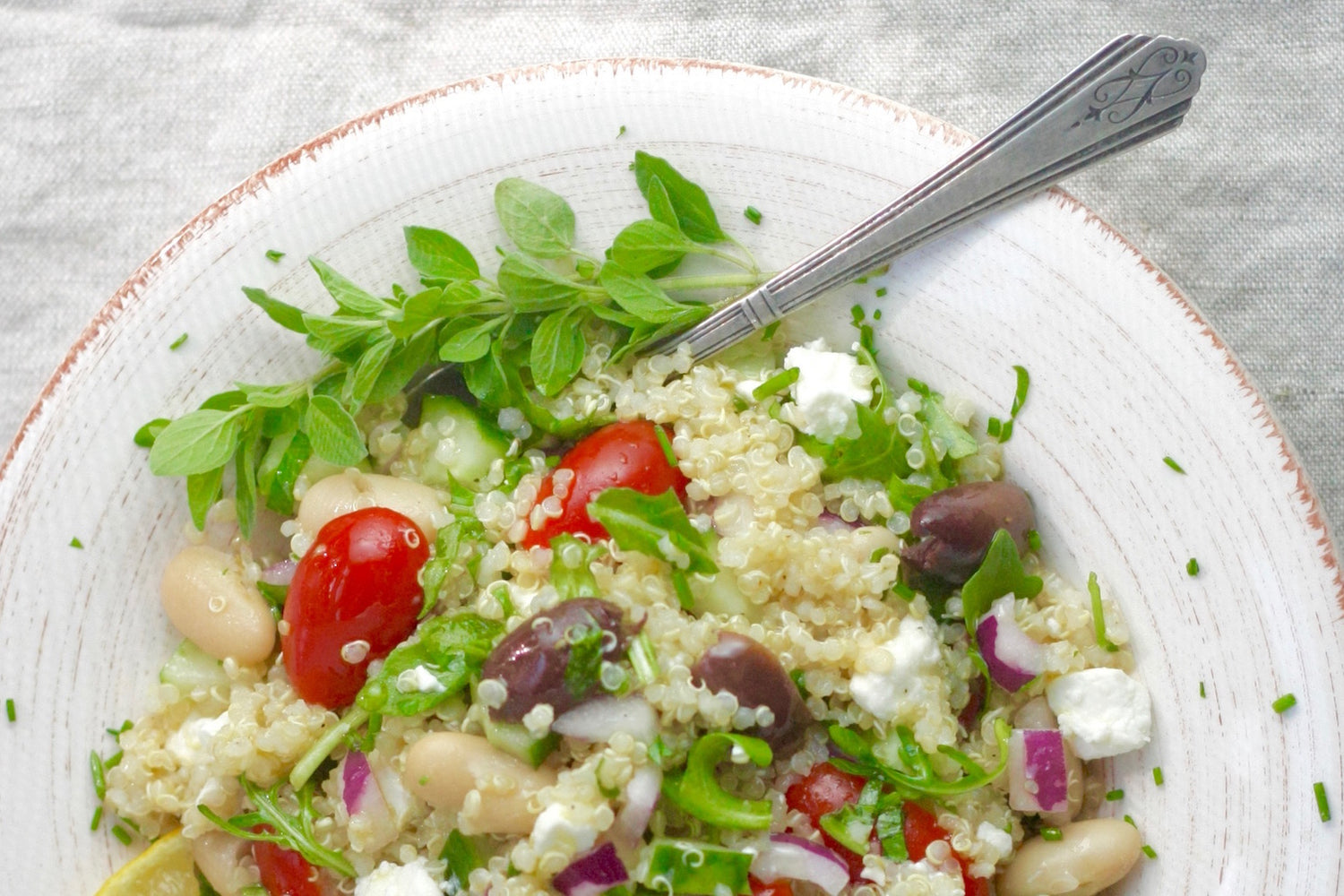 Mediterranean Quinoa Salad
About this recipe:
This light, fluffy quinoa salad has all of our favorite Mediterranean elements -- EVOO, lemon juice, olives, and feta cheese. Whip this dish together for an easy weekday snack or as a side for Sunday Night Dinner. 
Ingredients
1 cup white organic quinoa
2 cups water or vegetable stock
1 tsp. sea salt
¼ tsp. pepper
¼ cup red onion, diced
1 sm. garlic clove, finely diced
3-4 TBSP. fresh lemon juice
¼ cup Kosterina extra virgin olive oil
¼ tsp. dry oregano
1 – 15oz. can of Cannellini beans, drained and rinsed
1 cup cherry or grape tomatoes, cut in half
½ cup Kalamata olives, pitted, cut in half
½ cup baby arugula, roughly chopped
2 TBSP. fresh parley, finely chopped
4 oz. Feta cheese, crumbled (or cubed)
salt & pepper to taste
1 TBSP. fresh chives, minced (optional)
Directions
Rinse the quinoa very well in a strainer under cold water. Put the quinoa, salt, pepper, and water into a small saucepan and bring it to a boil. Cover and simmer gently until the quinoa absorbs all the water, or about 15 minutes. Remove from heat and let sit for 5 minutes. Place into a large bowl and fluff it up with a fork to help it cool quicker.
While the quinoa is cooling, prepare the ingredients for the rest of the salad. Soak the red onion and the garlic in the lemon juice and set aside. (This helps to take the edge off.)  
When the quinoa has cooled add the red onion, the garlic with the lemon juice, and mix well. Fold in the rest of the ingredients and mix gently to combine. Last, add the Feta. Taste and adjust the seasoning by adding more salt and pepper and olive oil or lemon juice if needed. Sprinkle with the chives and serve at room temperature or cover and refrigerate for an hour before serving.
Shop Mediterranean Essentials