Mediterranean Chicken Kebabs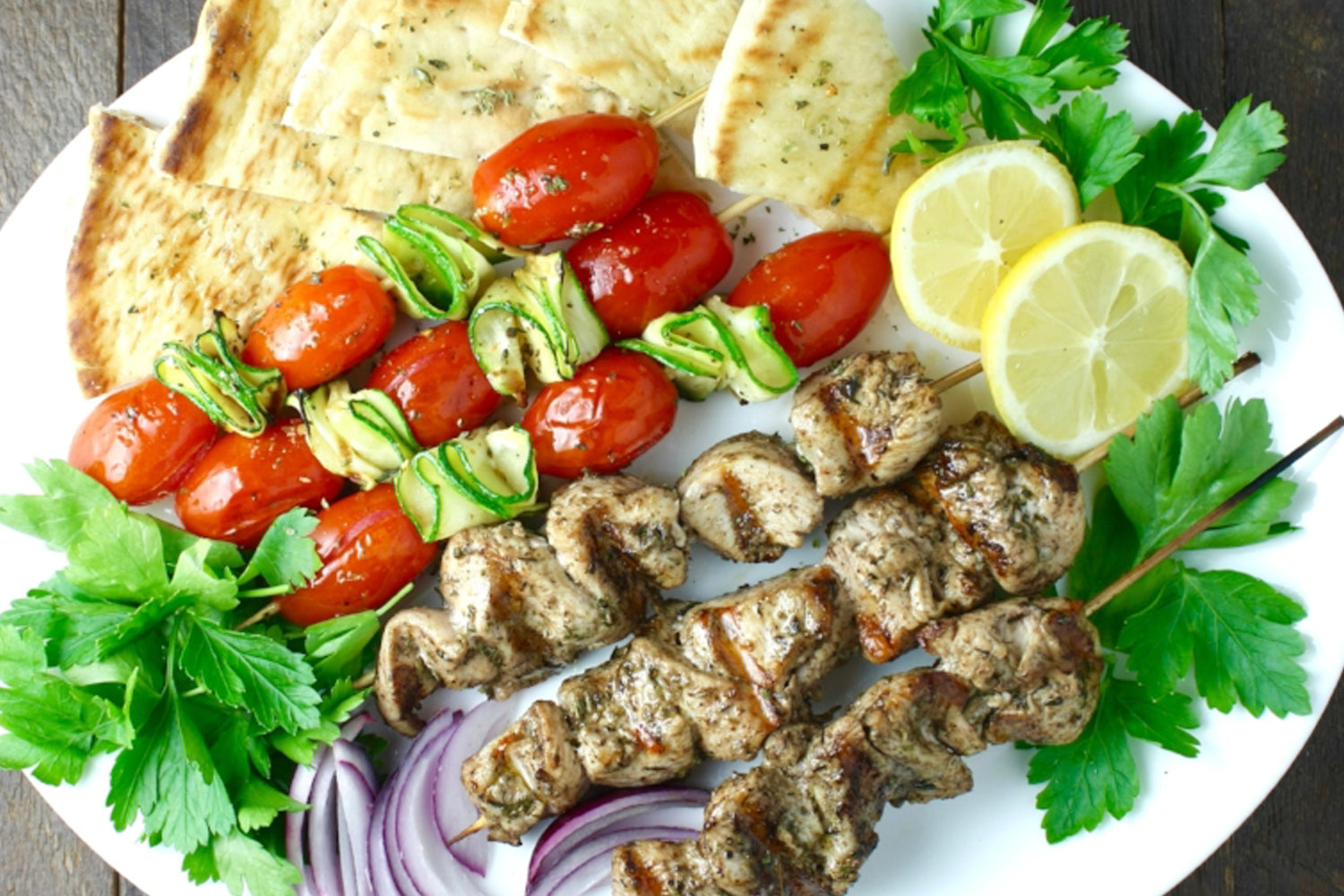 Mediterranean Chicken Kebabs
About this recipe:
Mediterranean Chicken Kebabs are a household favorite all year round. Easy-to-make, tasty, and packed with protein, this dish is one that could make even the pickiest eater smile. Our Chicken Kebab recipe could be served alone, or with grilled vegetable kebabs, too!
Ingredients
3 medium boneless and skinless chicken thighs or chicken breasts (about 1 lb.)
¼ cup Kosterina extra virgin olive oil
1-2 TBSP. fresh lemon juice
1 tsp. mustard
1 tsp. fine sea salt
½ tsp. freshly ground pepper
2 tsps. fresh thyme
1 tsp Greek dried oregano
½ tsp. paprika 
½ tsp sumac
toasted Greek pita wedges
red onions, chopped
fresh parsley, minced
Directions
Dry the chicken well with paper towels. Trim it and cut it in pieces, about 1" to 1½".
Prepare the marinade: In a large bowl mix the Kosterina olive oil, the lemon juice, mustard and all the seasonings. 
Place the chicken pieces into the marinade, cover and refrigerate for 4 hours. 
Soak the bamboo sticks for 30 minutes into water. Thread four to five pieces of chicken to the skewers.
Grill the chicken, basting it once with any of the marinade that is left in the bowl. Do not overcook.
Transfer the kebabs to a platter, cover with a piece of foil and let it rest for 5 minutes.
Garnish the serving platter with the grilled Greek pita bread wedges, red onions, and fresh parsley.
Author notes
If using a charcoal grill, grill the chicken over direct, medium-high to high heat for 4-6 minutes per side. If using a gas grill, grill the chicken over direct heat for 4-6 minutes per side with a grill temperature (lid closed) about 400°F- 450°F. If you are grilling vegetable kebabs too, choose hearty vegetables that are good for grilling. Place the vegetables (or vegetable chunks) in a bowl and toss them with some Kosterina extra virgin olive oil, salt, freshly ground pepper and Greek oregano and then thread them through skewers. Depending on their size, the cooking time should be just about the same with the chicken kebabs. Grill until you see some nice grill marks, turning every three minutes or so and brushing them with the seasoned Kosterina olive oil.
Shop Mediterranean Essentials