Pearl Couscous Salad with Feta, Olives and Fresh Herbs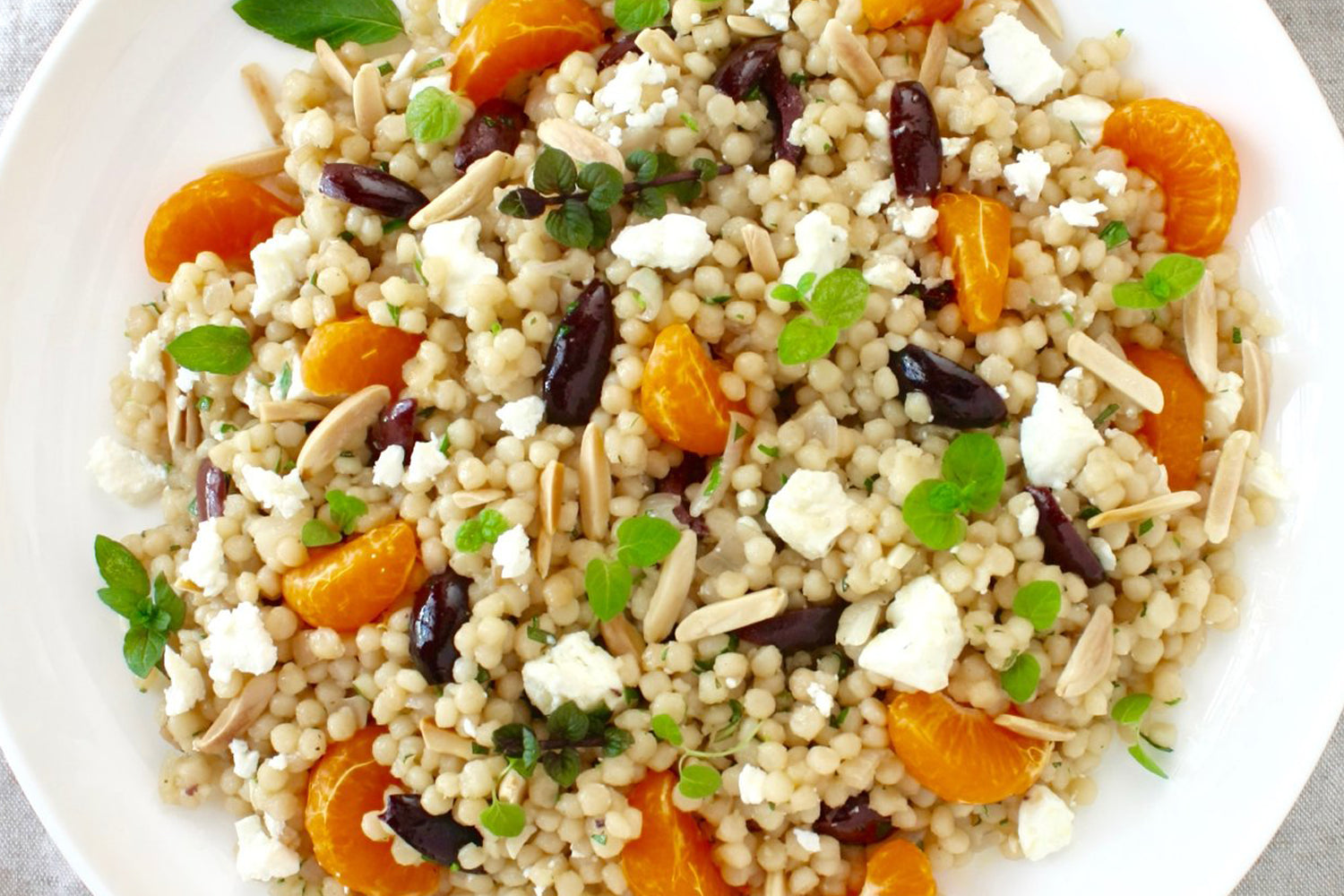 Pearl Couscous Salad with Feta, Olives and Fresh Herbs
About this recipe:
Whether you're looking for an easy-to-make weekday lunch, or a healthy side-dish for those upcoming holiday parties -- this Couscous salad is perfect. Enjoy on it's own, or with a simple, grilled protein.
Ingredients
½ cup slivered almonds
2 TBSP. Kosterina extra virgin olive oil
1 cup red onion, minced
4 med. garlic cloves, minced
1½ cups of Pearl couscous
2 cups low sodium chicken broth, or vegetable stock
¾ tsp. sea salt
¼ tsp. freshly ground pepper
5 TBSP. Kosterina extra virgin olive oil
3 TBSP. fresh lemon juice
⅓ cup pitted Kalamata olives, rinsed and cut in half
3 small seedless, juicy tangerines
3 TBSP. Italian parsley, minced
2 TBSP. fresh mint, minced
Directions
In a skillet over moderate heat, dry toast the slivered almonds until slightly golden brown, stirring frequently. Remove them from the hot pan and set them aside to cool.
In a medium saucepan heat two tablespoons of Kosterina extra virgin olive oil and add the onion. Cook until soft and translucent and then add the garlic. Cook the garlic and onions until the garlic is lightly browned. Then add the couscous and cook for a few minutes until lightly toasted. Add the stock, season with salt and pepper, and bring to a boil. Cover the saucepan, lower the heat, and simmer for about 8 minutes or until all the liquid is absorbed and the couscous is cooked.
Transfer to a medium bowl and pour five tablespoons Kosterina extra virgin olive oil and the lemon juice over the still warm couscous. Stir to combine and let it cool slightly. Taste and adjust the seasoning if needed.
When the couscous is at room temperature, fluff it up with a fork and fold in the olives and the tangerines segments. Next, add the herbs and the toasted almonds. Garnish the salad with some fresh, "young", mint leaves and serve.
Author notes
Enjoy this delicious and healthy salad as a lightly lunch or as a side dish next to a simple grilled protein.
Shop Mediterranean Essentials