Halloumi Cheese Saganaki with Blistered Tomatoes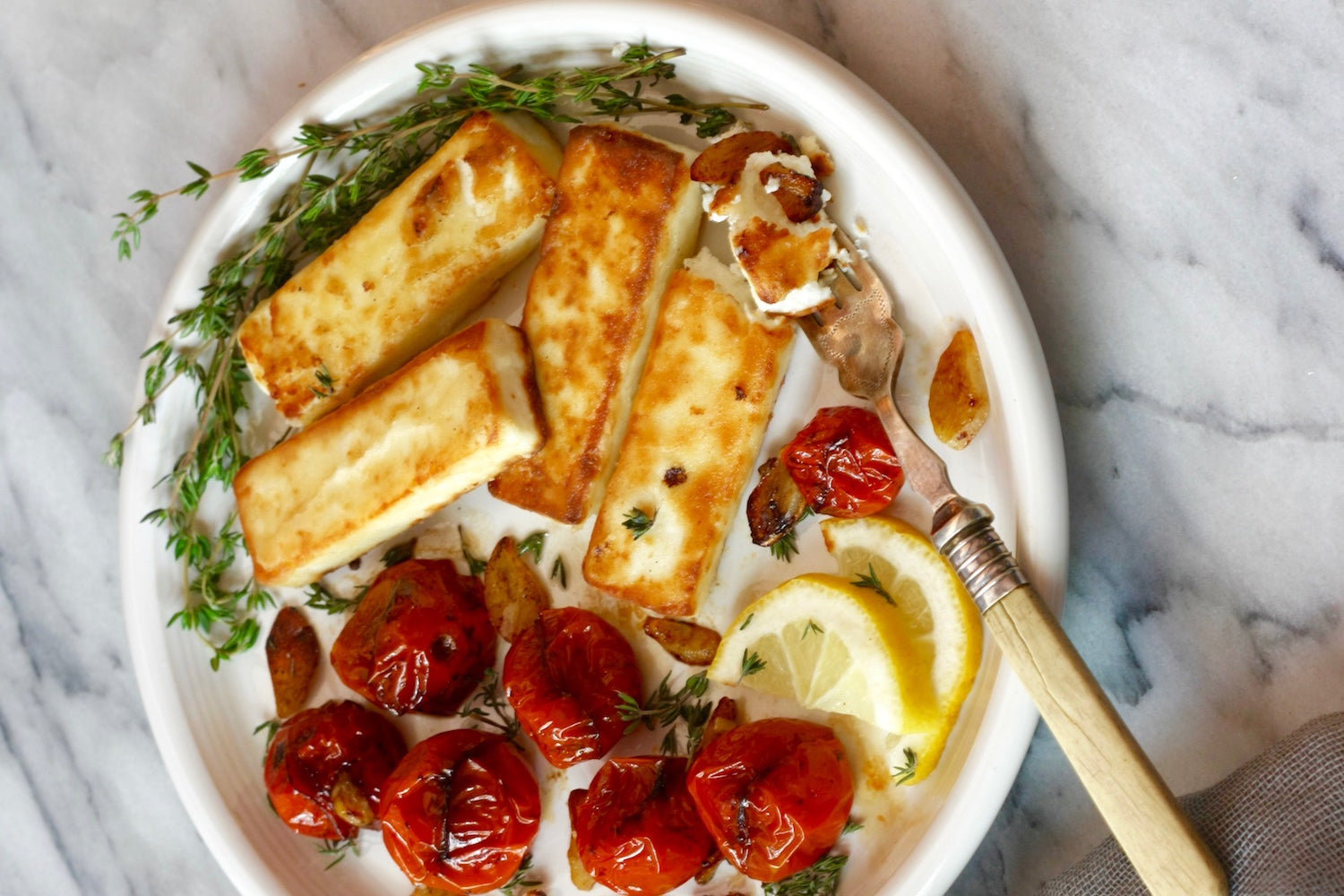 Halloumi Cheese Saganaki with Blistered Tomatoes
About this recipe:
Saganaki is a traditional, Greek dish that is 
oh
-so-tasty. This version of our favorite childhood dish is extremely simple to make - but also has some really easy additions that make it feel a little more fancy than what your Yiayia is cooking!
Ingredients
8 oz. small cherry tomatoes, whole
4 cloves of garlic, thinly sliced
4 TBSP. Kosterina extra virgin olive oil
3 fresh thyme sprigs
sea salt & freshly ground pepper
2 TBSP. Kosterina extra virgin olive oil
6-8 oz. Haloumi cheese
Directions
Wash and pat-dry the tomatoes. Set a large frying pan over medium heat. Add the 4 TBSP. of the Kosterina extra virgin olive oil and, once hot, add the tomatoes. Cook the tomatoes for about 6-7 minutes, stirring occasionally, until blistered. Towards the end of the blistering process, add the sliced garlic and the thyme sprigs and sauté lightly, making sure that the garlic does not burn. Season with salt and pepper and remove from the heat. 
Heat a second frying pan over medium heat. Slice the Haloumi cheese into eight slices. Add the two tablespoons of olive oil and when once hot, grill the Haloumi slices for about 2 minutes on each side, or until golden brown. 
Plate the blistered tomatoes and garlic slices next to the Haloumi, sprinkle with some coarse sea salt and serve warm.
Author notes
Haloumi is a soft, slightly salty cheese made from a blend of sheep's milk and cow's milk.  It is native to Cyprus, but you should be able to find this cheese in most markets.
Shop Mediterranean Essentials