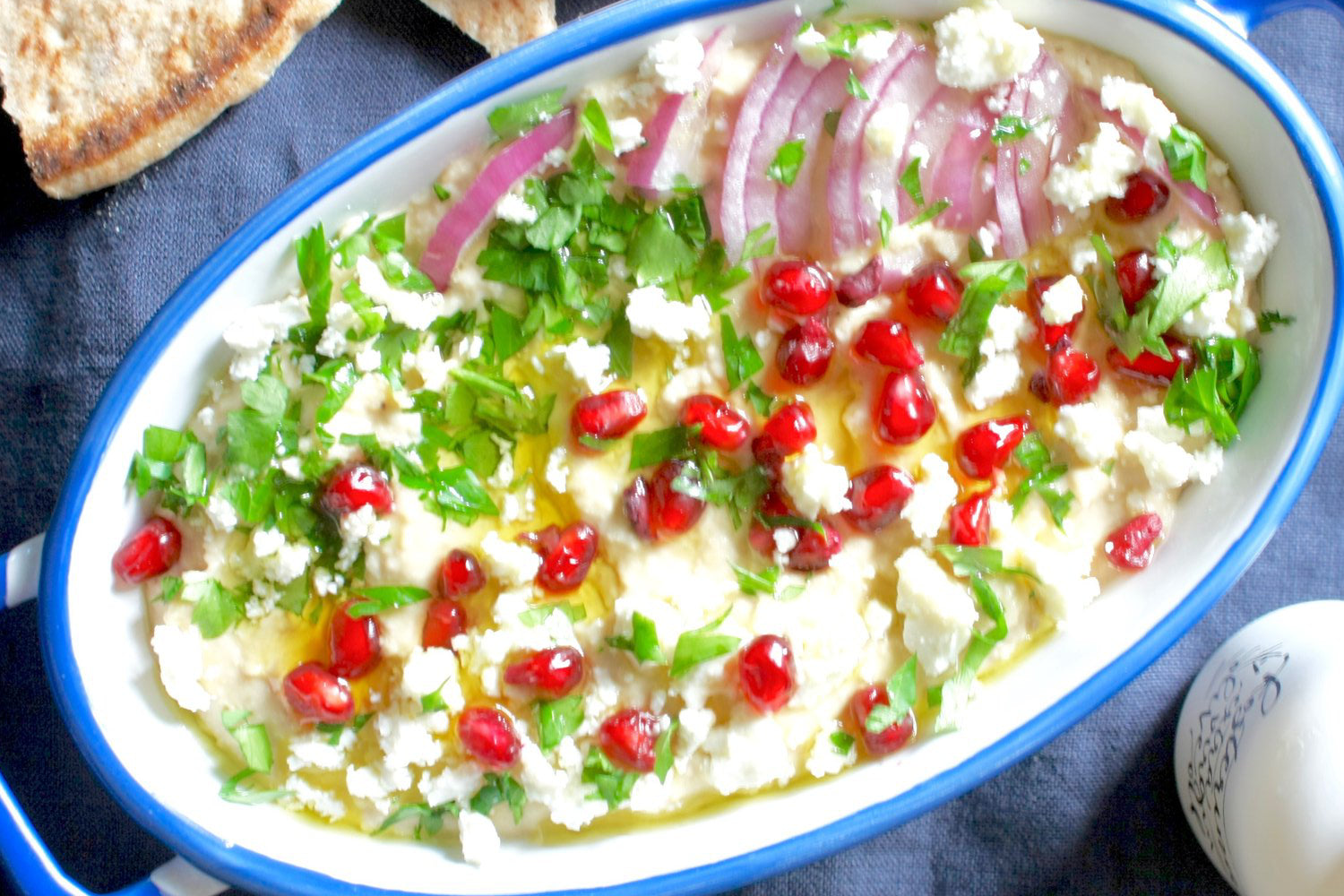 Greek Hummus
About this recipe:
Make your own hummus--with a Greek twist. Enjoy toppings of feta, pomegranates, and Mediterranean herbs for a tasty, healthy spread.
Ingredients
1 15 oz. can of Garbanzo beans, well drained
3 cloves garlic, chopped
¼ cup tahini (sesame seed paste)
3 TBSP. lemon juice
½ tsp. ground cumin
¼ tsp. Cayenne pepper
½ tsp. salt
⅓ cup Kosterina extra virgin olive oil
For the Toppings:
2 TBSPS. Greek Feta, crumbled
1 TBSP. fresh parsley, minced
red onion, thinly sliced
1-2 TBSP. pomegranate seeds
Kosterina extra virgin olive oil
For the Pita Chips:
3 med. Mediterranean pitas (pocketless)
1 TBSP. Kosterina extra virgin olive oil
¼ tsp. paprika (optional)
sea salt
Directions
Rinse the Garbanzo beans well under cold running water. Reserve a few for garnish and set aside (optional). Place in a bowl with lukewarm water and rub between your fingers to loosen up the peel. Discard the peel and rinse again.
In a food processor, purée the garbanzo beans, garlic, tahini, lemon juice, cumin, cayenne, and salt. Process, using long pulses, until the mixture is fairly smooth and slightly fluffy. Make sure to scrape the mixture off the sides of the food processor or blender in between pulses. Add the Kosterina extra virgin olive oil and mix again. Taste and adjust the seasoning. If the spread is too thick, add a tablespoon of water and mix again. Transfer to a serving bowl and refrigerate for at least 1 hour.
To make the pita chips: Heat the oven to 400°F. Cut the pita into wedges in a single layer on a baking sheet. Brush the tops lightly with Kosterina olive oil and sprinkle with some paprika and sea salt. Flip the wedges over and repeat with the other side. Bake the pita wedges for 10-12 minutes or until the chips are golden brown. Remove to a rack to cool.
Allow the hummus to come to room temperature. Top it with the Feta, parsley, sliced onion and Pomegranate seeds. Drizzle with some extra olive oil and serve with the toasted pita chips.
Author notes
The hummus can be made up to 3 days ahead and stored in the refrigerator. Serve at room temperature for optimal taste. Store bought hummus can also be used for this recipe.
Shop Mediterranean Essentials