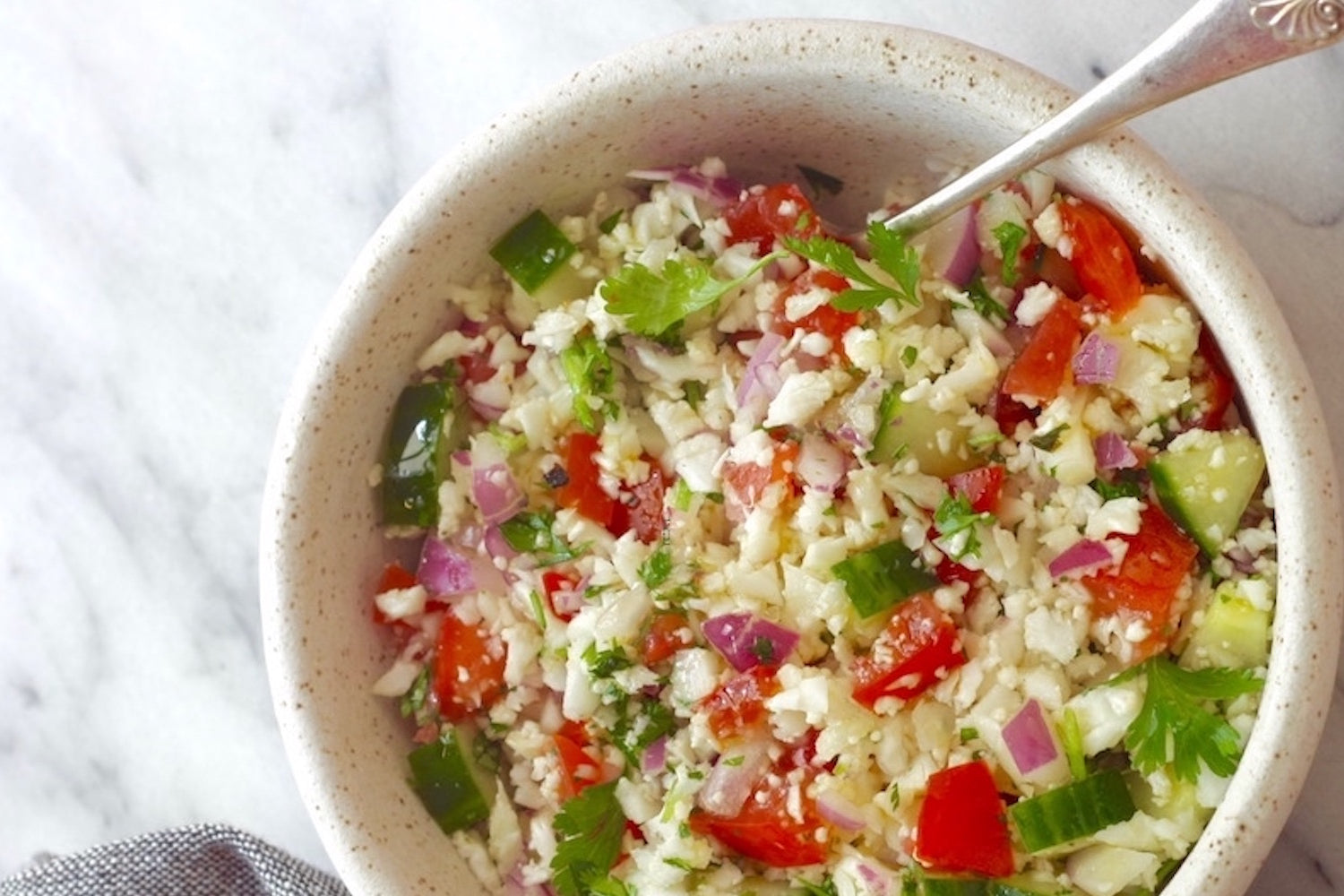 Cauliflower Rice Salad
About this recipe:
This fresh, versatile dish is all the things we love: packed with nutrients, vegan 
and
 gluten-free.
Ingredients
¼ head cauliflower, trimming off any leaves and the thickest part of the stem
8 oz. ripe grape tomatoes, quartered
¼ large English cucumber, scrubbed, seeded and diced
¼ cup diced red onion
1 small garlic clove, minced
1 cup fresh parsley leaves, minced
½ cup fresh mint leaves, minced
3 TBSP. Kosterina extra virgin olive oil
2 TBSP. fresh lemon juice
½ tsp. lemon zest
¼-½ tsp. sea salt
freshly ground black pepper
Directions
Cut the cauliflower into large florets, each with some stem attached. Place in the food processor and pulse until it becomes couscous-size grains. You should have about 2 cups of cauliflower rice as a result.
In a large bowl combine the grated cauliflower, tomatoes, cucumber, onion, garlic, parsley and mint leaves.
In a small bowl, whisk the oil, lemon juice, zest, sea salt and pepper. Pour the dressing over the cauliflower mixture and toss well to coat. Set aside for 20 minutes to allow the flavors to blend. Test and adjust the seasoning if necessary. The cauliflower rice salad can be stored in an airtight container for up to three days. 
Shop Mediterranean Essentials