Arugula, Orange, Beet & Goat Cheese Salad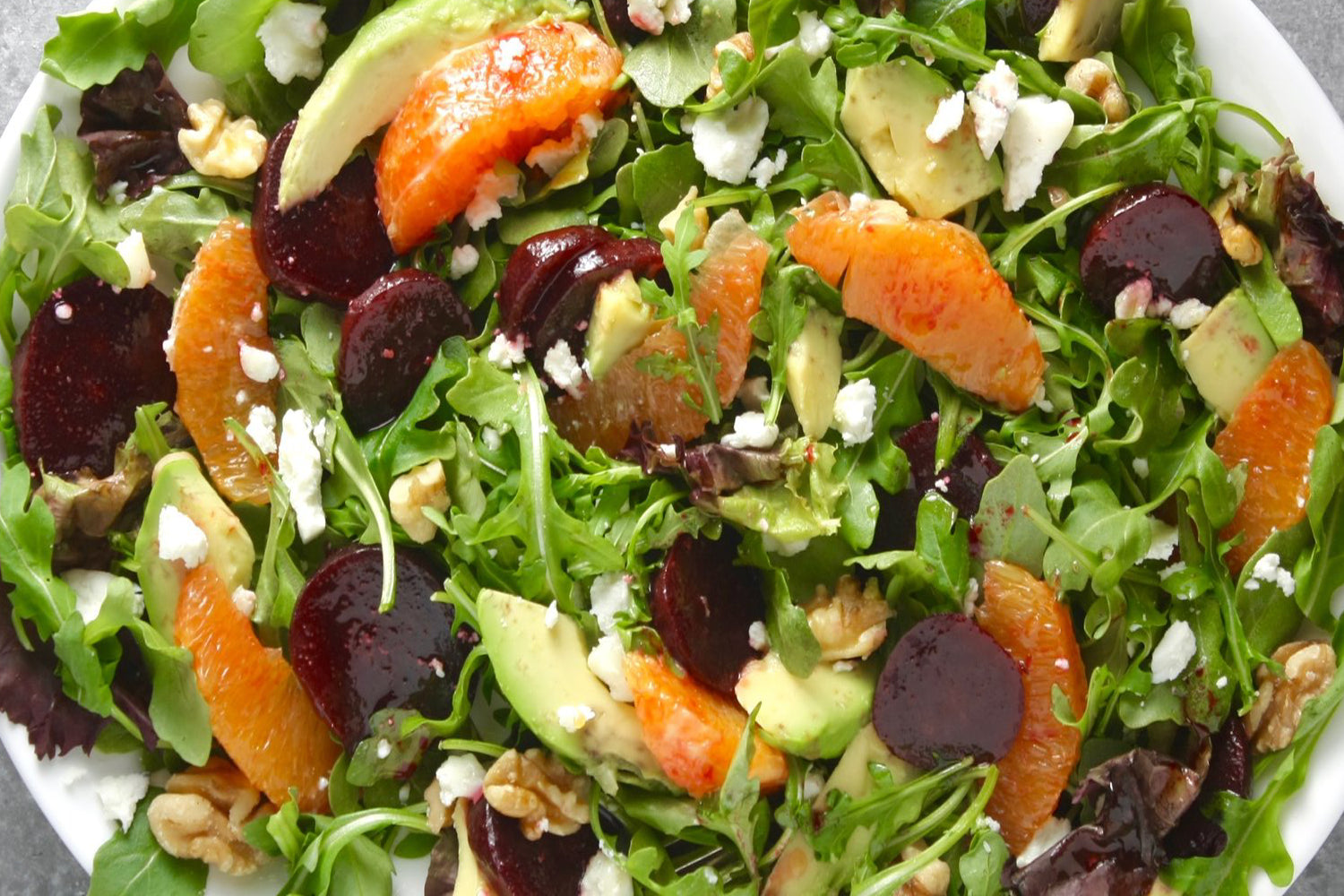 Arugula, Orange, Beet & Goat Cheese Salad
About this recipe:
This extremely refreshing salad is packed with all the vitamins you'll need during the dark, cold days of winter. It's also easy enough to prepare for your holiday table! Enjoy the fresh taste!
Ingredients
½ lb. baby beets, cooked
2 TBSP. sherry vinegar
5 TBSP. Kosterina extra virgin olive oil
2 tsp. honey
½ tsp. sea salt
¼ tsp. freshly ground pepper
1 large orange, segmented
2 cups baby arugula, packed
1 cup red leaf baby lettuce
1-2 oz. goat cheese, crumbled
¼ cup walnuts, toasted and chopped
½ small avocado, peeled, and sliced (optional)
Directions
Roast the beets (see note below). As soon and you can handle them, peel them and then slice them into ½-inch thick wedges or slices and set aside in a medium bowl.
Prepare the vinaigrette by whisking together the vinegar, Kosterina extra virgin olive oil, honey, salt and pepper. (It should make 1/3 of a cup of vinaigrette). Taste it and adjust the seasoning. Pour half of it over the beets and toss well to combine. Cover and let sit for 30 minutes.  (Tossing the still-warm beets with the vinaigrette will enhance their flavor.).
With a sharp knife, cut away the peel and pith from the orange. Hold the orange over a small bowl (to catch the juices) and using a paring knife, slice between the membranes to release segments. Set them aside. Add any accumulated juices to the bowl with the beets. 
Arrange the arugula and the baby lettuce on a serving platter. Spoon beets over arugula and drizzle with the remaining vinaigrette. Arrange the orange segments over salad and the crumbled goat cheese. Add the sliced avocado (if using) and the toasted walnuts. Season lightly, with some salt and pepper to taste and drizzle with some extra Kosterina virgin olive oil.
Author notes
If you do not like beets, you can leave them out of this salad! If you use them, try to get same-sized beets - they will cook more evenly. You can use red or golden beets or a combination of both and you can boil or roast them.  I prefer roasted beets because roasting really brings out their sweetness:  just trim the beets, place them in a rimmed baking pan lined with heavy-duty foil, add a little bit of water, and wrap them well. Roast them in a 400°F oven until soft and tender when pierced with a fork, and their skin is ready to come off--about 60 to 75 minutes, depending on their size. Handling the cooked beets can be messy, so try peeling and slicing them wearing disposable gloves. 
Shop Mediterranean Essentials