Vegan & Gluten-Free Butternut Squash Mac & Cheese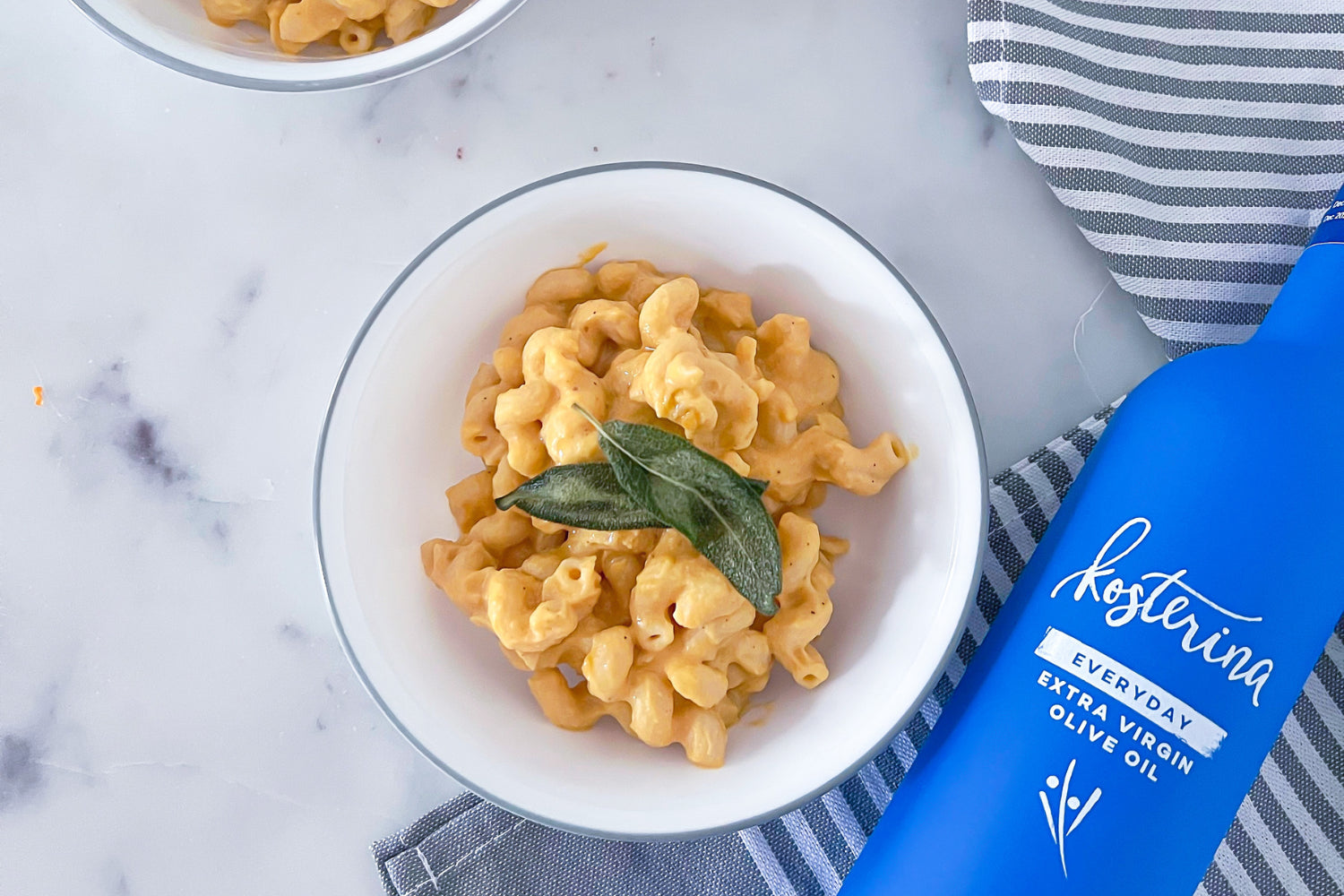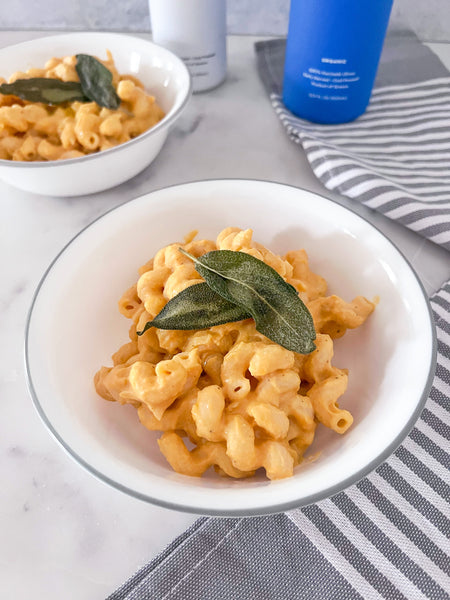 Vegan & Gluten-Free Butternut Squash Mac & Cheese



Serves




2-4




Prep Time




20 minutes




Cook Time




30 minutes
About this recipe:
Feel the comfort of a warm bowl of mac & cheese without the guilt! Kosterina Organic Everyday EVOO is the foundation of this healthy dish, topped it with crispy sage & Kosterina Garlic Olive Oil.
Ingredients
Gluten-free pasta of choice (we use chickpea cavatappi)
2 1/2 cups butternut squash (1" cubes)
1/4 cup tahini
2 tbsp Kosterina Organic Everyday Olive Oil
1/3 cup shredded vegan cheese (colby jack or cheddar)
1/4 tsp paprika
1/4 tsp sea salt
1/4 tsp ground pepper
2 cups Veggie stock
Sage
Kosterina Garlic EVOO
Directions
Bring veggie stock to a boil in a medium saucepan. Add butternut squash lower heat to a simmer and cook until soft, about 20 minutes.
While the squash is cooking, cook your pasta and pan fry the sage. Add a drizzle of Kosterina Organic Everyday EVOO to a shallow pan and fry sage a few minutes on each side until crispy.
Once your squash is cooked, turn off the heat and drain out about a cup of the liquid into a measuring cup and put to the side.
If using an immersion blender add in tahini & Kosterina Organic Everyday EVOO to the saucepan with the squash, then blend until smooth. Or transfer to the squash to a blender or food processor and add the tahini and Kosterina Everyday EVOO and blend.
Transfer the sauce back to the saucepan if needed. Turn heat on low and add in the shredded cheese, a splash of the reserved veggie stock, salt, pepper, & paprika and cook on low for about 5 minutes stirring with a whisk. Taste and add more salt and pepper if needed.
Pour sauce over the pasta and mix.
Serve in bowls with a drizzle of Kosterina Garlic Olive Oil and the crispy sage leaves.
Save the reserved liquid in a jar if you'll be saving leftovers and reheating. Add a splash to the pot when you reheat to get that smooth consistency again!
Shop Mediterranean Essentials