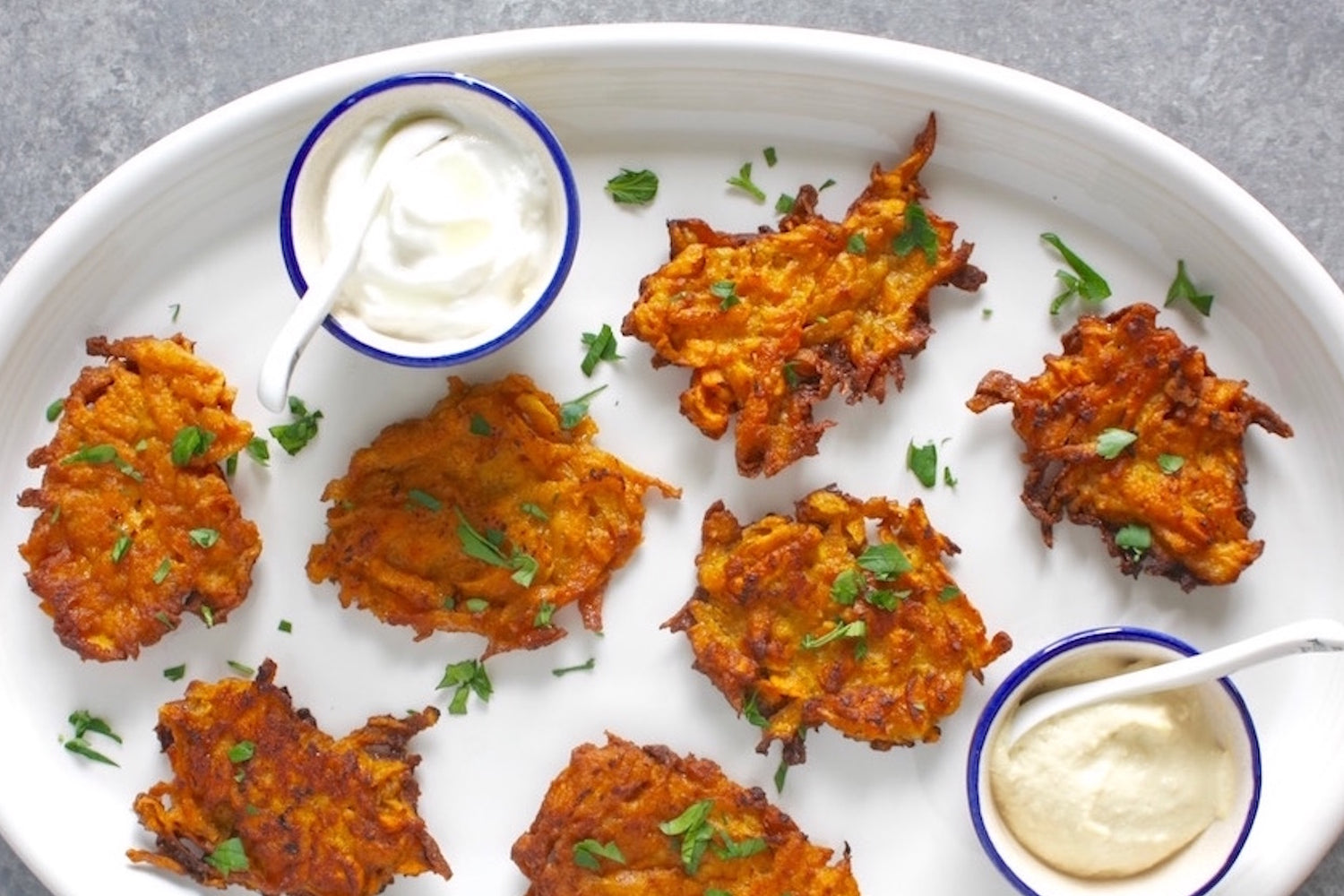 Sweet Potato Fritters
About this recipe:
These delicious sweet potato fritters are perfect served alone or as a side. And well, with some lemon-tahini dipping sauce, they may be completely gone in one sitting!
Ingredients
1 medium sweet potato, about 8 oz.
¼ cup all-purpose, unbleached flour
½ tsp. baking powder
½ tsp. sea salt
¼ tsp. freshly ground pepper
½ tsp. cumin
1½ tsp. brown sugar
½-1 tsp. curry powder 
¼ cup milk
1 large egg, lightly beaten
Kosterina extra virgin oil for frying
fresh cilantro leaves, minced, for garnish 
For the Lemon-Tahini Sauce:
½ cup tahini, at room temperature 
½ cup water (or more if desired)
2 med. garlic cloves
3 TBSP. fresh lemon juice
¼ tsp. sea salt
pinch of freshly ground pepper
Directions
Peel and grate the sweet potato, using a box grater, and set aside. 
In a medium bowl mix the flour, baking powder, salt, pepper, cumin, sugar, brown sugar and curry powder. To that add the milk and the egg. Whisk everything together and add the grated sweet potatoes. (the batter should be moist; if it feels too dry, add a bit more milk.). 
Cover the base of a medium frying pan to a depth of about ¼-inch with Kosterina extra virgin olive and heat until hot, but not smoking. Drop in the sweet potato batter by tablespoons and flatten them with the back of the spoon or with a spatula. Cook over medium-high heat for a few minutes on one side until golden and then flip to cook the other side. Place the fritters on paper towel-lined platter to absorb some of the oil. Serve warm with a simple lemon-tahini sauce on the side.
For the Lemon-Tahini Sauce:
Place all ingredients in a small food processor and blend until smooth. If the sauce is too thick, add a few more tablespoons of water and blend again, until it gets to your desired consistency. Taste and adjust the seasoning. 
Shop Mediterranean Essentials