Spicy Avocado Toast & Jammy Eggs with Arugula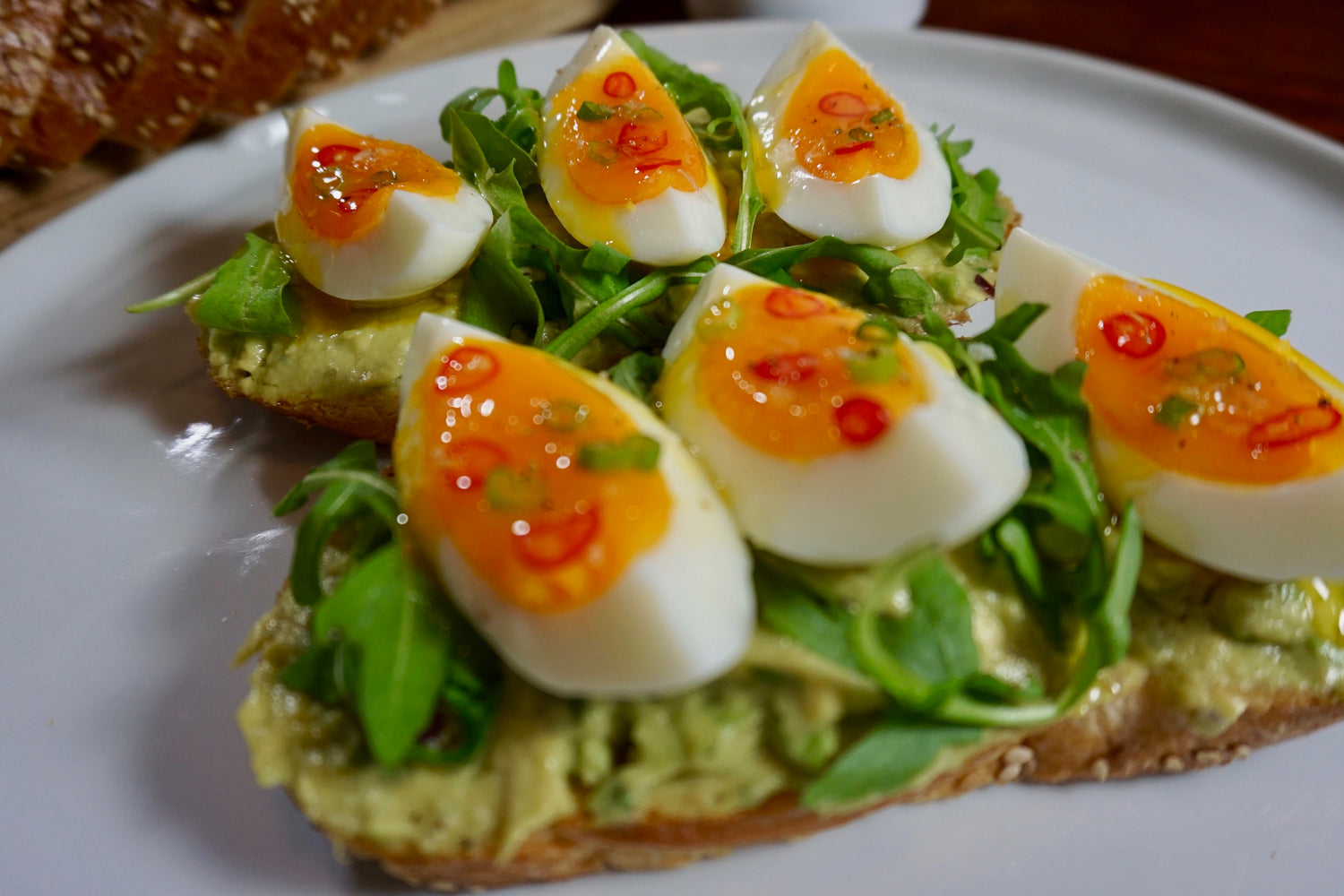 Spicy Avocado Toast & Jammy Eggs with Arugula
Ingredients
2 medium slices crusty, chewy rustic bread, preferably whole wheat sourdough or semolina bread
2 Eggs
1 large ripe avocado, halved, pit removed, and mashed
1 Tbsp fresh oregano, chopped finely
1 Tbsp red onion, finely diced
1 lemon, juice
1 Thai chili, thinly sliced (optional)
Small handful baby arugula leaves
1 Tbsp scallions thinly sliced.
Salt and Pepper
Flaky Maldon Salt for garnish
Kosterina EVOO, drizzle to finish
Directions
Toast or grill bread to your liking. Meanwhile, bring a pot of water to boil. Carefully add both eggs into boiling water. Lower heat to medium and set timer for 7 minutes. Have an ice bath/bowl ready once timer goes off. While eggs are cooking, use a spoon to remove the avocado halves from the peel into a bowl. Mash with fork. Add fresh oregano, lemon juice, onions, salt and pepper. Next, peel, rinse eggs in water and slice each egg in quarters. 
Spread avocado mash on bread and top each with a little or as much arugula to your liking
3 slices of eggs on each bread. Garnish with sliced Thai chilis, scallions and flaky maldom salt.
Shop Mediterranean Essentials