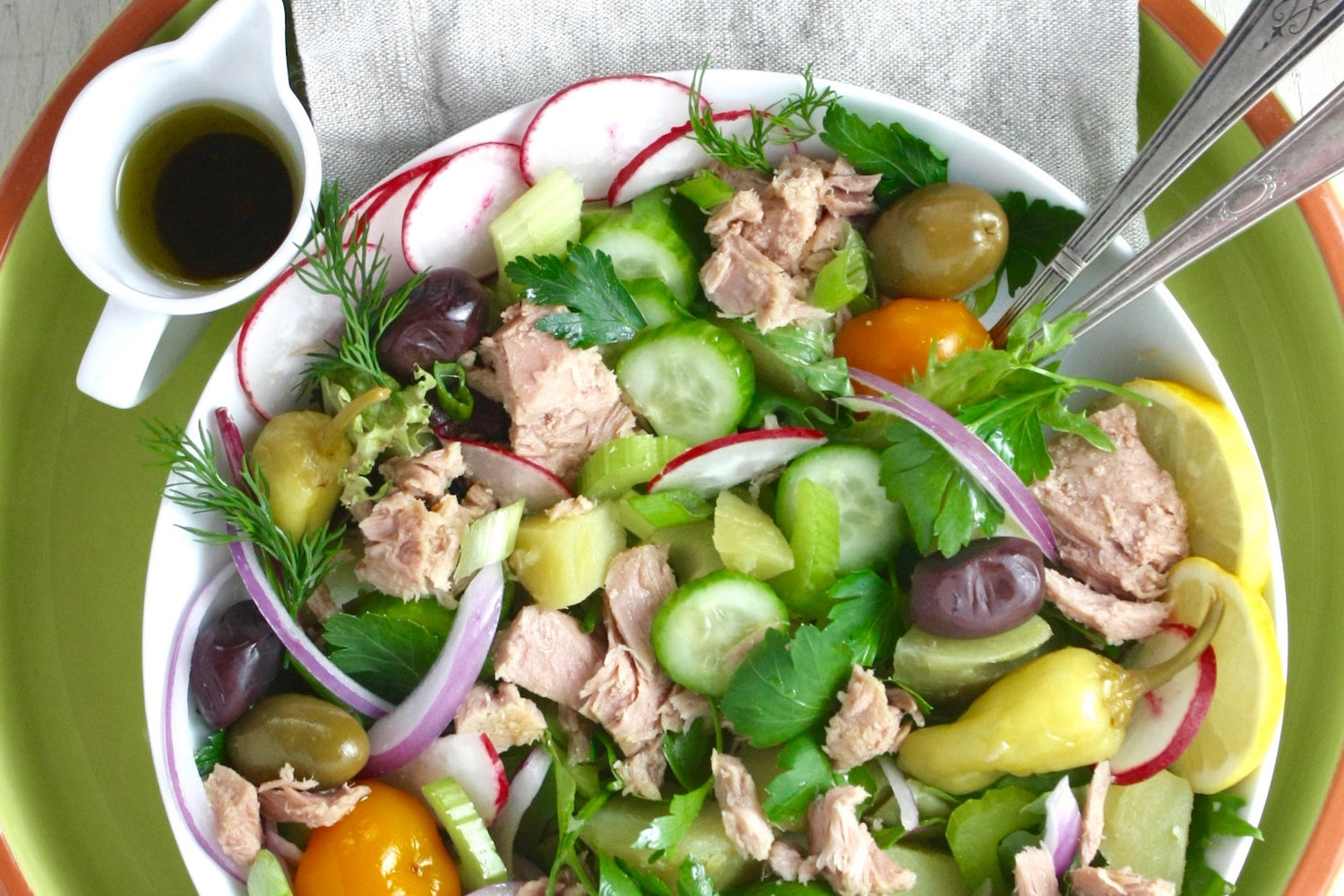 Mediterranean Tuna Salad
About this recipe:
This tuna salad
 

is a typical example of how people in the Mediterranean always seem to find ways to stretch a small amount of protein into a whole meal!

 
It uses seasonal vegetables, fresh herbs and a healthy dose of EVOO. 
Ingredients
For the Salad:
7 oz. can solid light tuna, packed in olive oil (like Genova tuna)
2 whole celery stalks, (from the center – leaves included), chopped
1 cup arugula or other mixed baby greens, packed
2 green onions, finely chopped
1 small cooked Yukon gold potato, cut in small cubes
1 mini cucumber, sliced
2 small radishes, finely sliced
⅓ cup Greek oil-cured olives
¼ cup red onion, thinly sliced
¼ cup fresh parsley & fresh dill, minced (optional)
a few pepperoncini & sweet peppers (optional)
For the Vinaigrette:
3 TBSP. lemon juice
6 TBSP. Kosterina extra virgin olive oil
¼ tsp. dry Greek oregano
salt & pepper to taste
Directions
For the Salad:
Place all ingredients for the vinaigrette in a small bowl. Whisk well to combine, taste and adjust the seasoning.
In a large salad bowl, gently toss the tuna, the chopped vegetables, the olives and the minced fresh herbs. Drizzle with enough of the lemon vinaigrette to lightly coat the salad.
Serve with toasted pita bread or pita chips and some extra lemon vinaigrette on the side.
Shop Mediterranean Essentials