Kosterina & Severino Antipasto Tortellini Salad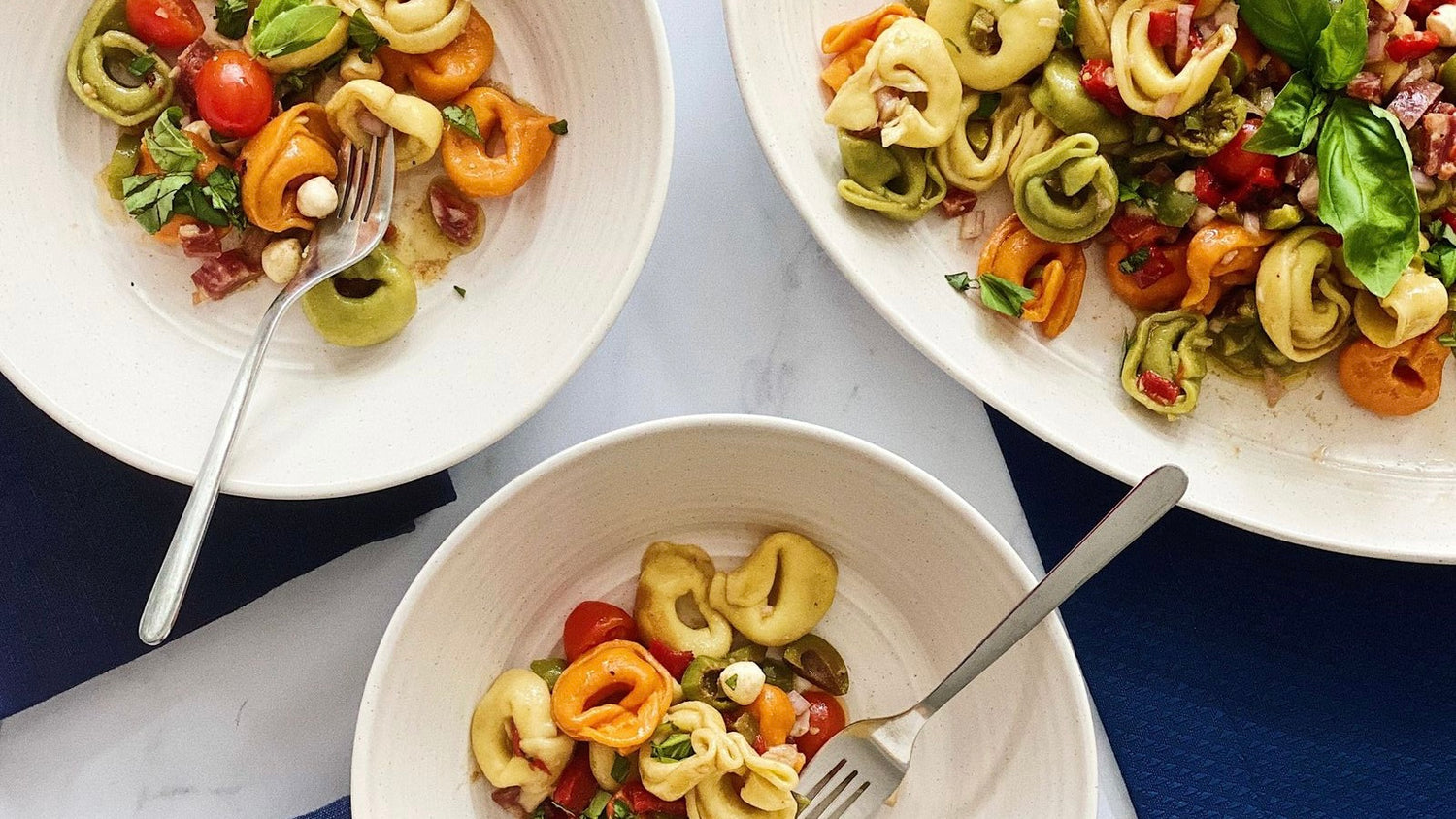 Kosterina & Severino Antipasto Tortellini Salad
About this recipe:
We teamed up with one of our favorite pasta brands sold at Whole Foods, Severino, to bring you this picnic-perfect tortellini salad. It incorporates our new, incredibly easy Kosterina Simple Vinaigrette and truly is delicious as it looks.
Ingredients
For the Tortellini:
1 lb. Severino Tri-Color Cheese Tortellini
1 cup 365 Everyday Value Ciliegine, drained and halved
1/2 cup hard salami, chopped  small
1/2 cup soppressata, chopped small
1 large shallot, minced
1 14oz can 365 Everyday Value artichokes in water, drained and chopped
1 cup cherry tomatoes, halved
1 cup pitted Castelvetrano olives, chopped
2 sliced 365 Everyday Value fire-roasted red peppers, drained and chopped
1/2 cup fresh basil, for garnish
Kosterina Simple Vinaigrette, recipe follows
For the Simple Vinaigrette:
1/4 cup Kosterina Balsamic Vinegar
1/2 cup Kosterina Extra Virgin Olive Oil
1 teaspoon Dijon mustard
1 teaspoon minced garlic
1 teaspoon kosher salt
1 teaspoon 365 Everyday Value dried oregano
1/2 teaspoon 365 Everyday Value ground black pepper
Directions
For the Tortellini:
Cook tortellini based on package instructions; cooking in boiling water 2-3 minutes until they float. Drain and rinse to prevent overcooking and empty the tortellini into a large bowl and pour vinaigrette over the pasta.  Mix and set aside.
Chop the other ingredients above, add to the bowl with the tortellini and toss until everything is evenly coasted. Serve immediately or store in the refrigerator until ready to eat.  Tastes great cold or at room temp. Enjoy!
For the Simple Vinaigrette:
Pour all ingredients into a mason jar, cover with a tight lid and shake vigorously to combine. This is a great dressing for green salads, too.
Shop Mediterranean Essentials