Kosterina Arugula, Grilled Peach and Feta Salad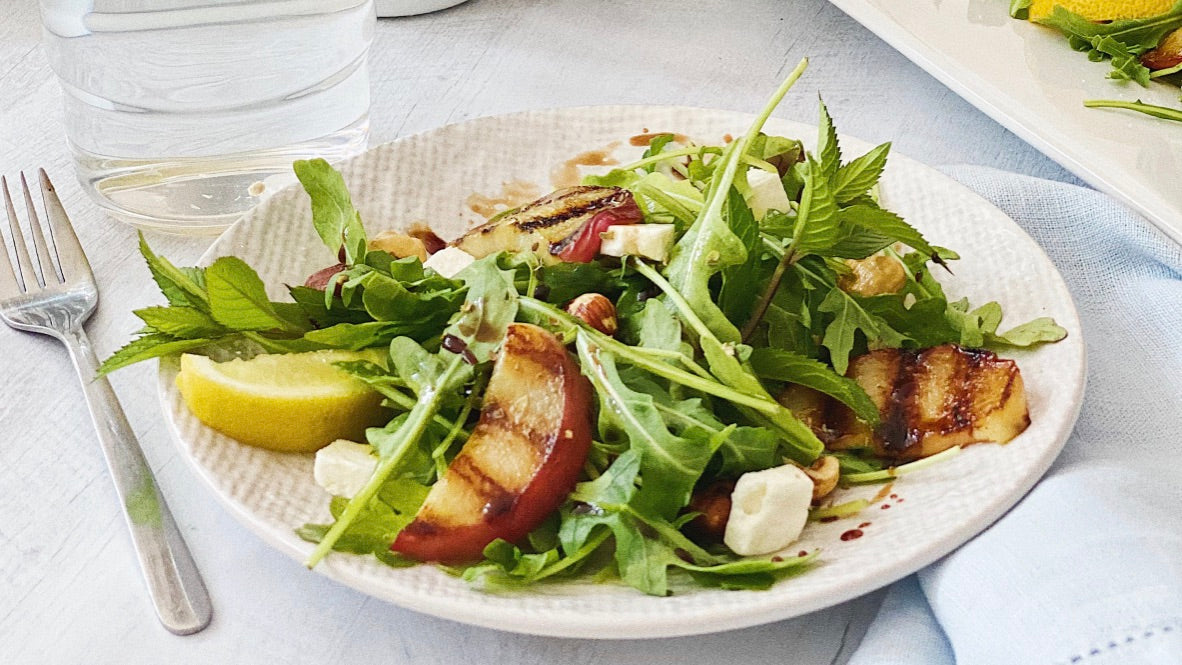 Kosterina Arugula, Grilled Peach and Feta Salad



Serves




4 as a starter, 2 as a main
About this recipe:
As we soak up the last full month of summer, we wanted to share a simple recipe that is best enjoyed outdoors and incorporates sweet and fresh seasonal peaches. 
Ingredients
For the Salad:
2 peaches, just ripe
1T Kosterina Original Extra Virgin Olive Oil
3 cups baby arugula
1/3 cup feta, drained and cut into 1'' cubes
1/3 cup hazelnuts, toasted
For the Honey Vinaigrette:
3T Kosterina Original Extra Virgin Olive Oil
1T Kosterina Original Balsamic Vinegar
1 tsp honey
1 tsp lemon juice
1 tsp kosher salt
1 tsp freshly cracked black pepper
Directions
For the Salad:
Cut the peaches in half, remove the pit and slice lengthwise into ¼' pieces.
Brush the peach slices with Kosterina Extra Virgin Olive Oil.
Heat a grill pan or outdoor grill to medium heat and place the peach slices flat on the grill for 2 minutes.
Carefully flip and cook for one more minute.  Place the grilled peaches on a side dish and set aside.
In a small bowl, whisk the ingredients for the vinaigrette together.
Place the arugula in a bowl, toss with the vinaigrette to coat, and spoon the dressed arugula into a flat serving dish. 
Lay the peach slices evenly over the arugula, sprinkle the nuts and feta on top and finish with a drizzle of Kosterina Balsamic Vinegar. Serve immediately--and enjoy!
Shop Mediterranean Essentials