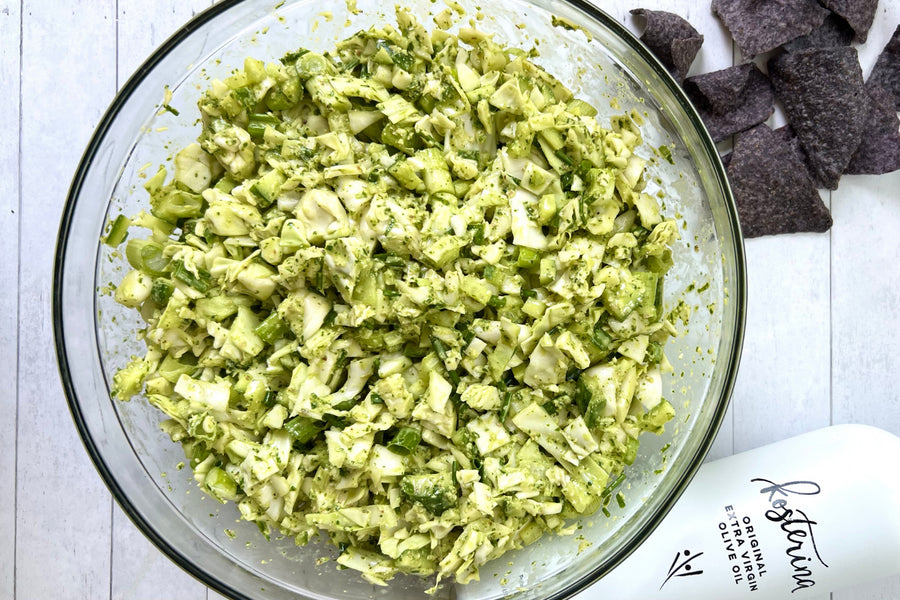 Green Goddess Salad
About this recipe:
A salad that you will actually want to make every day? This Green Goddess Salad recipe has gone viral and we wanted to try it out for ourselves. The added addition of the peppery, robust flavor from our Original Extra Virgin Olive Oil makes for a deliciously-complex flavor that we have been waiting for in a salad. Creamy sauce full of nutrients, combined with crunchy, fresh greens makes for a healthy, beautiful salad. Enjoy!
Ingredients
For the Salad:
1 small head green cabbage
3-4 baby cucumbers (or 1 large cucumber)
1/4 cup chives, chopped
1 bunch green onions or scallions, chopped
For the Dressing:
1 cup basil leaves
1 cup fresh spinach
2 cloves garlic
1 small shallot
2 lemons, juiced
1/4 cup Kosterina Original EVOO
1/4 cup nuts of your choice
1/3 cup nutritional yeast
1 teaspoon salt
2 tablespoons rice vinegar
Directions
For the Salad:
Wash and chop all of the salad ingredients with a sharp knife

as small as you would like (I recommend confetti-sized). Place in a large bowl.
Pour dressing over salad and mix well
Enjoy!
For the Dressing:
Add all of the salad dressing ingredients to a blender
Blend until your dressing is a thick, pourable consistency
Shop Mediterranean Essentials