Greek Lemon Chicken & Potatoes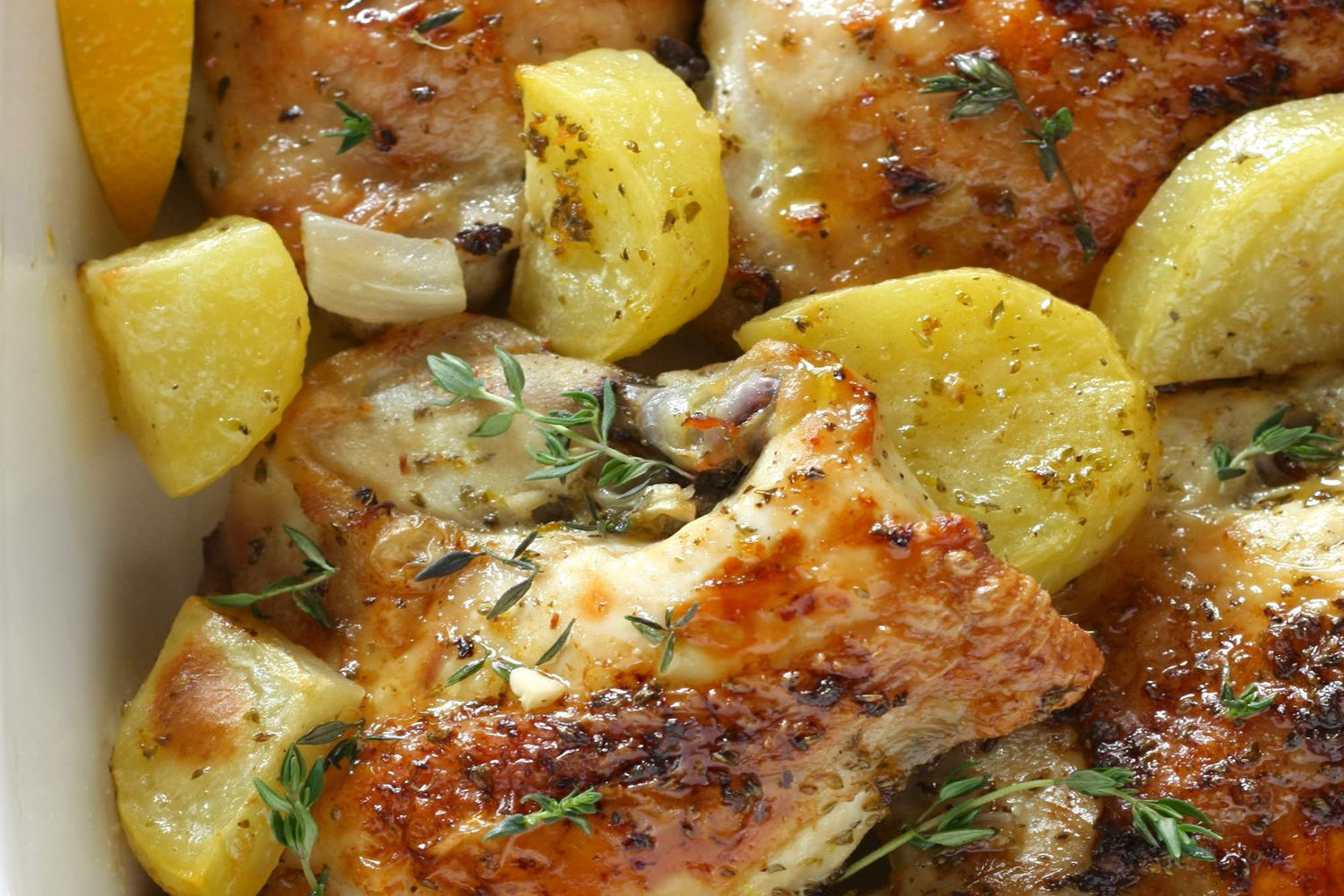 Greek Lemon Chicken & Potatoes
About this recipe:
This delicious dinner dish is perfect for any table. The combination of lemon and Greek herbs make you feel like you're dining on the Mediterranean - if only we were really there! And, this easy dinner dish takes little effort to prepare, which is exactly the words we want to hear on a busy weekday evening.
Ingredients
4 TBSP. Kosterina extra virgin olive oil
1 medium shallot, diced
3 TBSP. minced garlic 
⅓ cup dry white wine
2 tsp. Greek dried oregano
1 tsp. fresh thyme leaves
zest from one large lemon
2 TBSP. fresh lemon juice
1 tsp. sea salt
¼ tsp. freshly ground pepper
4 pieces of boneless, skin-on chicken (breasts and thighs)
2 small Yukon gold potatoes, peeled and cut into chunks
1 whole lemon, cut into 8 wedges
extra sea salt and freshly ground pepper
Directions
Preheat the oven to 400° F.
In a small bowl, whisk together the Kosterina extra virgin olive oil, shallot, garlic, wine, oregano, thyme, lemon zest and juice, salt and pepper.
Place the chicken breasts and/or thighs on a 9"x12" baking dish. Tuck the potatoes and the lemon wedges around the chicken. Pour the Kosterina olive oil sauce over the chicken and potatoes. Season generously with some extra sea salt and pepper.
Place in the preheated oven and bake for about 40 minutes or until the skin is lightly browned (the cooking time will depend on the size of the chicken pieces). Toward the end of the cooking time, if the chicken is not browned enough, place the baking dish under a medium-heat broiler for just one minute or two to brown. Watch it closely! 
Remove the dish from the oven and cover it tightly with aluminum foil. Let it rest for about 8 minutes. Taste the potato and adjust the seasoning if needed. Serve hot, pouring the pan juices over each serving. 
Author notes
This lemon chicken dish can be easily made without the potatoes. In this case, keep the proportions the same for the lemon sauce.  Serve the chicken with a green salad dressed with a simple lemon-Kosterina olive oil dressing. 
Shop Mediterranean Essentials