Fish Baked in Parchment Paper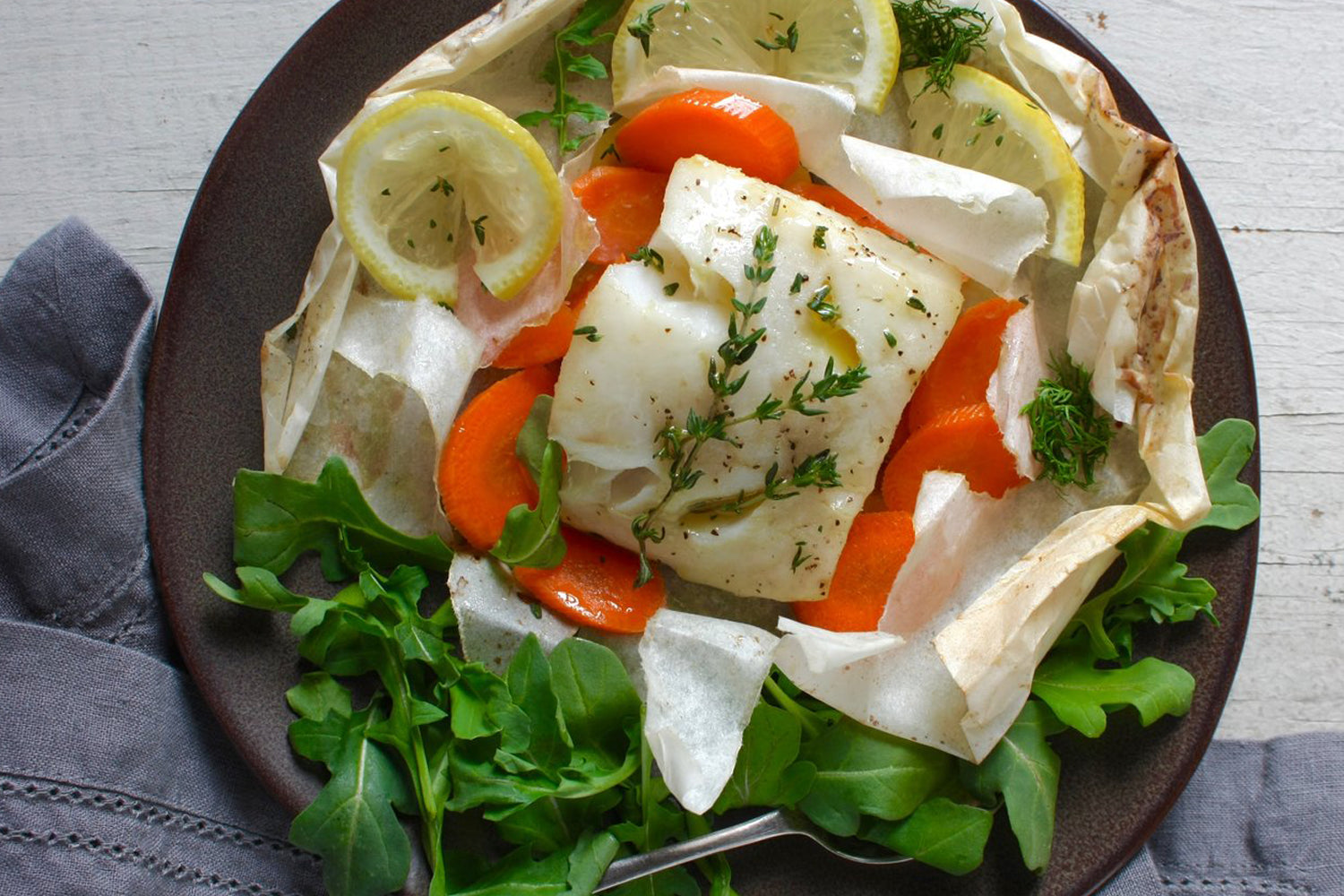 Fish Baked in Parchment Paper
About this recipe:
This quick, light and nutritious meal is perfect for busy weeknights. You can enjoy it with a simple salad, or leftover rice. Channel those summer, Mediterranean feelings on a cozy winter day!
Ingredients
2 fillets skinless & boneless white fish, about ½" thick
salt & pepper to taste
2 TBSP Kosterina extra virgin olive oil
½ cup carrots, finely julienned, or cut into thin coins
2 small handfuls of baby spinach (optional)
4 small slices of lemon
sprigs of fresh thyme
dried oregano
Kosterina extra virgin olive oil, for drizzling
2 TBSP. white wine (or Ouzo)
Directions
Preheat the oven to 400° F. Cut two large pieces of parchment paper and set aside.
Pat the fish dry and season each fillet generously with the salt and pepper. Drizzle the Kosterina extra virgin olive oil on both sides. Cover and let it sit at room temperature for half an hour.  
Lay a piece of parchment paper on a flat surface. Fold the parchment paper in half to create a crease, and then open it up again. Place half of the carrots and spinach (if using), on the half part that is away from you. Season the vegetables with some salt and pepper. Place the fish on top of the vegetables. Add the thyme, oregano, a few lemon slices. Drizzle with some more Kostrina olive oil. Repeat with the second piece of parchment paper.
Fold the paper that is in front of you over the second half, to enclose the vegetables and fish. Fold the parchment paper over the fish. Starting from one corner, create a small fold and then, starting from the middle of the first fold, fold it again. Continue the folding until the whole pouch is securely sealed in the shape of a half circle. When you come to almost the last folded edge, carefully pour the wine in and tuck the last corner under. Place the fish pouches on a small baking sheet and bake for 15 minutes.  
Remove from the oven, make a small cut in the middle of the paper to allow the steam to escape. Serve in the paper with an extra drizzle of Kosterina extra virgin olive oil.
Shop Mediterranean Essentials