Filo-wrapped Feta Cheese with Honey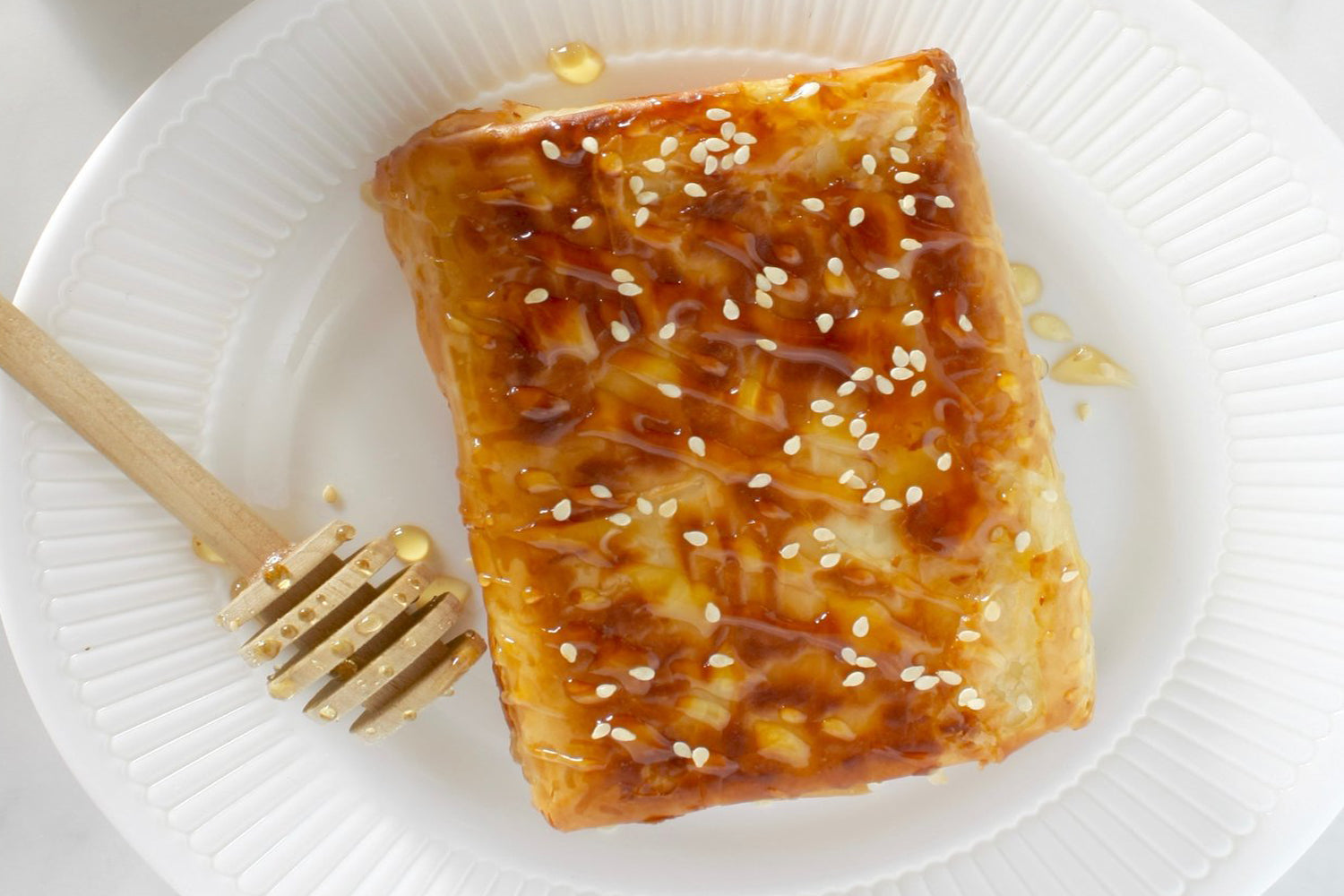 Filo-wrapped Feta Cheese with Honey
About this recipe:
This 5-ingredient appetizer feels perfectly indulgent--and is simple to create. A taste of this filo-wrapped feta cheese dish drizzled with honey transports you to Greece from the moment it enters your mouth!
Ingredients
4 sheets filo pastry dough, (9"x14"), at room temperature
Kosterina extra virgin olive oil (for brushing)
8 oz. Greek feta, in block form 
Kosterina extra virgin olive oil (for the pan)
Greek honey for drizzling
White and/or black sesame seeds
Directions
Defrost filo pastry dough by leaving it in your refrigerator overnight. The next day, remove from the fridge and allow it to come to room temperature.
Place one sheet of filo dough on a clean work surface and brush it with Kosterina extra virgin olive oil. Place a second one on top of the first and brush it with olive oil as well. Repeat with two more sheets of filo.
Place the piece of Greek Feta at the bottom edge of the filo. Fold in each side, covering most of the feta. Brush some olive oil on the two folded sides. Next, fold up the piece of Feta, starting with the side closest to you, until you completely wrap it with the filo. Brush each side with a bit more olive oil and set aside.
Heat a medium size, non-stick pan over medium heat. Add a generous amount of Kosterina extra virgin olive oil to the hot pan. Once the oil is hot, place carefully the filo-wrapped feta to the pan (the olive oil should come half way up the wrapped Feta). Fry under medium heat for about 2 minutes on each side, or until the filo turns golden brown on both sides. 
Remove from the pan and place briefly on a piece of folded paper towel to absorb any excess oil. Place on a serving plate, drizzle with honey and sprinkle with sesame seeds. Cut it up in small square bites and serve as an appetizer! 
Author notes
You can assemble the Feta packages ahead of time. Wrap them tightly with plastic wrap (or place in a zip lock bag) and refrigerate until you are ready to cook them!
Shop Mediterranean Essentials