EVOO Chocolate Chunk Cookies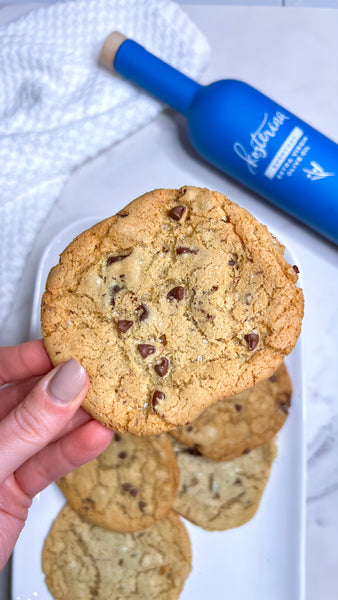 EVOO Chocolate Chunk Cookies
About this recipe:
Trust us on this one, extra virgin olive oil makes for a uniquely delicious cookie with a crispy outside and chewy center. Especially if you're pressed for time - these are a winner and must try.
Ingredients
1 1/2 Cup GF flour

1/2 tsp. baking soda

1 tsp. baking powder

1/2 tsp. salt

1/4 Cup Kosterina Everyday EVOO

1/2 cup brown sugar

1/3 cup sugar 1 egg

1.5 tsp Vanilla

1/2 Cup Chocolate Chips

1/2 Cup Chocolate Chunks (chop up chocolate bar or from a bag)

Flaky Sea Salt for topping
Directions
In a bowl or standing mixer, mix together the granulated sugar, brown sugar, salt, and olive oil.
Mix in the egg and vanilla extract, mixing gently until just combined.
Add in the flour and baking soda.
Break apart or chop the EVOO Dark Chocolate Bars into large & small chunks. Mix until combined into a soft dough.
Chill the dough for at least 30 minutes in a refrigerator.
When ready to bake, preheat oven to 350 degrees. Line a baking sheet with parchment paper or a nonstick baking mat.
Scoop the dough with an ice-cream scooper onto your baking sheet leaving at least 2 inches of space between cookies and 2 inches of space from the edges of the pan so that the cookies can spread evenly.
Bake for 12-14 minutes, or until the edges have started to barely brown
Once removed from the oven, let cool
Sprinkle sea salt on top (optional) + enjoy!
Shop Mediterranean Essentials