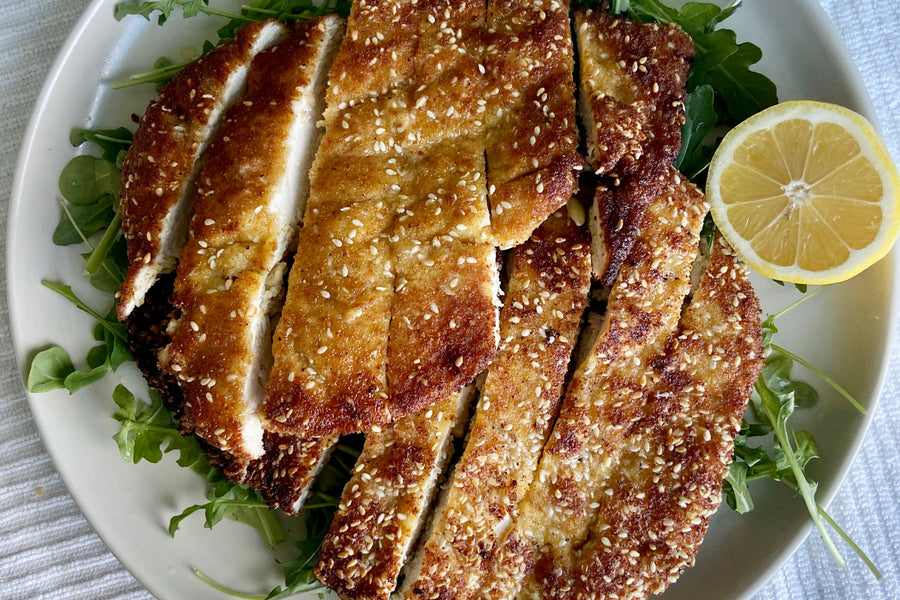 Chicken Schnitzel



Prep Time




30 minutes




Cook Time




20 minutes
About this recipe:
Make the perfect schnitzel in less than an hour! This recipe uses Kosterina Organic Everyday and Original Extra Virgin Olive Oil for more flavor and less inflammation. Between the perfectly-tender chicken and the crunch from the breading, you will fall in love with this dish. Schnitzel can be made with any meat or meat substitute, so feel free to get creative! Enjoy!
Ingredients
2 large boneless, skinless chicken-breast halves, sliced in half horizontally, or 4 cutlets (about 1 ¼ pounds total)

Kosher salt and freshly ground pepper

⅓ cup unbleached all-purpose flour

Kosterina Organic Everyday Extra Virgin Olive Oil, for frying

2 large egg

¾ cup panko

4 tablespoons sesame seeds

Kosterina Original Extra Virgin Olive Oil, for drizzling

Lemon, for drizzling
Directions
Preheat oven to 350°F. Arrange chicken in a single layer on a large cutting board and cover with plastic wrap. Gently pound with the flat side of a meat mallet or the bottom of a heavy skillet to an even 1/4-inch thickness.

Place flour in a pie dish or a wide, shallow bowl; season with salt. Whisk egg in another dish until thoroughly combined (no clear streaks remaining). In a third dish, combine panko with sesame seeds, salt, and pepper.

Working one at a time, dredge chicken pieces in flour, turning to evenly coat and shaking off any excess. Dip in egg, turning to evenly coat and allowing any excess to drip back into dish. Dredge in panko mixture, turning and pressing with your hands as necessary to fully coat. Transfer to a rimmed baking sheet lined with a wire rack and let sit.

Heat 1/4-inch Kosterina Organic Everyday Extra Virgin Olive Oil in a large, heavy skillet (preferably cast iron) over medium-high. When it shimmers, carefully add 1 or 2 cutlets in a single layer (do not crowd pan). Cook, flipping once, until chicken is just cooked through and panko turns crisp and golden brown, 3 to 5 minutes total (if panko begins to darken too quickly, reduce heat slightly).

Check internal temperature of chicken. If it has not reached an internal temperature of 165°F, transfer chicken to oven for 5-10 minutes. Monitor temperature while chicken is cooking.

Take chicken out and drizzle with lemon juice and Kosterina Original Extra Virgin Olive Oil before serving!
Shop Mediterranean Essentials