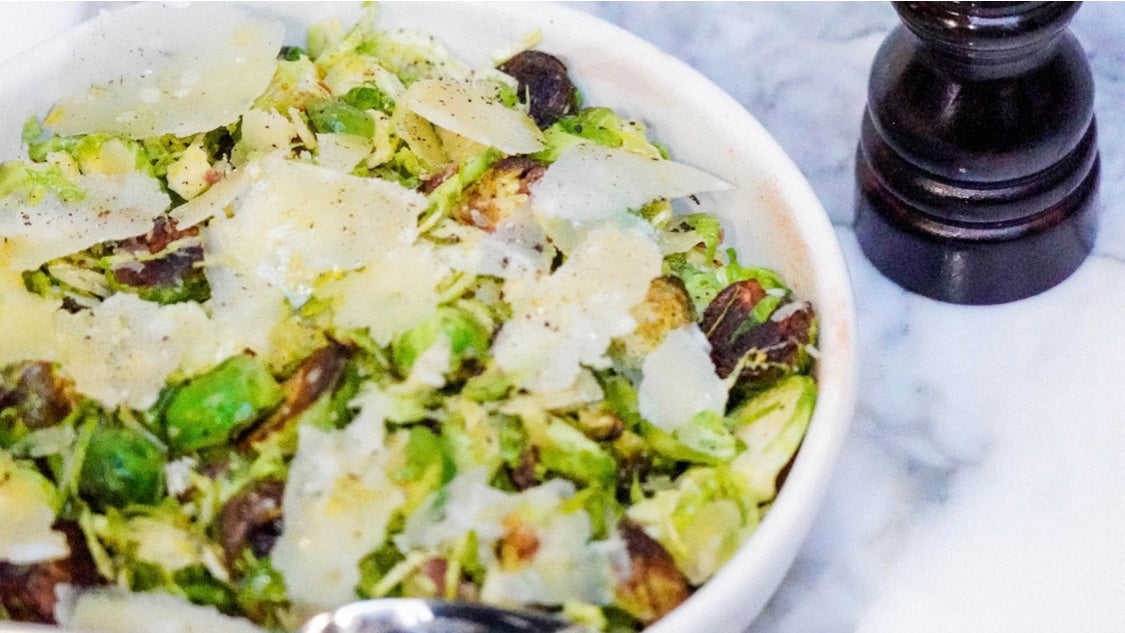 Brussels Sprout Caesar



Serves




6 to 8




Prep Time




15 minutes




Cook Time




40 minutes
About this recipe:
Have you ever wanted to spice up a salad, but weren't sure how? We love how naturally crunchy and filling this version of a caesar salad is - perfect for spring! 
Ingredients
1 head garlic
½ cup olive oil, divided, plus more for drizzling
2 pounds Brussels sprouts, ends trimmed, divided
¼ cup Parmesan cheese, grated, plus more for garnish
3 anchovy fillets, minced
1 TB lemon zest
3 TB lemon juice
¼ tsp cayenne
½ tsp onion powder
Salt & freshly ground black pepper, to taste
Directions
Preheat oven to 400ºF.
Roast garlic: Slice ½ inch off from the top of the head of garlic. Arrange the garlic cut side up on a large sheet of aluminum foil. Drizzle with 2 TB oil and season with salt and pepper. Wrap the foil tightly to make a packet and roast until tender, 40 to 50 minutes. Let cool, then remove the roasted garlic cloves and discard the peels. Using the side of a knife, mash the roasted cloves on a cutting board and set aside.
Roast Brussels sprouts: Cut 1 pound of Brussels sprouts in half and transfer onto a parchment paper-lined baking sheet. Toss Brussels sprouts with 2 TB oil and season with salt and pepper. Roast until tender but still bright green in color, 8 to 10 minutes.
Make the dressing: In a medium bowl, whisk roasted garlic, parmesan, anchovies, lemon zest and juice, cayenne and onion powder. While constantly whisking, slowly stream in remaining remaining ¼ cup oil and season with salt and pepper.
Thinly slice the remaining 1 pound of Brussels sprouts and add to a large bowl along with the roasted brussels sprouts. Season with dressing to taste and transfer to a shallow serving bowl. Garnish with grated parmesan and black pepper and drizzle with oil.
Shop Mediterranean Essentials