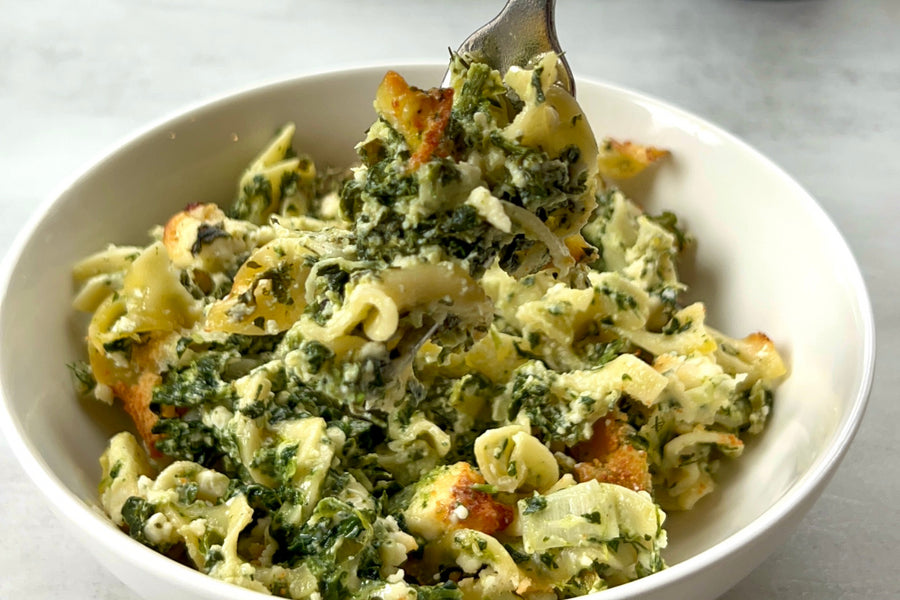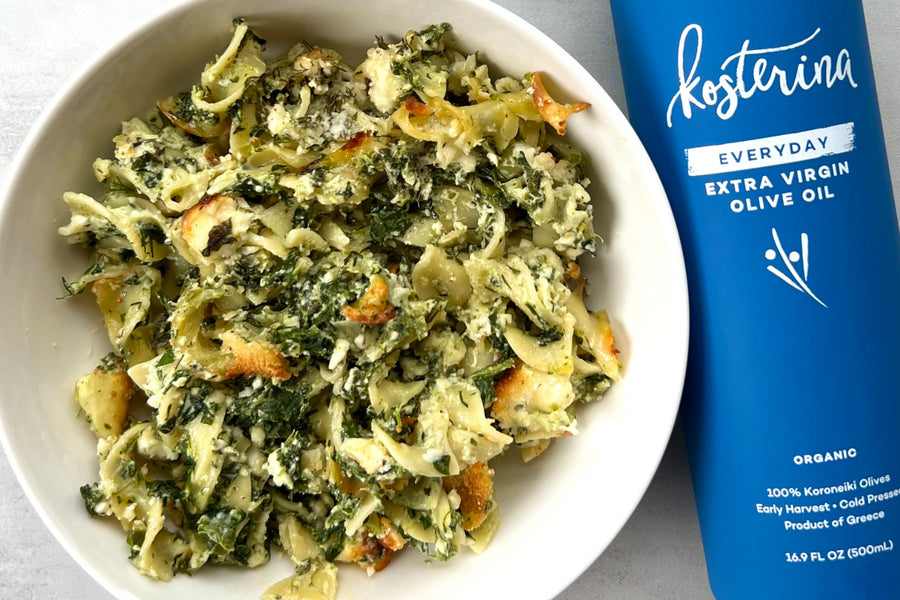 Spanakopita Noodle Kugel



Prep Time




25 minutes




Cook Time




45 minutes
About this recipe:
Noodle kugel is of the many dishes you may find at Passover Seder and always brings smiles when it makes an appearance. This year we gave this classic dish a Mediterranean spin. This spanakopita-inspired version of noodle kugel is loaded with spinach, onions, herbs, feta, and, of course, EVOO. Trust us, this one is a keeper!
Ingredients
4 Tablespoons of Kosterina Everyday EVOO

20 ounces of Frozen Chopped Spinach, thawed and drained

1 Large Onion, thinly sliced

3 Cloves of Garlic, finely chopped

4 Scallions, chop and separate Whites from Greens

4 Eggs

2 Cups Heavy Cream

1 Cup Sour Cream

12 ounces of Crumbled Feta (set aside ⅓ cup for topping)

¼ Cup Dill, Chopped

⅓ Cup Parsley

⅛ Teaspoon Nutmeg

3 Tablespoons Parmesan

Salt & Pepper
Directions
Boil water and cook Egg Noodles per package instructions. Strain and put aside in a bowl with 1 Tablespoon of Kosterina Everyday EVOO mixed in the noodles to prevent sticking.

Preheat Oven to 350 degrees. On the stove, heat a large pan over medium heat with 3 Tablespoons of Kosterina Everyday EVOO. Add the Onions and Scallion Whites to the pan and cook until translucent and soft. Add Garlic and cook for about 2 minutes.

Add Spinach and Scallion Greens to pan to heat Spinach. Season with Salt and Pepper. Remove from heat and add mixture to the Egg Noodles. Stir gently to combine.

In a separate large bowl, mix together Heavy Cream, Eggs, Sour Cream, Feta, Dill, Parsley, Nutmeg, Salt, and Pepper. Add mixture to bowl with Noodles and Spinach, gently combine.

Pour Noodle mixture into a 9 by 13 baking dish. Sprinkle Parmesan and remaining Feta on top.

Bake for about 45 minutes until golden brown on top. Let cool before serving.
Shop Mediterranean Essentials