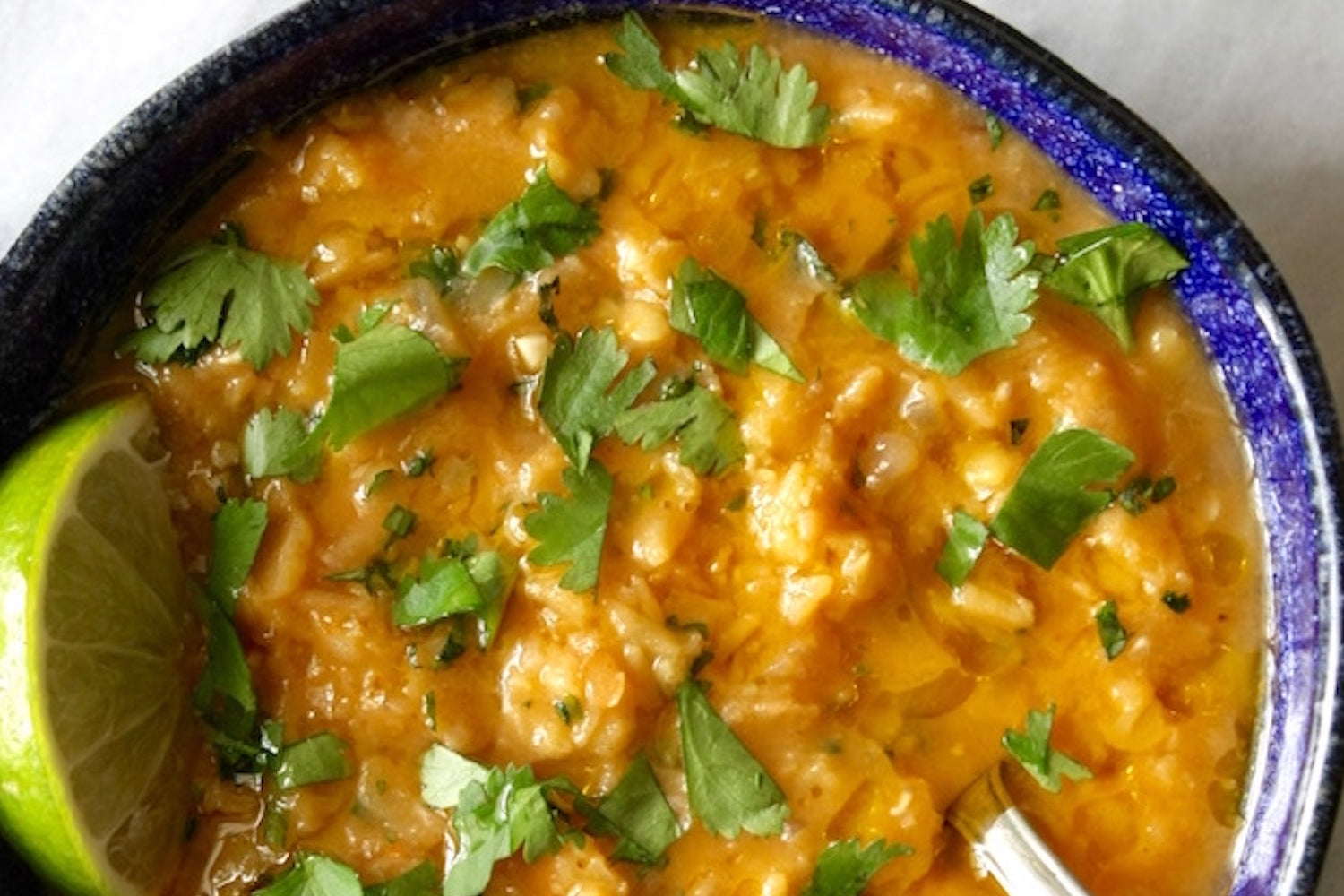 Red Fall Lentil Soup
About this recipe:
This warming soup is exactly what we all need as the weather begins to change. Get cozy and whip up this simple soup that will leave you full of yummy nutrients - and lots of love!
Ingredients
8 oz. red lentils, rinsed thoroughly
2 TBSP. Kosterina extra virgin olive oil
1 medium onion, chopped
2 medium garlic cloves, minced
½ tsp. sea salt
½ tsp. freshly ground pepper
½ tsp. ground cumin
½ tsp. freshly ground coriander
½ tsp. ground ginger
2 TBSP. tomato paste
2 cups chicken or vegetable broth 
2 cups water (warm)
2 TBSP. fresh lemon juice
1 tsp. lemon zest
2 TBSP. Kosterina extra virgin olive oil
1 tsp. paprika
2-3 TBSP. fresh cilantro, minced
Directions
Pick over the lentils, place them in a colander and rinse several times, until the water runs clear.
Place a medium pot over medium heat. Add the 2 tablespoons of olive oil and, once hot, add the onion. Cook for about four minutes until softened, add the salt, then the garlic. Cook for a minute more, stirring frequently, and then add the spices. Cook for two minutes more, or, until the onions and garlic become fragrant. 
Add the tomato paste to the onions and garlic pot and cook briefly until the paste caramelizes (the tomato paste will help thicken the soup). Stir in the broth (chicken or vegetable) and the water. Next, add the rinsed lentils. Bring the pot to a simmer and cook for 15-20 minutes, or, until the lentils are completely soft and broken down.
Remove from the heat and stir in the lemon juice and zest. Taste and adjust the seasoning--add more salt or spices if necessary.
When ready to serve, heat 2 TBSP. of olive oil in a small skillet and stir in the paprika. Remove from the heat.
Ladle the soup into four warm bowls, drizzle each portion with the seasoned olive oil, sprinkle with the fresh cilantro, and serve.
Shop Mediterranean Essentials