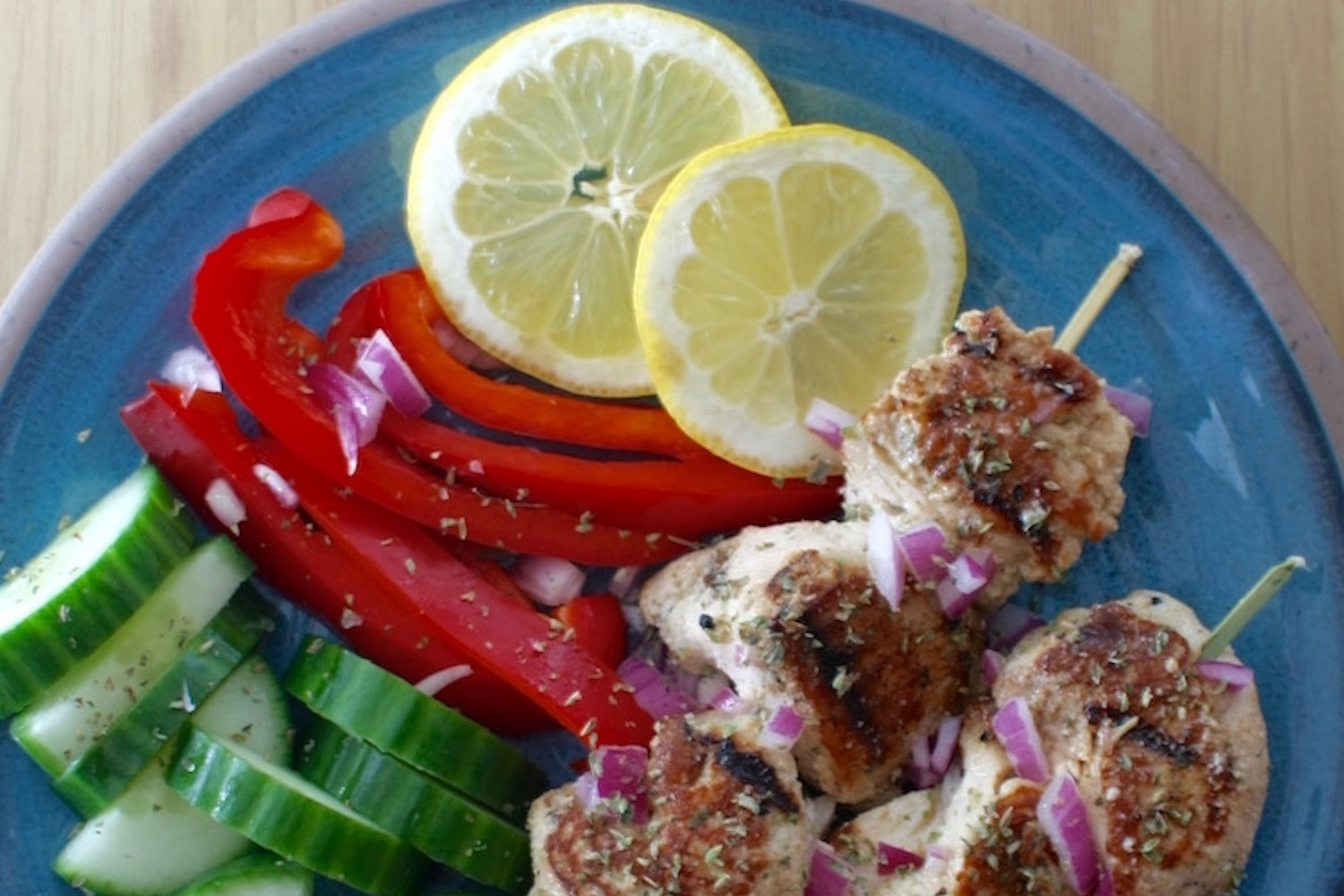 Pork Tenderloin Souvlaki
About this recipe:
This herb-infused recipe of pork tenderloin is easy enough to throw on the grill for 10 minutes! Just as perfect for an easy after work dinner or when entertaining. 
Ingredients
1 lb. pork tenderloin, trimmed
4 TBSP. Kosterina extra virgin olive oil
2 TBSP. lemon juice
5 medium garlic cloves, peeled and minced
2 tsp. Greek dried oregano
1 tsp. dried mint
1 tsp. fresh rosemary, minced
1 tsp. freshly ground pepper
sea salt
1 medium lemon
Directions
Cut the tenderloin into small cubes, about 1.5" for each piece.
In a large glass or ceramic bowl, whisk together all the ingredients of the marinade, exceptfor the sea salt.
Add the pork tenderloin pieces, mix well, cover and refrigerate for at least 5 hours or over night.
Half an hour before you are ready to grill, soak the wooden skewers in a bowl full of water for 30 minutes. Thread the marinated pork pieces through the skewers. If desired, you can also add a few red onion and green pepper slices alternatively to the skewers.
Heat the grill well over medium-high heat. When the grill is ready, lightly oil it with vegetable oil. Season the pork with sea salt, brush with some of the remaining marinade and grill for about 6 minutes per side. When the meat is done it should have nice grill marks and the internal temperature should register at 145°F.
When the skewers are ready, place in a serving platter, squeeze some fresh lemon juice over the top and serve at once.
Shop Mediterranean Essentials