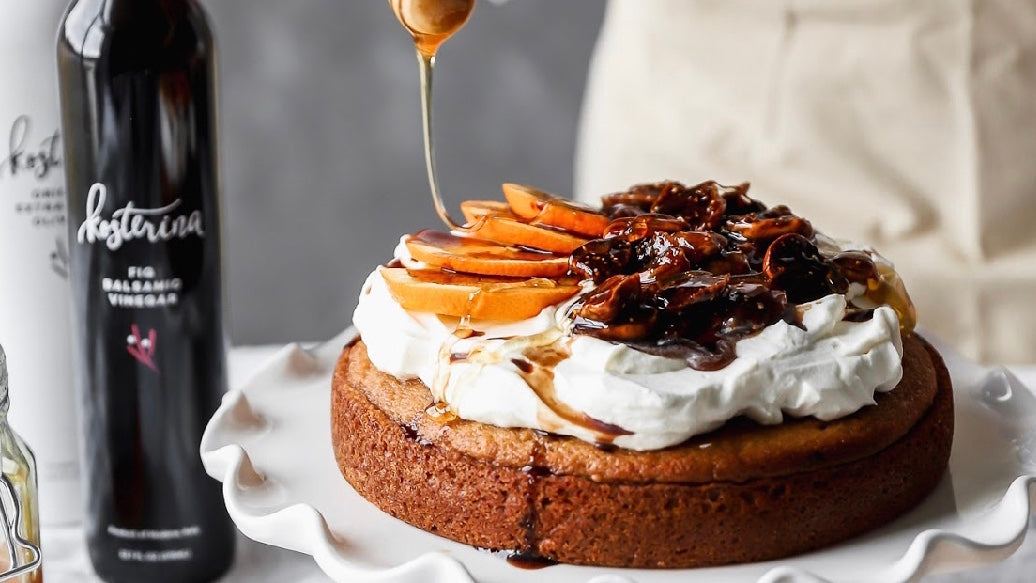 Orange Olive Oil Cake



Serves




10




Prep Time




20 minutes




Cook Time




35 minutes
About this recipe:
Crafted by the incredibly talented Bernice of Baran Bakery, this recipe is what olive oil cake is all about - a moist, citrus-y fresh inside (brought to you by our Original EVOO and fresh orange juice a zest) and a sweet, fruity topping (featuring our fan-favorite Fig Balsamic Vinegar). Meet your new favorite cake!  
Ingredients
1 1/2 cups all-purpose flour
1 tsp baking soda
1/4 tsp salt
1/2 cup Kosterina Extra Virgin Olive Oil
3/4 cup granulated sugar
3/4 cup buttermilk
1/4 cup orange juice
Zest from 1 orange
1/4 cup Grand Marnier
For the Whipped Cream:
1/2 cup heavy whipping cream
1 Tbsp honey
For the Carmelized Topping:
1/3 lb Figs, halved
3 Tbsp honey
2 Tbsp Kosterina Fig Balsamic Vinegar
Directions
Preheat the oven to 350F & grease & line and 8 inch pan.
In a medium bowl whisk together the flour, baking soda & salt. Set aside.
In a large bowl whisk together the olive oil & sugar until they're well combined. Add the buttermilk, orange juice and zest and whisk until the mixture is smooth.
Fold in the dry ingredients just until combined & pour into the prepared pan. Bake for about 30 minutes. When the cake is fully baked it should release itself from the edges of the pan and spring back when you press the center.
Once the cake has cooled, place the heavy whipping cream in a deep bowl and use an electric mixer on high speed to beat the cream.
When the cream reaches stiff peaks, add the honey and mix just until combined.
Place the cream on top of the cooled cake.
In a medium saucepan, over medium-low heat, caramelize the figs, honey and balsamic vinegar for just 1-2 minutes. The sauce will thicken as it cools so don't cook it longer.
Allow the figs and sauce to cool a  little and then drizzle over the cake.
Shop Mediterranean Essentials