Mini Meatballs and Cucumber Bites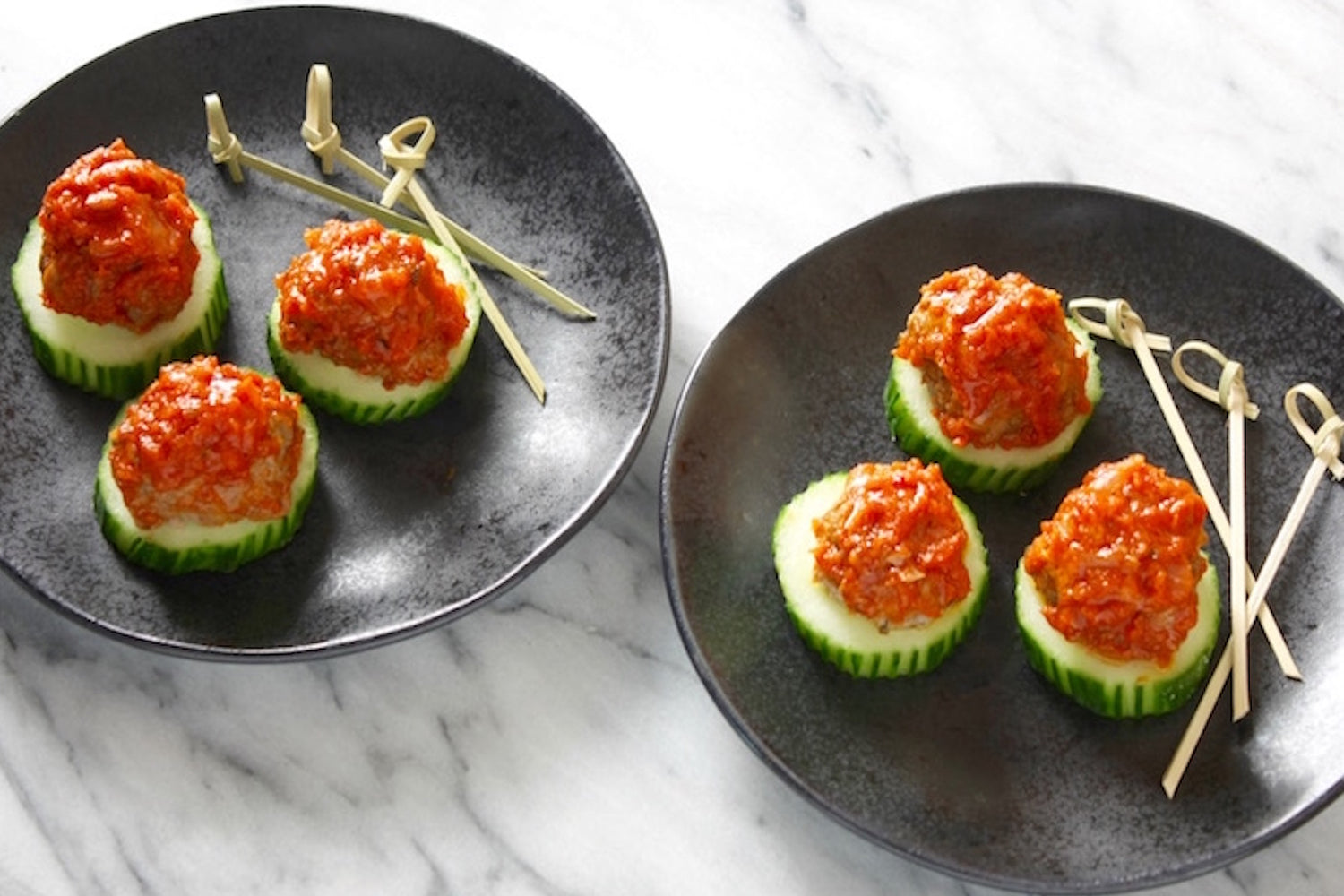 Mini Meatballs and Cucumber Bites
About this recipe:
This unique dish is perfect for a party of many - or just one! Make sure to make the meatballs a few hours ahead of time for ultimate flavor. And, if you don't finish the entire plate in one sitting? Freeze those meatballs and save 'em for later! 
Ingredients
1½ lbs. ground beef (or combination of 1 lb. ground beef and ½ lb. ground pork)
1 large, ripe tomato, grated
2 cups grated onions
1½ tsp. sea salt
½ tsp. freshly ground pepper
2 tsp. dried Greek oregano
1 TBSP. dried Greek mint, (spearmint)
½ cup plain breadcrumbs
4 TBSP. Parmesan cheese
½ cups milk
1 TBSP. Kosterina extra virgin olive oil
2 large English cucumbers, scrubbed and scored lengthwise
Directions
Place a coarse grater in the middle of a large bowl. Cut off a slice from the root of the tomato and discard; grate the rest into the bowl. Next, grate the onion straight into the bowl with the tomato. Add the salt, pepper, oregano, mint, breadcrumbs, Parmesan cheese and milk and mix well. Last, add the ground beef and mix thoroughly to incorporate. If the mixture is too dry, add some more Parmesan cheese. If it is too loose, add some more milk. Drizzle the olive oil over the surface, cover well and refrigerate for an hour (or even overnight).
Preheat the oven to 375°F. 
To form the mini meatballs, use a tablespoon to measure out a little bit of the mixture and roll it between your palms into a small ball. It should be slightly smaller than a golf ball. Place on a baking sheet, lined with aluminum foil. Continue with the remaining mixture until all the meatballs are shaped, placing them closely to each other in the sheet.
Bake for about 25 minutes, depending on their size, until lightly brown (you do not need to turn them while baking). Remove from the oven and transfer to a tray.
At this point, you can serve them as is, or, add them to you favorite tomato sauce and simmer for 15 minutes. Either way, let them come to room temperature.
Cut the cucumbers into disks, place one small meatball on top and serve with decorative toothpicks. Alternatively, pile them all on one side of a tray and place the cucumbers on the other side, then allow your guests to help themselves!
Author notes
The meatballs may be made at least three hours ahead of time and stored, covered, until ready to use. The recipe makes a whole tray's worth of meatballs. Make the whole recipe and freeze the unused meatballs, after they are cooked and cooled down.
Shop Mediterranean Essentials