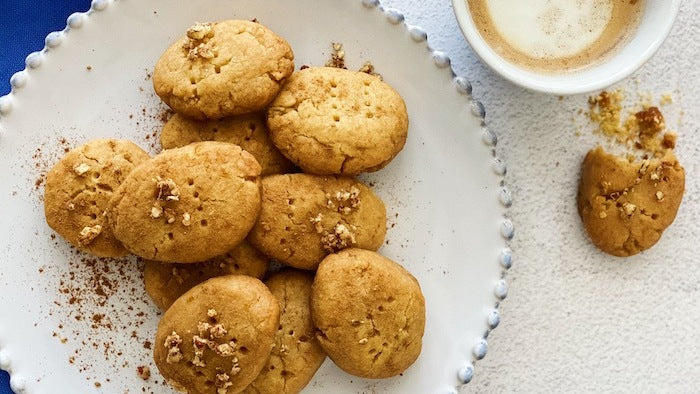 Melomakarona
About this recipe:
This recipe for Melomakarona, or Greek Honey Cookies, is a Christmas tradition in Greek households. We especially love them for the inclusion of ancient ingredient and superfood, honey. 
Ingredients
For the Cookies:
3 cups AP flour
1/4 cup semolina flour
1 teaspoon baking powder
1/2 teaspoon baking soda
1/2 teaspoon kosher salt
1 tablespoon orange zest
1/2 cup granulated sugar
1/2 cup Everyday Extra Virgin Olive Oil
1/2 cup walnut or almond oil
6 tablespoons orange juice
2 tablespoon cognac or brandy
For the Syrup:
1/2 cup granulated sugar
1/2 honey
1 cup water
2 cinnamon sticks
2 whole cloves
Zest of one lemon
1 cup chopped walnuts
2 tablespoons ground cinnamon
Directions
For the Cookies:
Preheat oven to 350 degrees.
In a large bowl, whisk flour, baking powder, baking soda and salt. Set aside.
In a medium bowl, add zest, sugar, oils, orange juice and liquor. Mix with an electric mixer until combined.
Add the dry and liquid ingredients together and mix with a wooden spoon until combined and a soft dough forms.
PInch a tablespoon of dough from the mix and shape into an oval.
Place each cookie on a parchment lined baking sheet and prink with the tines of a fork twice, to form small holes in the dough.
Bake for 25 minutes.
While the cookies are baking, make the syrup.
In a small pot, add water, sugar and honey and mix to combine over medium heat.
Once it begins to boil, reduce to a simmer and add the cinnamon sticks, cloves and lemon zest. Simmer until the cookies are done.
Remove the syrup from the heat and pour into a small bowl. Carefully drop the cookies into the syrup and flip to cover.
Remove to a wire rack to dry and sprinkle with walnuts and cinnamon immediately.
Store for up to a week in an airtight container.
Shop Mediterranean Essentials