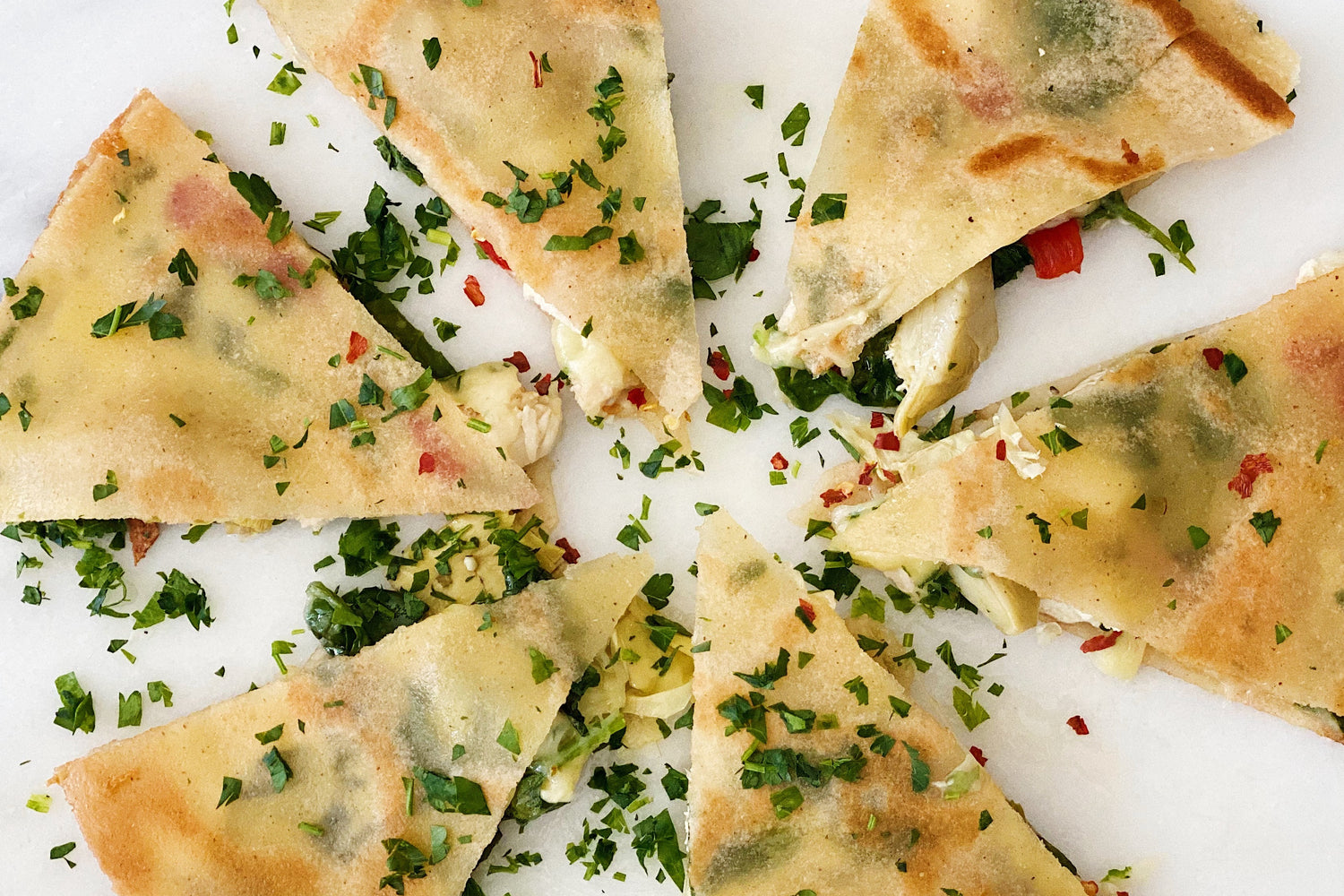 Mediterranean Quesadilla



Serves




1




Prep Time




10 minutes




Cook Time




5 minutes
About this recipe:
Everyone loves a quesadilla. We decided to take ours on a Mediterranean trip, filling it with delicious veggies and a bit of feta for a salty bite. Feel free to get creative and use up some leftover chicken souvlaki or any other veggie that needs to be eaten up quickly.  ⁠
Ingredients
2 burrito style tortillas, we love Siete brand
1 cup 365 Everyday Value organic shredded cheddar cheese
1/2 cup 365 Everyday Value Organic Baby Spinach
1/2 cup365 Everyday Value canned artichokes, drained
1/2 365 Everyday Value Fire Roasted Organic Red Peppers, sliced in strips
1/2 cup chopped cooked chicken (souvlaki or rotisserie works great)
1 tsp crushed red chili flakes
1 tsp dried oregano
1/2 cup crumbled feta
4 T Kosterina Original Extra Virgin Olive Oil
Directions
Lay one tortilla down on a cutting board and sprinkle half the shredded cheddar cheese evenly over it. 
Add the spinach, artichokes, peppers, chicken, chili flakes, oregano and feta on top and in that order.
Sprinkle the rest of the cheddar on top evenly over all the ingredients.
Place the second  tortilla on top.
Heat a large sauté pan with 2 T of the oil.
Carefully lay the tortilla in the hot sauté and cook for 2 to 3 minutes until the tortilla is browned on the bottom and the cheese begins to melt.
Flip the tortilla over and cook for another 2 to 3 minutes to brown the other side and completely melt the cheese.
Cut into triangles and serve immediately. Enjoy!
Shop Mediterranean Essentials