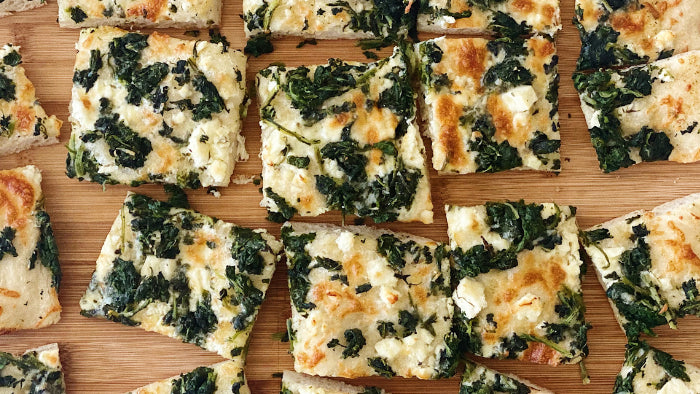 Kosterina Spanako-Pizza
About this recipe:
Making pizza at home is easier than you think.  Our (basically) no knead dough comes together in minutes in a food processor and our secret ingredient to a super flavorful result is our Garlic Oil.  Make a double batch because this dough is perfectly freezable too.
Ingredients
For the Garlic Pizza Dough:
3 cups all-purpose or bread flour, plus more for dusting
2 1/2 teaspoons instant yeast
2 1/2 teaspoons kosher salt
2 tablespoons Kosterina Garlic extra virgin olive oil
For the Topping:
1 tablespoon Kosterina Garlic EVOO
2 T powdered garlic
2 T dried oregano
1 T kosher salt
1 lb mozzarella, grated
10 ounces feta, crumbled
10 ounces frozen spinach, defrosted and pressed of excess water
Directions
For the Garlic Pizza Dough:
Combine the flour, yeast, oil and salt in a food processor. Turn the machine on and add 1 cup of water.
With the machine running slowly add 1/2 cup of water, a little at a time, until the mixture forms a ball and is slightly sticky to the touch.
Turn the dough onto a floured bowl and knead by hand to form a smooth dough ball. 
Put the dough in a bowl and cover with plastic wrap; let rise for one hour.
When the dough is ready, put the dough on a greased baking sheet.  Slowly begin to spread the dough to the corners of the sheet.  If it is resisting, cover it with a towel and allow it to rest for 10 minutes. Once it is the size you like, proceed with toppings.
Preheat the oven to 500 degrees or as high as your oven will go.
Drizzle the dough with olive oil.  Sprinkle garlic powder, oregano and salt along the border.
Evenly distribute the mozzarella, then the feta and then add little bits of spinach all over the dough.
Place in a preheated oven for 10 to 15 minutes, until the crust is brown and the cheese is melted and bubbling.
Shop Mediterranean Essentials