Lemony Caesar Salad with Butternut Squash & Chickpeas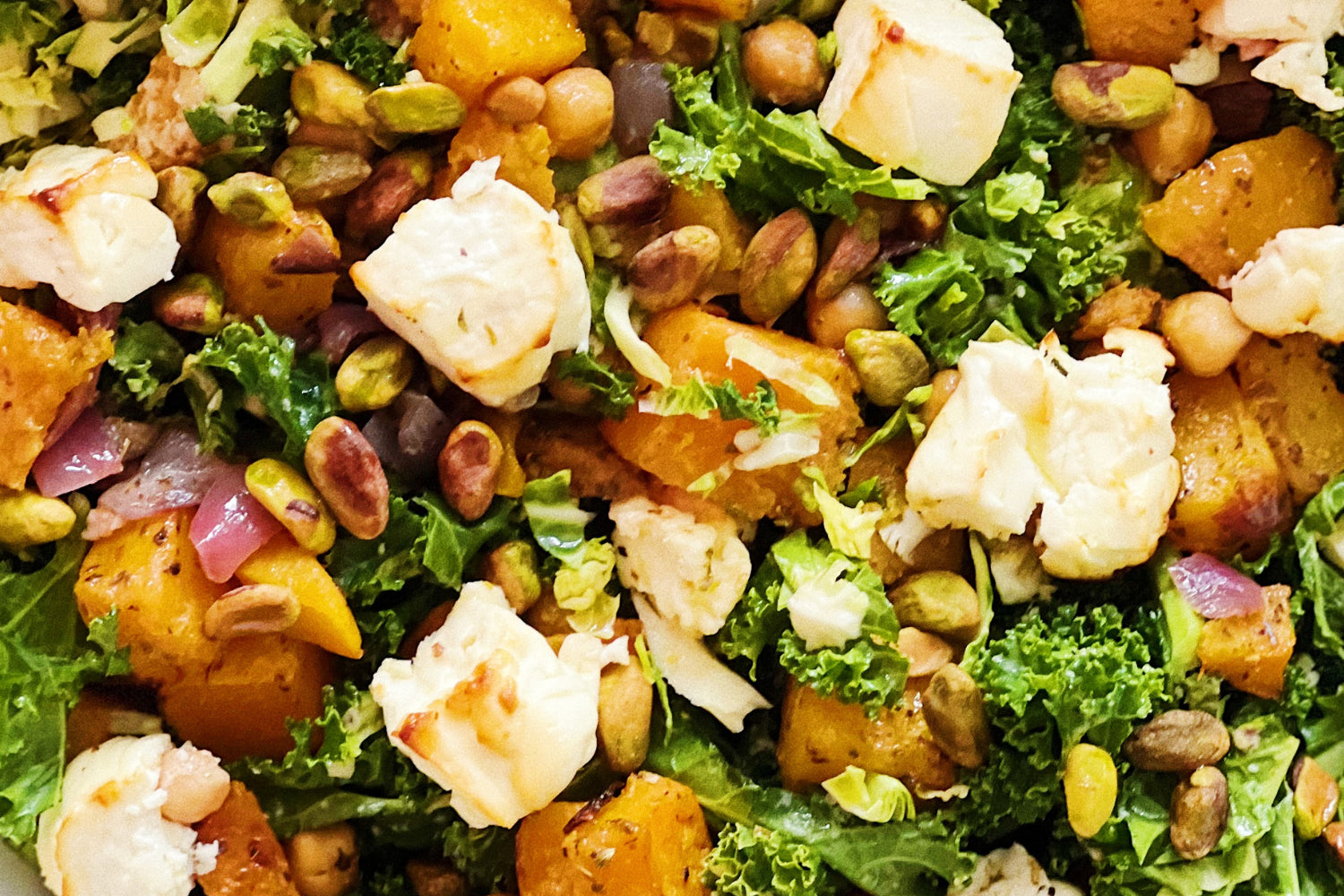 Lemony Caesar Salad with Butternut Squash & Chickpeas



Serves




2




Prep Time




15




Cook Time




35
About this recipe:
This is our ideal kale caesar salad. Loaded with vegetables, crispy chickpeas, pistachios, cubed feta, and shredded brussel sprouts, each bite packs delicious flavor and makes you never want to put your fork down. Plus, our homemade dressing gets caught in all the grooves of the curly kale so each bite is perfectly dressed.
Ingredients
For the Salad:
1 medium butternut squash, cubed into 2 inch pieces

¾ cup Kosterina Original Extra Virgin Olive Oil, divided

1 teaspoon kosher salt

1 teaspoon fresh cracked pepper

2 teaspoons dried oregano

1 (14-ounce) chickpeas, drained

8 ounce block of feta, cubed into 1 inch pieces

4 to 5 cups kale, chopped

3 cups shredded brussel sprouts

1 lemon, juiced

1 cup roasted, unsalted pistachios
For the Dressing:
¼ cup Kosterina Greek Herb & Lemon Oil

1 lemon, zested and juiced

1 tablespoon whole grain mustard

2 tablespoons honey mustard

2 tablespoons tahini

⅓ cup Parmigiano Reggiano

1 teaspoon kosher salt

1 teaspoon fresh cracked pepper
Directions
For the Salad:
Preheat the oven to 425 degrees.

On a large baking sheet, drizzle some olive oil and add butternut squash. Sprinkle salt, pepper and oregano on top and toss to combine. Spread in an even layer, drizzle with ¼ cup oil and roast in the oven for 20 minutes.

While the squash is roasting, combine kale and brussel sprouts into a large bowl. Add remaining oil and lemon juice. Massage the greens for 5 minutes to coat evenly and encourage wilting.

Remove the squash from the oven and toss the chickpeas on the pan. Spread in an even layer.

Place the feta cubes on top of the mixture and place it back in the oven for 15 minutes until the feta begins to brown and chickpeas are crisp.
For the Dressing:
Combine all dressing ingredients in a mini food processor or blender and whirl until the dressing is emulsified.

Add the hot vegetable to the salad, pour the dressing to top and mix to combine.

Sprinkle with nuts and enjoy!
Author notes
Delicious as a main meal, it's also delicious as a next-day snack. Don't forget to save some extra dressing for leftovers!
Shop Mediterranean Essentials