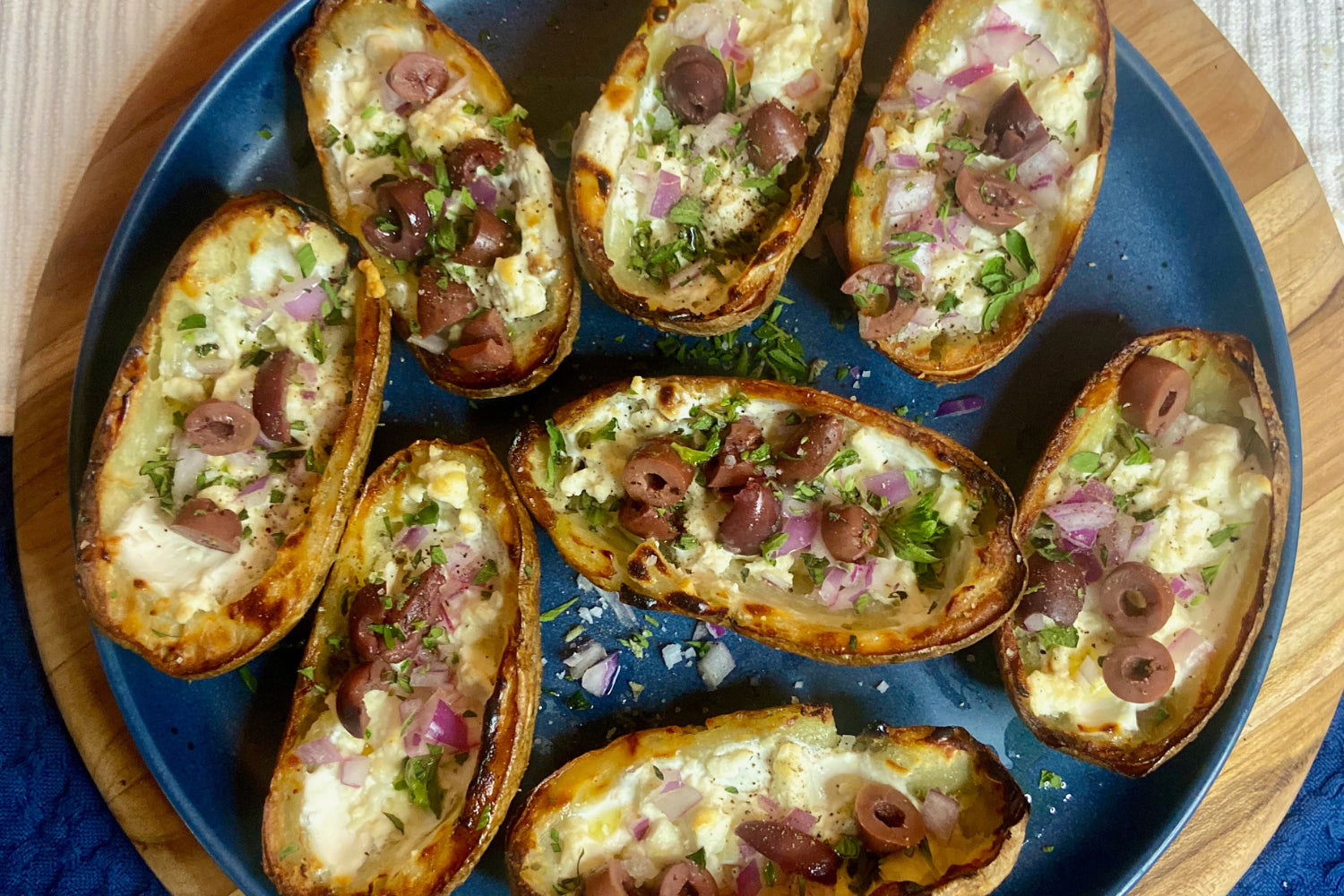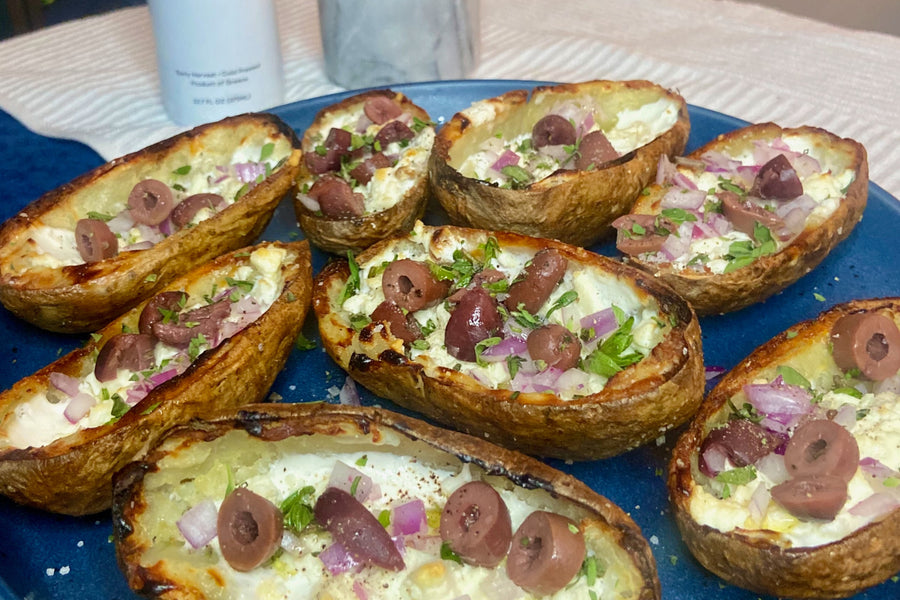 Greek-Style Potato Skins



Serves




2-4




Prep Time




20 minutes




Cook Time




1 hour 15 minutes
About this recipe:
These Greek-inspired potato skins will become an instant favorite for any party, solo meal, snack, or family dinner!  Using the subtle flavors of our Kosterina Greek Herb & Lemon Olive Oil, combined with juicy Kalamata olives and creamy feta, these crispy potato skins are certain to make you smile from the first bite.  The best part?  You can customize to your personal taste!
Ingredients
4 medium russet potatoes

3 tbsp Kosterina Greek Herb & Lemon Olive Oil

Sea Salt

1/2 cup thick Greek yogurt (such as Fage or Greek Gods Lebni, or drain regular yogurt)

3 ounces Greek Feta cheese, crumbled

1 tbsp minced fresh oregano leaves

Zest of 1 lemon, minced

1/4 cup red onion, minced

Fresh ground black pepper
Directions
Preheat oven to 400 degrees

Pierce the potatoes with a fork and place on a baking sheet.

Bake potatoes for 50-60 minutes or until they are cooked through. Let them sit until they are cool enough to handle.

Cut the potatoes in half lengthwise. Hollow them out with a spoon, leaving about a 1/4" thick wall. Save the leftover potato flesh for another purpose.

Put the olive oil on the sheet pan. Return the skins to the pan, and rub them on both sides with the oil.

Return to the oven, skin side down, and bake for 7 minutes.

Flip to skin side up and bake 5 to 10 more minutes, until they are nicely browned and crispy, especially around the inner rim.

Sprinkle each skin with a little bit of salt. Spread each with 1 tablespoon of yogurt.

Top each with 1 tablespoon of feta cheese.

Transfer to a heat-proof serving dish. Broil for 3 minutes or until the cheese is starting to melt.

Garnish with fresh oregano, lemon zest, red onion, black pepper, and more salt. Finish with a healthy drizzle of Kosterina Greek Herb & Lemon Olive Oil.
Shop Mediterranean Essentials