Flourless Chocolate Olive Oil Cake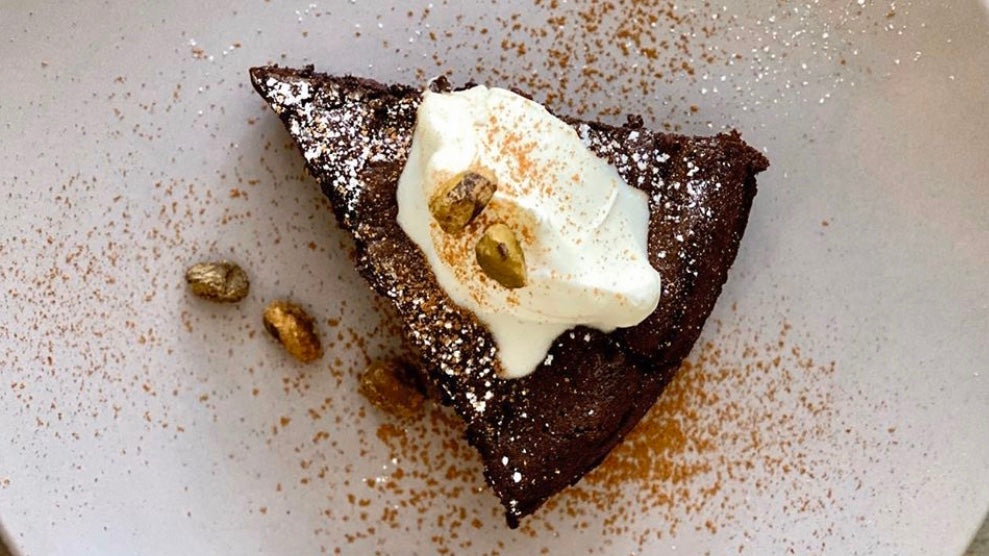 Flourless Chocolate Olive Oil Cake
About this recipe:
Chef and cookbook author, Anna Francese Gass, developed this incredible flourless chocolate olive oil cake using Kosterina Original EVOO and our Nuts, Cinnamon & Honey Dark Chocolate bar. She added a cinnamon mascarpone cream topping and it couldn't be more perfect.  
Ingredients
For the Cake:
8 ounces chocolate, 60% dark
½ cup Kosterina Original Extra Virgin Olive Oil
5 large eggs, separated
½ cup granulated sugar
1 teaspoon ground cinnamon
1 teaspoon espresso powder
1 teaspoon honey
¼ cup black cocoa powder
¼ cup cocoa powder
1 Kosterina Nuts, Cinnamon & Honey Dark Chocolate Bar
For the Mascarpone Topping:
1 cup heavy cream
4 ounces mascarpone cheese
3 teaspoons confectioners sugar
ground cinnamon, for garnish
Directions
For the Cake:
Preheat the oven to 350 degrees.
Prepare a double boiler and melt the dark chocolate with olive oil.  Mix to combine and set aside and allow to cool.
Separate the eggs into two large bowls.
Add sugar to egg whites and beat until increased in volume and very frothy, about 3 to 4 minutes.
To the yolks, add the cinnamon, espresso powder and honey and mix to combine.
Add the cooled chocolate to the eggs and combine.  Add the cocoa powders and mix again.
Fold in the egg white/sugar to the chocolate mixture and gently mix to combine.
Chop up the Kosterina chocolate bar into the batter and mix again to combine.
Line a springform pan with parchment and grease sides with butter or cooking spray.
Pour the batter into the pan and spread evenly to cover the bottom.
Bake for 25 minutes and then remove from oven.
Allow to cool in pan for another 10 minutes before moving from the pan and serving.
Serve with chopped pistachios, a dollop of mascarpone cream and a sprinkle of cinnamon.
For the Mascarpone Topping:
 Beat all the ingredients together until it begins to get stiff.  Serve on cake.
Shop Mediterranean Essentials
Regular price
Sale price
$19.95
Unit price
per
Specifically crafted with cooks and bakers in mind.
Regular price
Sale price
$29.95
Unit price
per
Our highest polyphenol EVOO straight from Southern Greece.
Regular price
Sale price
$159
Unit price
per
Always have the Original on hand with a half case of 500ml (6 bottles).