Easy Creamy Polenta with Chèvre, Charred Corn, Garlic Mushrooms & Steamed Broccoli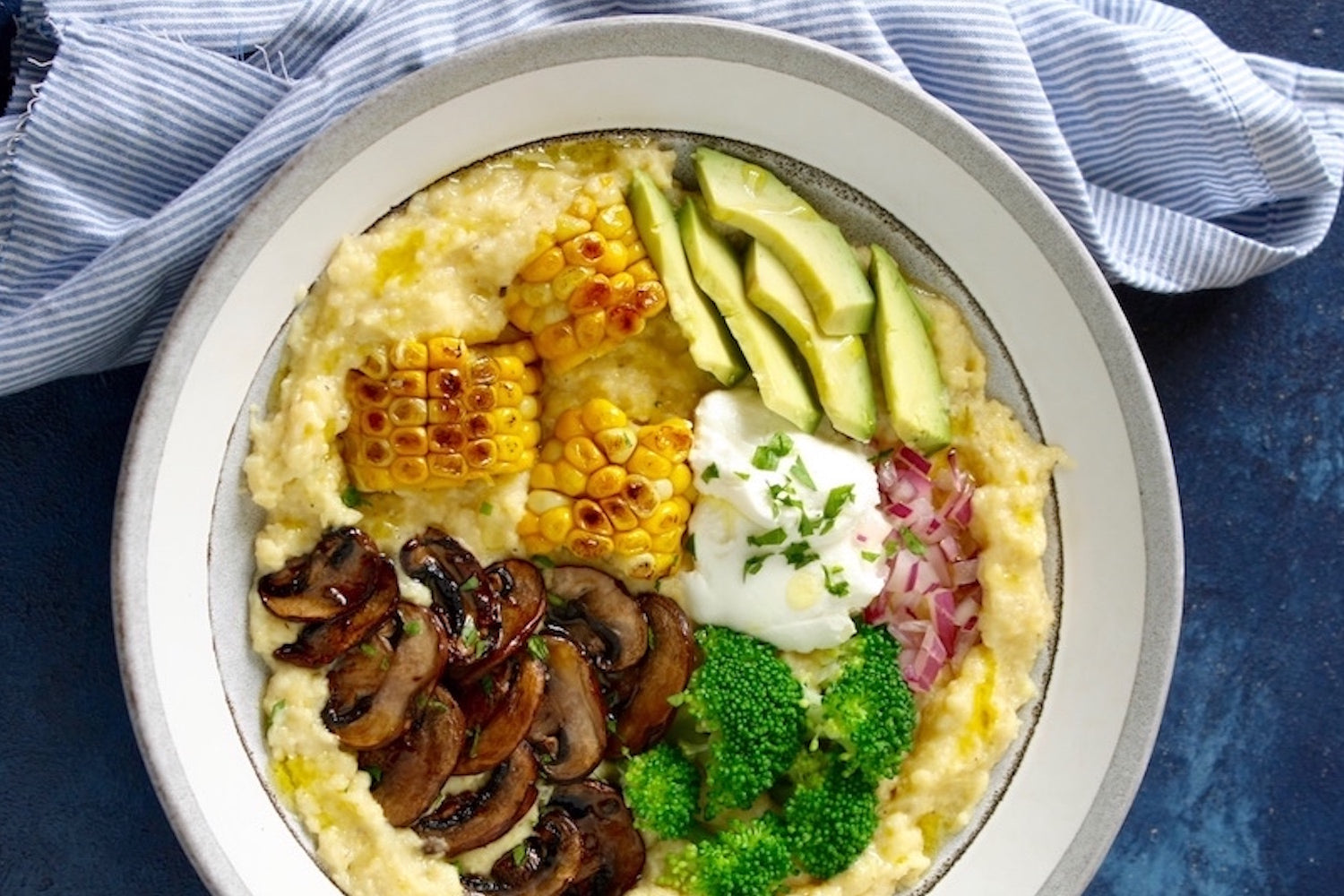 Easy Creamy Polenta with Chèvre, Charred Corn, Garlic Mushrooms & Steamed Broccoli
About this recipe:
This dish is the perfect gluten-free, vegan and tasty meal that can satisfy anyone - no matter what their favorite food is! It's really warming and perfect for those cool evenings. The best part? There's enough for leftovers!
Ingredients
1 cup instant polenta (e.g., Quaker or Bob's Mill)
2 cups of vegetable (or chicken) broth
2 cups water
½ tsp. sea salt
¼ tsp. freshly ground pepper
1-2 TBSP. organic butter
1 cup freshly grated Parmesan cheese
4 oz. Cremini mushrooms, sliced
3 TBSP. Kosterina extra virgin olive oil
2 garlic cloves, minced
2 cups of steamed broccoli (or spinach or chard or kale)
1 ear of cooked fresh corn, charred
4 oz. Chèvre cheese, cut in thin rounds
red onion, minced (optional)
1 small avocado, sliced (optional)
2 TBSP. Kosterina extra virgin olive oil for drizzling
Directions
Bring the broth and the water to a boil in a medium pot. Once it comes to a boil, stir in slowly the polenta, the salt and pepper. Reduce the heat and simmer for about 8 minutes or until it is smooth and creamy. If necessary, add some more hot liquid. Remove from the heat and stir in the butter and the Parmesan cheese. Mix well, taste and adjust the seasoning if necessary. Keep warm until ready to use.
While the polenta cooks, in a separate hot pan, sauté the mushrooms for two minutes. Once most of the liquid of the mushrooms is released, add 3 TBSP of the olive oil, the garlic, and a little salt and pepper then cook until golden brown.
Remove the mushrooms from the pan and set aside. With a sharp knife, cut the corn kernels from the cob. Add a little more olive oil to the pan (if necessary) and, once the oil is hot, add the corn to cook briefly until lightly charred.
Steam the broccoli in a steaming basket over boiling water until tender, about five minutes. While this is steaming, slice the Chèvre cheese and avocado, and mince the onion. (Instead of goat cheese, you can use another sharp cheese). Set aside.
To assemble the bowls, divide the hot polenta among four, warmed, shallow bowls. Top with the garlic, mushrooms, charred corn, steamed broccoli, sliced Chèvre, sliced avocado, minced onion. Drizzle the remaining 2 TBSP of extra olive oil and serve warm.
Author notes
This dish can also obviously be made with regular polenta; this version uses instant polenta to speed up the preparation time and reduce the time that you need to spend stirring the polenta over a hot stove.
Shop Mediterranean Essentials