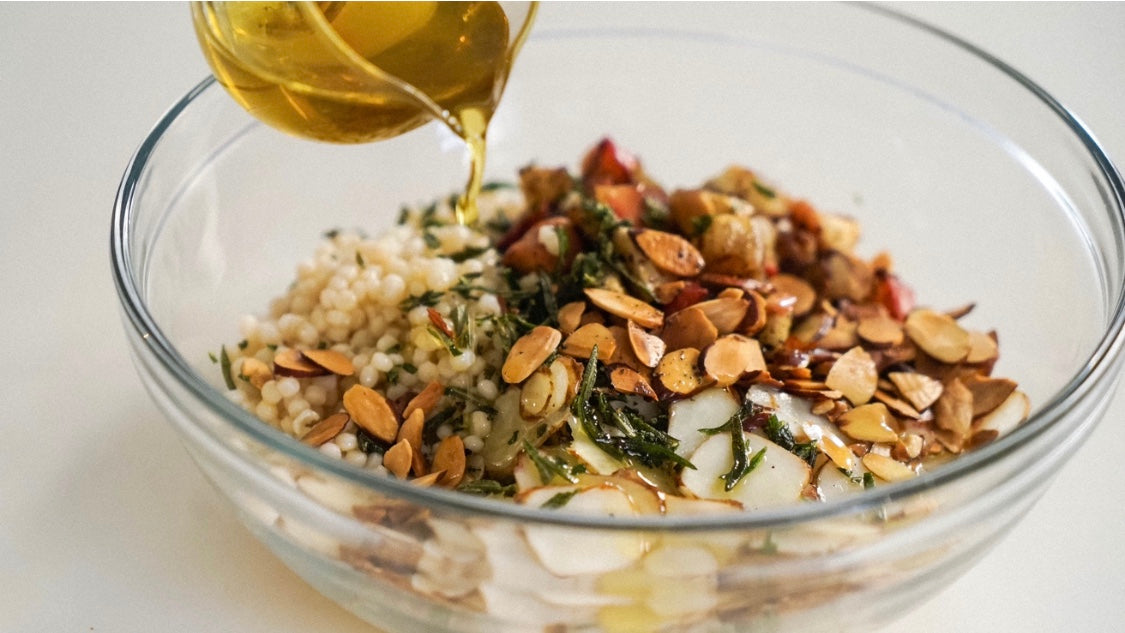 Couscous & Apples



Serves




4 to 6




Prep Time




20 minutes




Cook Time




25 minutes
Ingredients
2 pink lady apples, cored, chopped
¼ cup + 3 TB olive oil, divided
½ tsp sumac
¼ tsp cayenne
¼ tsp onion powder
½ cup pearled couscous
¼ cup rosemary leaves
5 small sunchokes, scrubbed clean
2 TB apple cider vinegar
¼ cup sliced almonds, toasted, plus more for garnish
Salt & freshly ground black pepper, to taste
Directions
Preheat oven 375ºF.
Make the rosemary oil. In a small saucepan, heat ¼ cup oil over medium heat. Gently add all of the rosemary. When the oil is no longer bubbling, strain the oil and reserve. Transfer the fried rosemary onto a paper towel-lined plate and salt lightly.
Roast the apples. On a parchment-lined baking sheet, toss apples with 3 TB oil, sumac, cayenne and onion powder. Season to taste with salt and pepper, then roast until soft, 20 minutes. Set aside.
In a pot of boiling salted water, add couscous cook until tender, 8 to 10 minutes. Strain and rinse with cold water.
Thinly slice sunchokes then toss in a mixing bowl with vinegar to prevent oxidizing.
In a large mixing bowl, combine apples, couscous, sunchoke mixture and almonds. Season with 2 to 3 TB of rosemary oil and salt and pepper to taste.
Transfer to a serving platter and garnish with fried rosemary, almonds and black pepper.
Shop Mediterranean Essentials