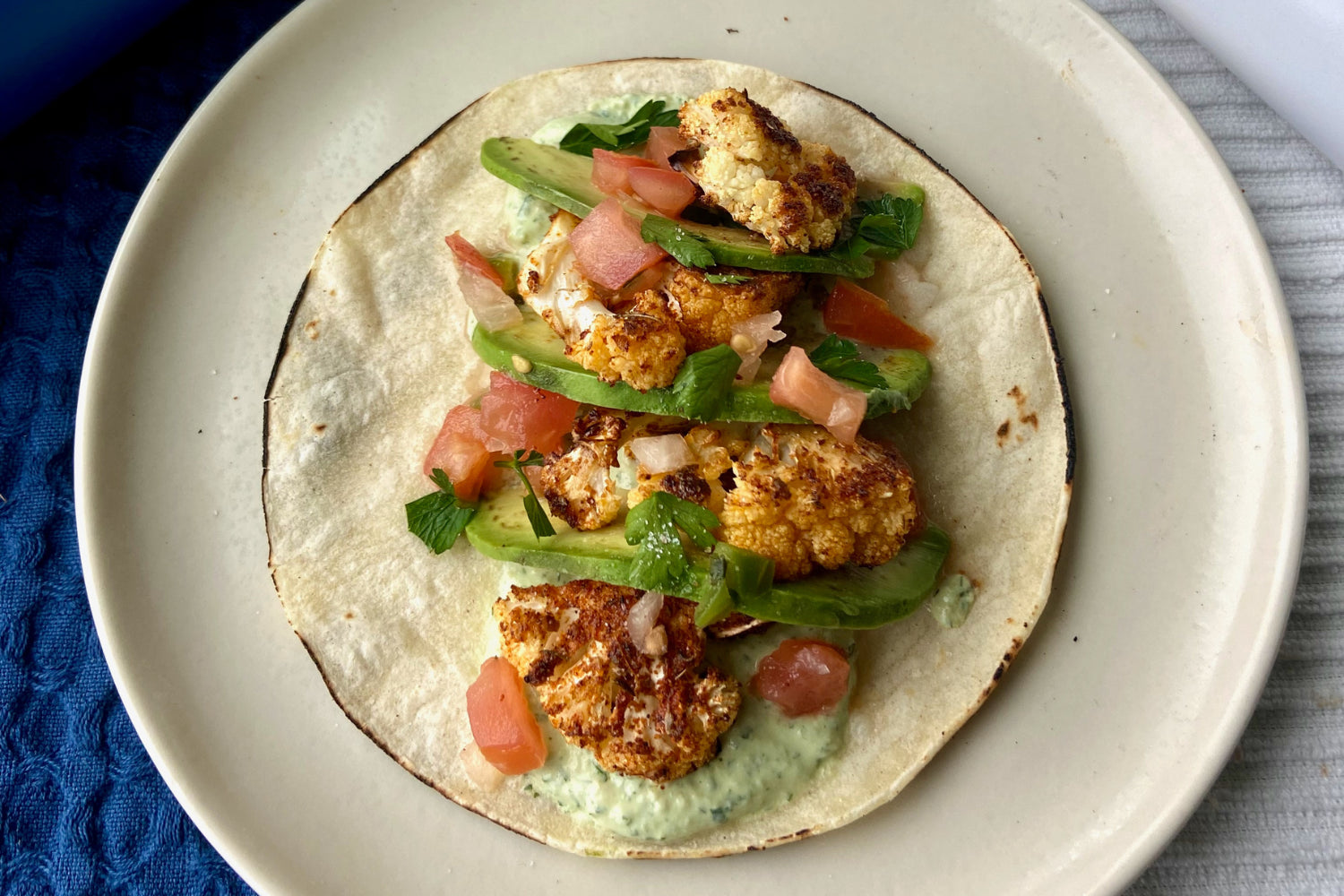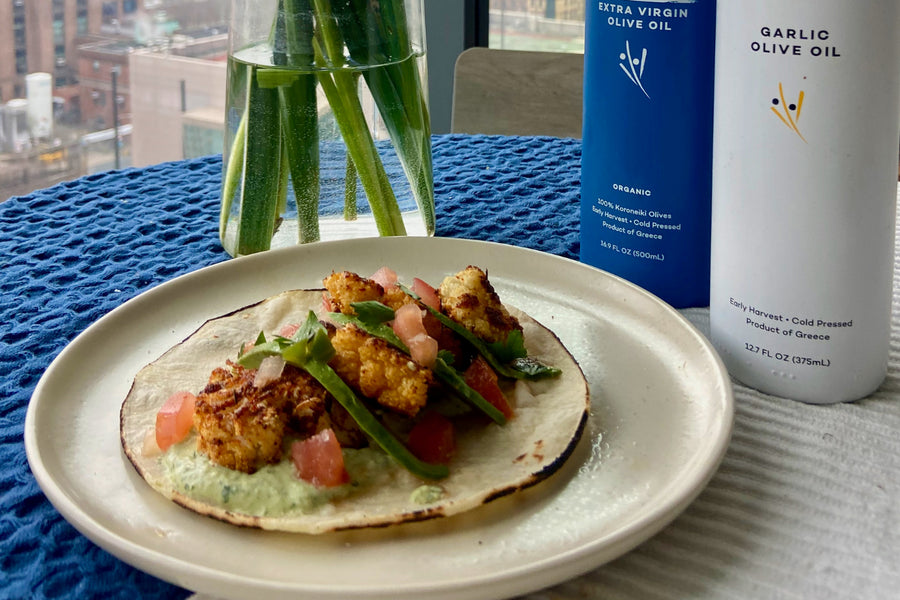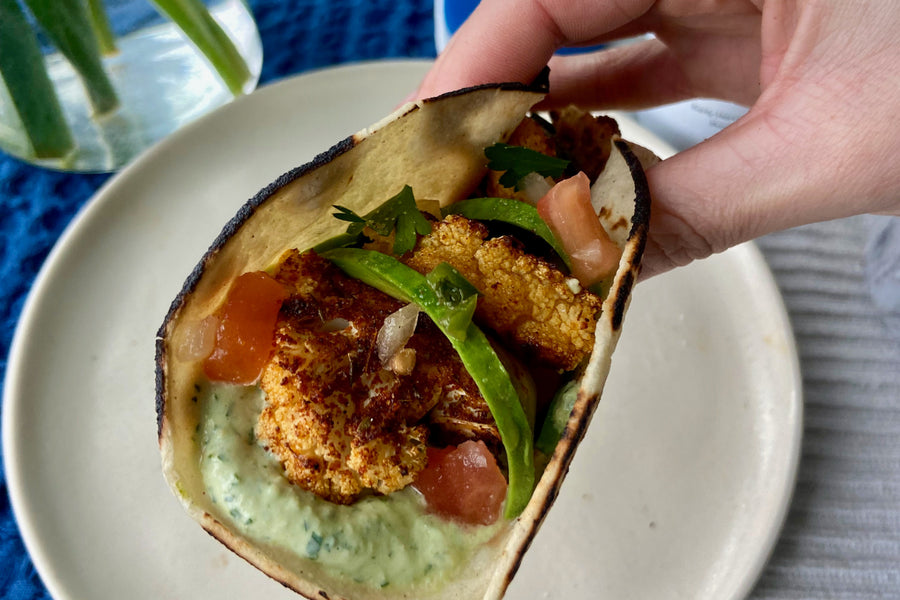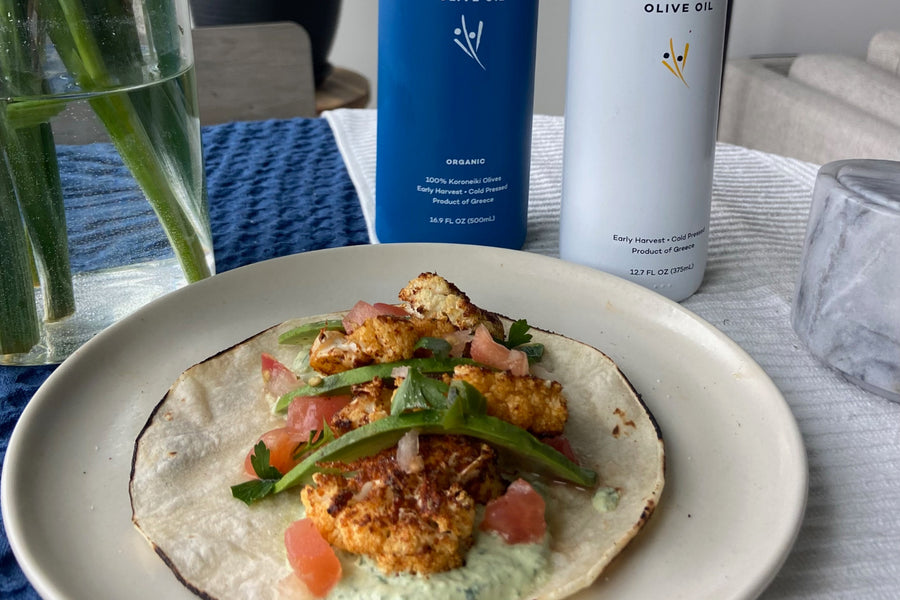 Cauliflower Tacos



Prep Time




10 minutes




Cook Time




30 minutes
About this recipe:
These vegetarian cauliflower tacos aren't trying to be meat, but they utilize the natural, rich flavors of fresh ingredients for an even more delicious dish. Perfect for any occasion, from a small gathering to a family meal to a solo night in, these quick & easy tacos will become a staple in your cookbook. Healthy & fresh, you'll love the depth of flavor that our Kosterina Everyday Organic EVOO and Kosterina Garlic Olive Oil add to this meal. Enjoy!
Ingredients
For the Sauce:
3 tablespoons Kosterina Garlic Olive Oil

½ jalapeno pepper

Handful of cilantro

3 tablespoons of sour cream

Half of an avocado

3 tablespoons fresh lime juice

Kosher salt
For the Tacos:
1 medium heads of cauliflower, cut into 1"–2" florets

½ cup Kosterina Garlic Olive Oil

1 tablesoon smoked paprika

4 tablespoons mexican blend (equal parts smoked paprika, chili powder, onion powder, garlic powder, ground cumin, cayenne or ground chipotle)

Kosher salt

6 6"-diameter corn tortillas

Sliced avocado, pico de gallo (diced tomato, onion, pepper, lime), cilantro leaves (for topping)
Directions
For the Sauce:
Using a food processor, mix jalapeño, cilantro, lime juice, Kosterina Garlic Olive Oil, avocado, and sour cream;

Season with salt and set aside.
For the Tacos:
Place a rack in lowest position; preheat oven to 450°. Stir mexican spices in a small bowl to combine. Arrange cauliflower on a rimmed baking sheet and pour garlic oil over. Season with salt and toss to coat cauliflower evenly. Roast, undisturbed, until dark brown and crisp on the bottom, 15–20 minutes. Remove from oven and turn florets over. Continue to roast until second side is dark brown and crisp, 15–20 minutes longer.

Heat a large skillet over medium-high. Working in batches, toast tortillas in a single layer, turning halfway through, until warmed through, about 1 minute total. Transfer to plates.

Spread each tortilla with some reserved sauce; top with cauliflower. Garnish with avocado, pico de gallo, and cilantro
Shop Mediterranean Essentials