Braised Artichoke Hearts with Carrots and Peas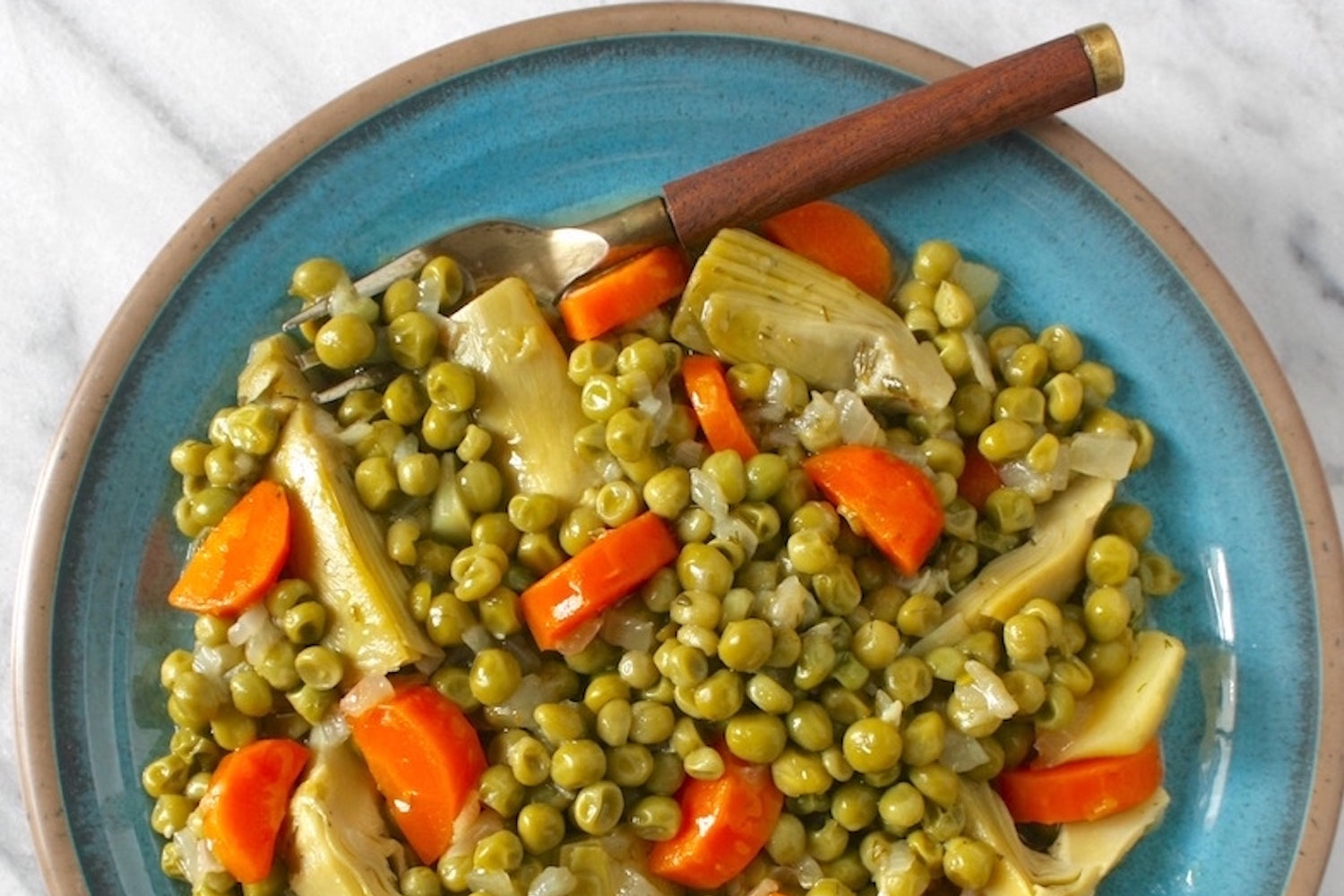 Braised Artichoke Hearts with Carrots and Peas
About this recipe:
This vegetarian meal is
n't lacking in the "filling" department. There are tons of hearty veggies that make up this dish - and will be a favorite for anyone in the family (no matter how much they "need" their protein)!
Ingredients
5 TBSP. Kosterina extra virgin olive oil
½ large onion, chopped
1 med. carrot, peeled and diced
2 tsp. all-purpose flour
1½ cup vegetable stock or water
1 12-oz. package frozen artichoke hearts, quartered, and defrosted
1 10-oz. package frozen petite peas
4 small baby Yukon Gold potatoes, unpeeled (optional)
1-2 TBSPS. fresh dill leaves, minced
¾-1 tsp. sea salt
¼-½ tsp. freshly ground black pepper
3 TBSP. fresh lemon juice
Kosterina extra virgin olive oil for drizzling
Directions
Heat the Kosterina olive oil in a large and deep saucepan with a lid. Add the onion and sauté for about 2 minutes. Dice the carrot and add that to the onions. Cook for another 2 minutes, stirring frequently. Sprinkle in the flour, mix well, and cook for 30 seconds. Add the stock (or water) and bring to a boil. 
Next, add the artichokes and the peas, salt, pepper, and fresh dill and mix well. If you are using the baby potatoes, cut them in half or in quarters and add those at this point too. Bring to a boil, cover with a lid, reduce the heat to medium-low, and simmer for about 20 minutes. Remove the lid and continue simmering until the sauce is reduced, about 10 minutes or so more. There should be about ½ cup of delicious sauce still left in the saucepan. Stir in the lemon juice, taste and adjust the seasoning. 
Serve with an extra drizzle of Kosterina olive oil and some Greek Feta cheese on the side.
Author notes
Use petite peas, which are sweeter and more tender than the starchier, larger peas. Good quality frozen artichokes taste great and save time since you don't have to clean them!
Shop Mediterranean Essentials