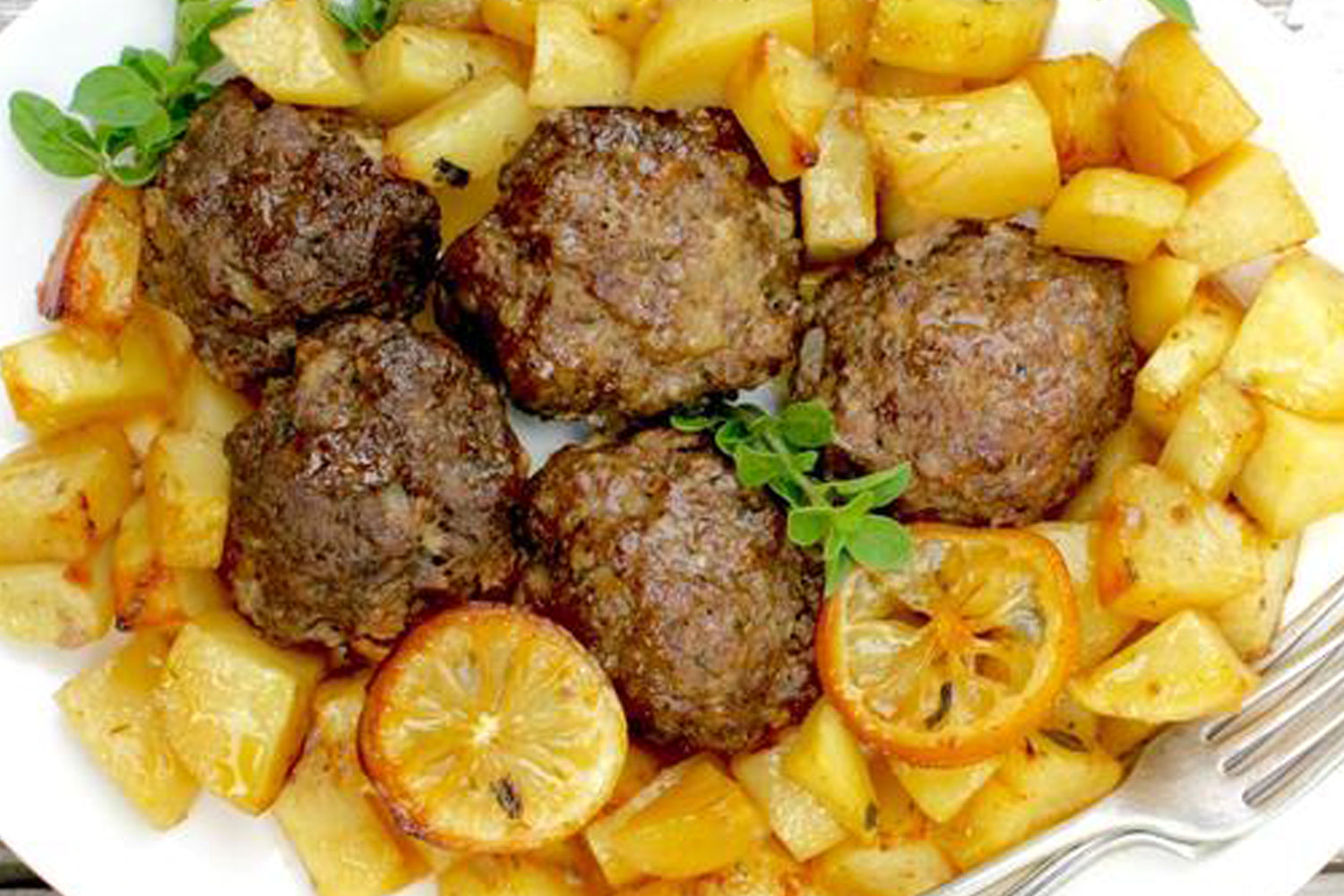 Baked Greek Meatballs
About this recipe:
This dish is perfect for family-time on Sundays. It pairs well with lemon-roasted potatoes and a big green salad. No picky eaters here!
Ingredients
3 TBSP. Kosterina extra virgin olive oil 
1 large onion, finely minced
3 medium cloves of garlic, finely minced
4-5 slices of good quality bread, crusts removed, coarsely chopped
1/4 cup milk
2 TBSP. Kosterina extra virgin olive oil
1 tsp. dry Greek oregano
1 tsp. dry mint 
1 tsp. smoked paprika
1 tsp. sea salt
½ tsp. freshly ground pepper
zest of one lemon
2 TBSP. red wine vinegar
1 egg, lightly beaten
1 lb.  ground beef
1 lb.  ground pork (or use more ground beef)
½ cup parsley, stems removed, finely minced
Directions
Preheat the oven to 350° F using the "convection" (i.e., circulating fan) setting, if available.  If not, preheat the oven to 375° F.
In a medium skillet, heat 3 TBSP. of the Kosterina olive oil and then add the chopped onions. Sauté the onions for a few minutes until they become translucent and then add the garlic and cook until everything is nicely caramelized and golden brown. 
While the onion and garlic cook, place the bread in a bowl then add the milk and 2 TBSP. of the Kosterina olive oil. Mix the bread well and let it soak. To this mixture, add the oregano, mint, paprika, salt, pepper, lemon zest, vinegar and egg. Mix to combine.
Add the ground beef, ground pork, and finely chopped parsley. Mix very well with your hands until all of the ingredients are completely combined and the mixture is smooth.
Pick up some of the meatball mixture and shape it into 12-14 patties. Place them on a parchment paper-lined, rimmed baking sheet and drizzle with some more Kosterina Extra Virgin Olive oil. Roast the patties for about 40 minutes or until there are done to your liking. You can form them larger or smaller, but adjust the cooking time accordingly.
Author notes
This dish is traditionally served with roasted potatoes. If you decide to do that, use the same pan and make sure the potatoes are cut in small pieces so they cook at the same time. (In this case, do not use parchment paper). Drizzle the potatoes generously with Kosterina olive oil, lemon juice and season with salt and pepper. Place around or between the meat patties and cook for the same time, stirring from time to time. 
Shop Mediterranean Essentials