Strawberry & Balsamic Olive Oil Cupcakes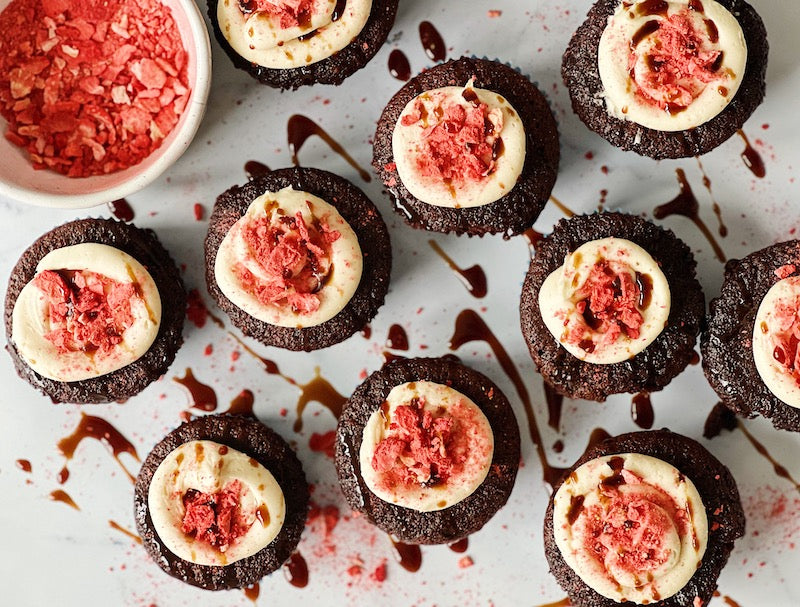 Strawberry & Balsamic Olive Oil Cupcakes



Serves




14




Prep Time




15




Cook Time




17
About this recipe:
There's something extra special about homemade cupcakes. Especially ones as uniquely delicious as these olive oil cupcakes with dehydrated strawberries and our Dark Chocolate Balsamic drizzled on top.
Ingredients
1 cup all-purpose flour, spooned & leveled
1 cup granulated sugar
½ cup dutch-process cocoa powder, spooned & leveled
¼ tsp baking soda
½ tsp baking powder
¼ tsp salt
2 large eggs, room temperature
2 tsp vanilla extract
1 cup 365 freeze-dried strawberry slices
Vanilla Frosting (we recommend using Simple Mills Organic Vanilla Frosting)
¾ cup water, room temperature
Directions
Preheat the oven to 350 degrees F. (177 C) and line 14 muffin tins.
In a medium bowl, whisk together the flour, granulated sugar, cocoa powder, baking soda, baking powder, and salt. Set the dry ingredients aside.
In a large bowl, whisk together the eggs and the olive oil until the mixture is smooth.
Add in the vanilla extract and water, mixing until they're well combined.
Sift the dry ingredients over the wet and whisk the mixture until it's fully combined.
Distribute the batter evenly among 14 muffin tins, the tins should be about ¾ full.
Bake for 16-17 minutes, until the center of the cupcakes spring back when you press on them.
Remove the cupcakes from the oven, allow them to cool in the pan for 5-10 minutes and then move them from the pan to a cooling rack.
In a food processor, blend 1 cup (or more!) of the freeze-dried strawberries.
Once cooled, decorate the cupcakes with vanilla frosting, sprinkle the freeze-dried strawberries on top and drizzle with Kosterina Dark Chocolate Balsamic Vinegar.
Author notes
We took one of our most popular desserts and added a pop of color that is perfectly sweet to create a festive twist to this simple dessert. Enjoy these yourself, with your #1, or surprise and delight your friends and family. These cupcakes are made with simple ingredients, all of which you can find at your local Whole Foods Market. Especially if you are pressed for time - these are a winner and a must-try!
Shop Mediterranean Essentials