Steak Salad with Peaches and Goat Cheese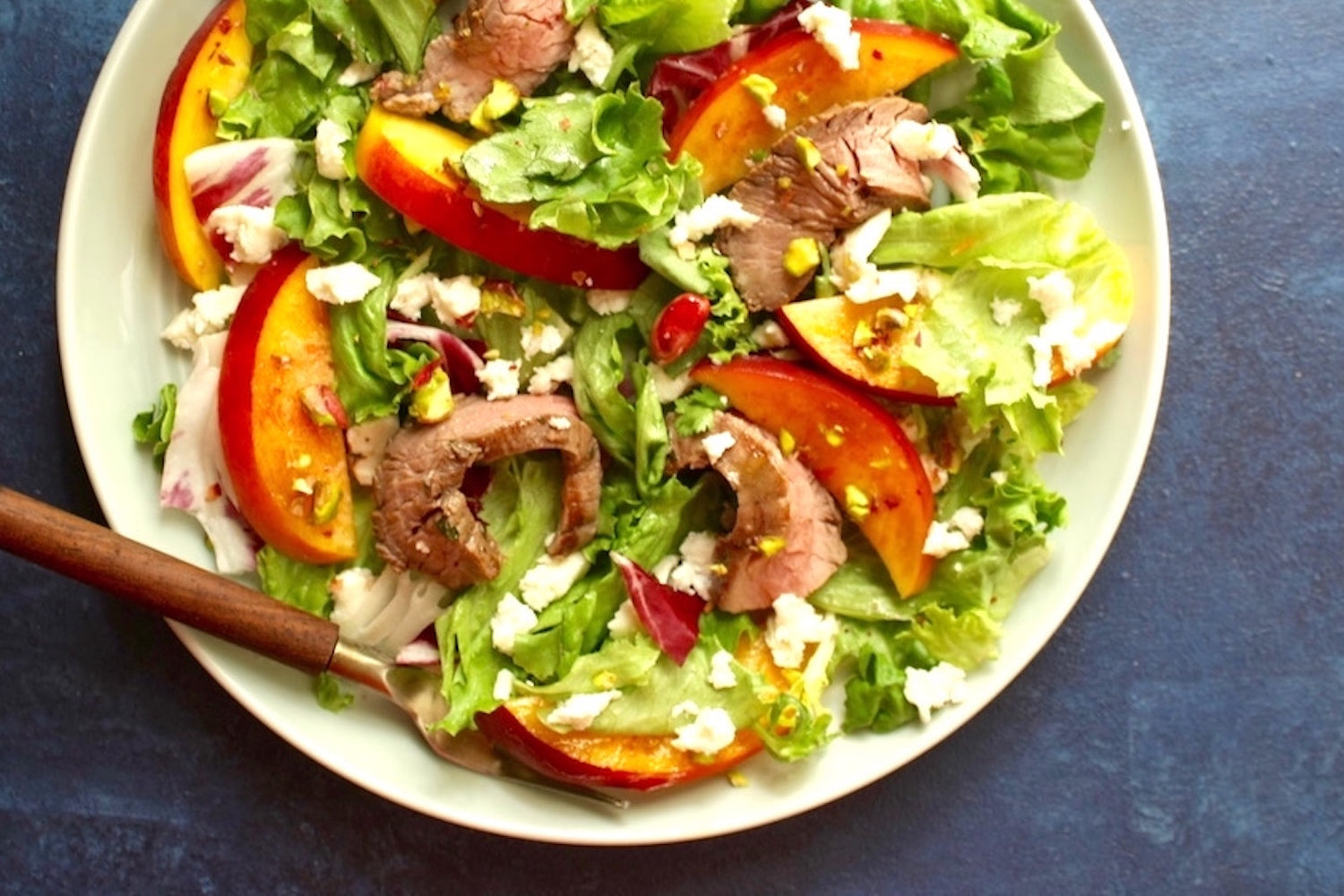 Steak Salad with Peaches and Goat Cheese
About this recipe:
This unique salad covers all the bases - fresh fruit, protein and delicious, tangy cheese. It's exactly what you need for that midday summer pick me up - or even as a treat after work! 
Ingredients
For the Steak:
1.5 lbs. skirt, flank, or hanger steak, trimmed of fat
7 cloves of garlic, minced
½ tsp. sea salt
¼ tsp. freshly ground pepper
¼ tsp. red pepper flakes, crushed
2 TBSP. fresh lemon juice
2 tsp. lemon zest
¼ cup Kosterina extra virgin olive oil
4 TBSP. fresh Italian parsley, minced
For the Salad:
6 cups tender lettuce greens (Romaine, Bibb, Arugula)
2 medium yellow peaches (or nectarines), cut into wedges
2 oz. goat cheese, crumbled
2 TBSP. shelled roasted pistachios, chopped 
For the Dressing:
4 TBSP. Kosterina extra virgin olive oil
2 TBSP. Sherry vinegar
1 tsp. Dijon mustard
½ tsp. sea salt
1 TBSP. raw honey
Directions
For the Steak:
Mince the garlic and place it on a cutting board. Sprinkle the salt over it and using a flexible knife mash them together to create a paste. Put the paste in a small glass bowl. Add the rest of the ingredients for the marinade and stir well to combine. 
Place the trimmed steak in a shallow dish and spoon the marinade over it. Turn to coat the other side as well. Cover with a plastic wrap and refrigerate for at least 3 hours, turning the steak a couple of times to ensure an even distribution of the marinade. 
Remove the steak from the refrigerator and let it stand at room temperature for 20 minutes. Prepare the grill and, when ready, grill the steak over medium-high, direct heat, for about 4-5 minutes. Using tongs, turn the steak once and cook for 3-4 more minutes or so, depending on how you like the steak done. Place the steak on a cutting board, cover loosely with foil, and let it stand for 4 minutes. Slice into thin strips.
Prepare the dressing by placing all the ingredients in a jar and shaking it well.
Arrange the greens in a platter and top them with the steak, the peaches and the goat cheese. Drizzle with the dressing, mix lightly, scatter the pistachios over it and serve.
Shop Mediterranean Essentials
Regular price
Sale price
$19.95
Unit price
per
Specifically crafted with cooks and bakers in mind.
Regular price
Sale price
$29.95
Unit price
per
Our highest polyphenol EVOO straight from Southern Greece.
Regular price
Sale price
$159
Unit price
per
Always have the Original on hand with a half case of 500ml (6 bottles).