Roasted Butternut Squash Soup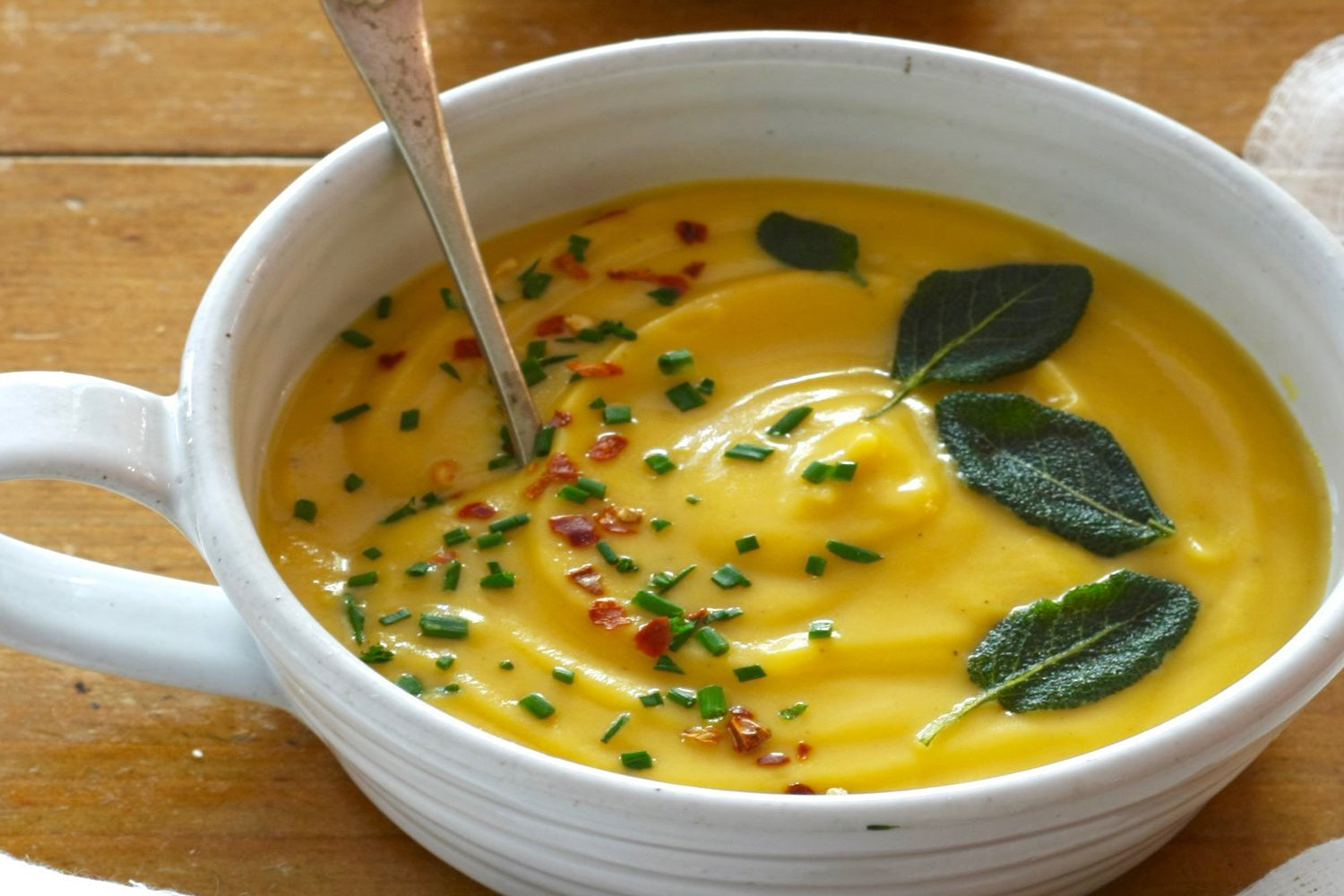 Roasted Butternut Squash Soup
About this recipe:
This Butternut Squash Soup takes on a very cozy and creamy feel and is great for just about any night of the week. It's packed with vitamins, a mix of vegetables, seasonings, and even a hint of maple syrup. Finish each bowl off with sage leaves and pepper flakes. It's hearty, vibrant and full of flavor.
Ingredients
1 medium butternut squash (about 2½ lbs.), peeled, seeded, and cut into 1½" chunks
(or peeled, cut and ready to use butternut squash)
4 tart, firm apples, peeled, cored, and quartered (about 1½ lbs.)
3 medium shallots, peeled and quartered
3 cloves of garlic, whole
4 TBSP. Kosterina extra virgin olive oil
1 tsp. salt
½ tsp. pepper
4-5 cups low-sodium chicken broth (or vegetable broth)
2 TBSP. maple syrup
1 TBSP cider vinegar
¼ tsp. ground nutmeg
½ cup half & half or heavy cream
sage leaves
chives, minced (optional)
pepper flakes
Directions
Adjust oven rack to middle position and preheat the oven to 400°F. Toss squash, apples, shallots, garlic, Kosterina extra virgin olive oil, salt, and pepper in large bowl, then arrange in single layer in large roasting pan. Roast, stirring every 10 minutes, until vegetables are golden brown and softened, about 40 minutes. Add ½ cup broth to the pan and scrape up any browned bits with wooden spoon. Return to oven and cook until liquid has reduced and vegetables are glazed, about 5 more minutes.
Working in 2 batches if necessary, purée the squash mixture and remaining broth in a blender until smooth. Transfer puréed squash mixture to large saucepan and stir in the maple syrup, vinegar, nutmeg, and cream. Bring soup to simmer over medium-low heat, adding ¼ cup warm water at a time if necessary to adjust the thickness. Taste and adjust the seasoning.
To serve, add a few crispy, sage leaves, sautéed in Kosterina extra virgin olive oil, and sprinkle with some chives (optional). If you like the heat, you can also add a pinch of pepper flakes. Serve the soup warm. Leftovers can be refrigerated in an airtight container for 4 days.
Author notes
When purchasing a butternut squash, choose one with a relatively long neck – those have more usable flesh and have less stringy fibers and seeds. To save time, you can purchase a butternut squash already peeled and cut in chunks.
Shop Mediterranean Essentials