Penne with Garlic Kale & Toasted Walnuts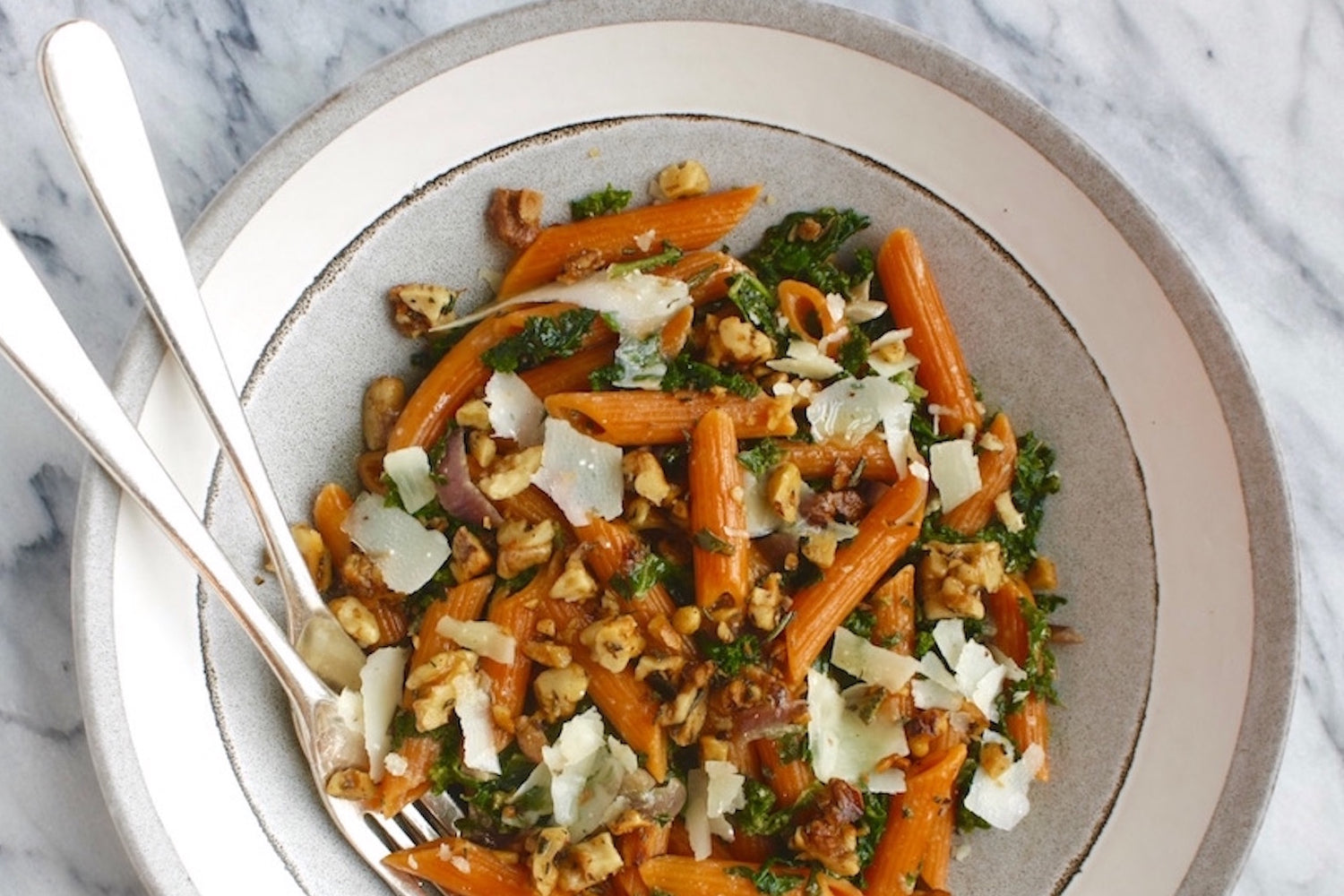 Penne with Garlic Kale & Toasted Walnuts
About this recipe:
 This healthy and filling evening dish has the perfect balance of greens, heart-healthy protein, and carbs. And though it may 
feel
 like you're indulging in a meal near the Mediterranean Sea, trust us--it's just as good for your belly as it is for your mind. 
Ingredients
4 cups baby kale, stems removed
6 oz. vegetable pasta (any other pasta of your choice)
4 TBSP.  Kosterina extra virgin olive oil
1½ TBSP. fresh rosemary leaves, minced
½ cup walnuts, chopped
sea salt & freshly ground pepper
1 medium shallot, chopped
3 medium cloves of garlic, minced
3 TBSP. white or rosé wine
½ cup light or table cream
¼ cup Parmesan cheese, shaved
2 TBSP. butter
Kosterina extra virgin olive oil for drizzling
Directions
Remove the stems from the kale, wash it well, then roughly chop it. Place it in a salad spinner and dry it thoroughly.
Fill a medium pot with water (⅔ of the way) and bring it to a boil. 
While the water boils, add 1 TBSP. of Kosterina olive oil to a large skillet. Over medium heat, stir in the rosemary leaves and the walnuts. Cook for about 2 minutes, stirring frequently. When the rosemary leaves are crispy and the walnuts are golden brown, remove them from the skillet, place on paper towels and season with some salt and pepper.
Add two teaspoons of salt to the pot with the boiling water and stir in the pasta. Cook until the pasta is al dente (cooked, but still firm when you bite it). Drain the pasta, reserving ½ cup of the hot cooking water. 
While the pasta cooks, return the same skillet used for the rosemary and walnuts to medium heat. Add the remaining 3 TBSP. of Kosterina olive oil and then add the shallots. Cook for about 2 minutes and then stir in the garlic. Cook for another minute or so, making sure you do not burn the garlic. Add the chopped kale, season well with salt and pepper, and cook for about three minutes. Add the white wine and cook for one minute, then mix in half of the reserved pasta water, and cook for about 2-3 minutes more, until the kale is wilted.
Once most (but not all) of the liquid has evaporated, add the cream, stir well to combine, and cook for another minute. 
Add the butter and, after it has melted, add the drained pasta and the rest of the reserved cooking water. Mix thoroughly. Turn off the heat, taste again and adjust the seasoning.
Place in a warmed pasta bowl, drizzle with some more Kosterina extra virgin olive oil, and, top with the sautéed rosemary, walnuts and the Parmesan cheese. Serve at once, family style.
Shop Mediterranean Essentials