Peach & Honey Upside Down Puff Pastry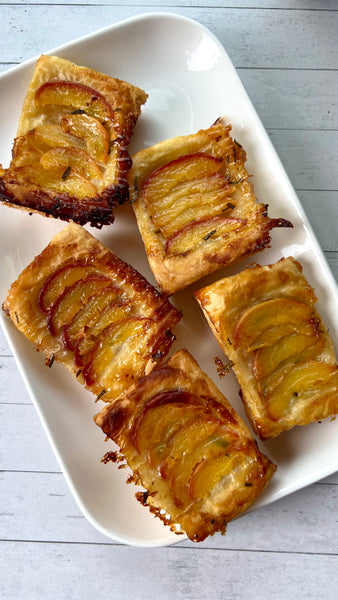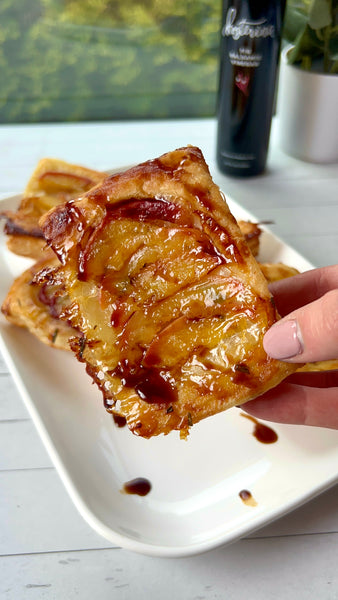 Peach & Honey Upside Down Puff Pastry



Prep Time




10 minutes




Cook Time




20 minutes
About this recipe:
When we first saw these upside down puff pastries, we had to try them for ourselves. These beautifully-flaky pastries showcase the summery notes of the peaches, with a touch of sweet honey. All caramelized to perfection with our Kosterina Organic Everyday Extra Virgin Olive Oil and finished off with our Fig Balsamic Vinegar. This quick and easy recipe is sure to be a family favorite for dessert, snacking, or even as a sweet addition to your morning routine. Enjoy!
Ingredients
1 Sheet Frozen Puff Pastry

Kosterina Everyday EVOO

Kosterina Fig Balsamic

2 Peaches

Honey

1 Sprig of Rosemary, removed from stem and chopped

1 Egg
Directions
Thaw frozen Puff Pastry as per box instructions.

Cut 1 sheet of Puff Pastry into 6 rectangles.

Cut Peaches in half and then cut into even slices, about ⅓ inch thick.

Drizzle about 1 tablespoon of Kosterina Everyday EVOO in 6 evenly spaced sections of a parchment lined baking sheet,

Place 5 slices of peach on each drizzle of EVOO. Drizzle about ½ tablespoon of honey on each set of peaches. Sprinkle with chopped Rosemary.

Cover each set of peaches with Puff Pastry. Press to seal edges, then seal edges with a fork.

Make egg wash with 1 egg and 1 tablespoon of water. Brush egg wash all over each Puff Pastry.

Bake at 400 degrees for 20 minutes. Let cool before flipping each Puff Pastry over and drizzling with Kosterina Fig Balsamic.
Shop Mediterranean Essentials