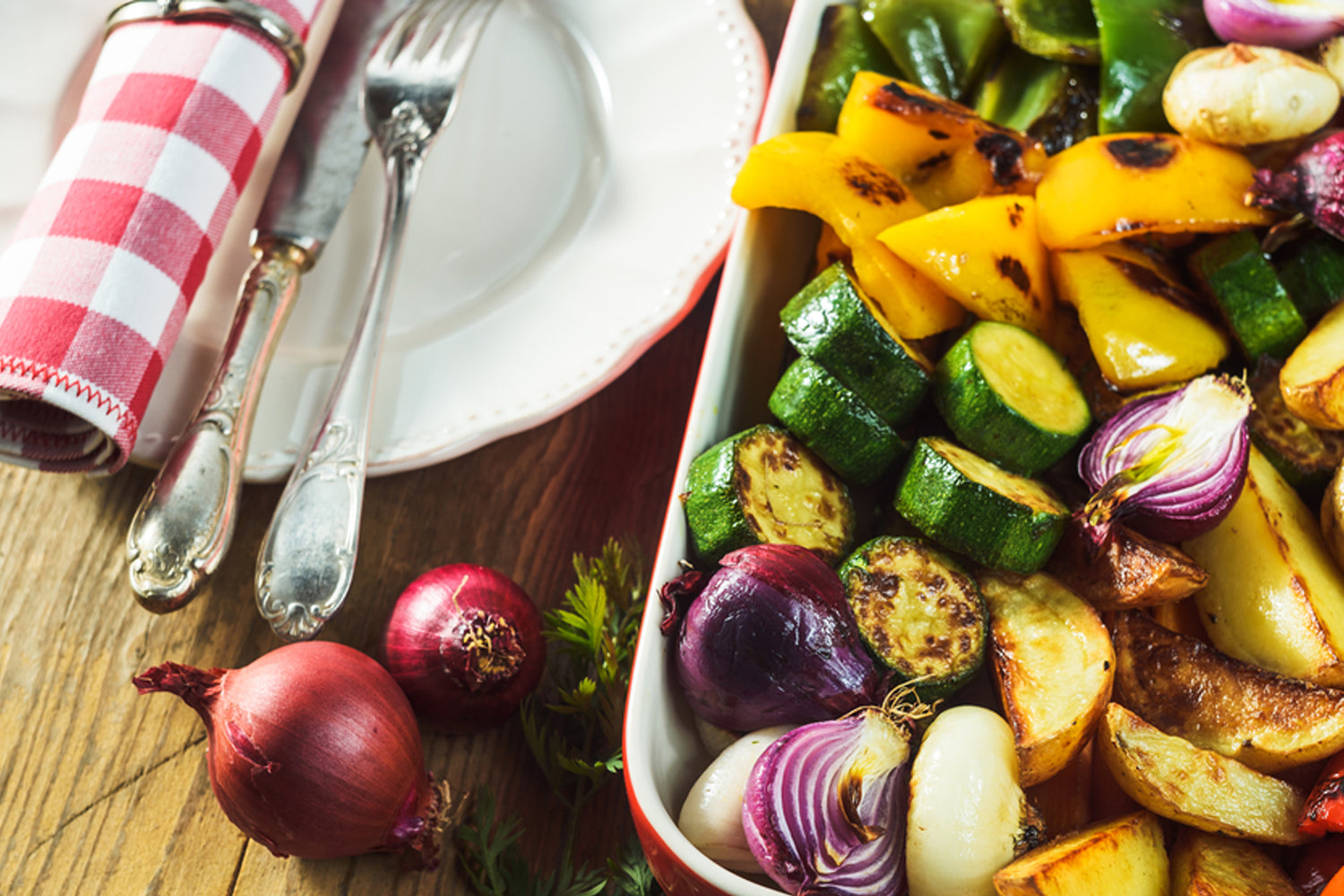 Oven-Roasted Vegetables
About this recipe:
Roasted vegetables are perfect in their own meal or to balance out other items as well. This healthy lunch can be prepared the night before and packed immediately so you have less to do in the morning before heading out for the day.
Ingredients
1 small butternut squash, cubed
2 red bell peppers, diced
1 sweet potato, peeled and cubed
3 Yukon gold potatoes, cubed
1 red onion, quartered
1 tablespoon chopped fresh thyme
2 tablespoons chopped fresh rosemary
1/4 cup Kosterina olive oil
2 tablespoons balsamic vinegar
salt and pepper to taste
Directions
Preheat oven to 475 degrees F (245 degrees C).  In a large bowl, combine the squash, red bell peppers, sweet potato, and Yukon Gold potatoes. Separate the red onion quarters into pieces and add them to the mixture. In a separate smaller bowl, stir together thyme, rosemary, olive oil, vinegar, salt, and pepper. Toss with vegetables until they are coated.
Spread evenly on a large roasting pan.  Roast for 35 to 40 minutes in the preheated oven, stirring every 10 minutes, or until vegetables are cooked through and browned.
This simple pasta dinner only has a few ingredients and takes less than 20 minutes to create. Toast up the pine nuts while the pasta cooks. 
The key to this dish is par cooking the pasta, draining and then finishing it later with the other ingredients over low heat.  This allows the liquids from the other ingredients help finish cooking the pasta, leaving every bite of orzo filled with flavor.  This a great dish for leftovers, especially for an easy lunch later in the week!
Shop Mediterranean Essentials