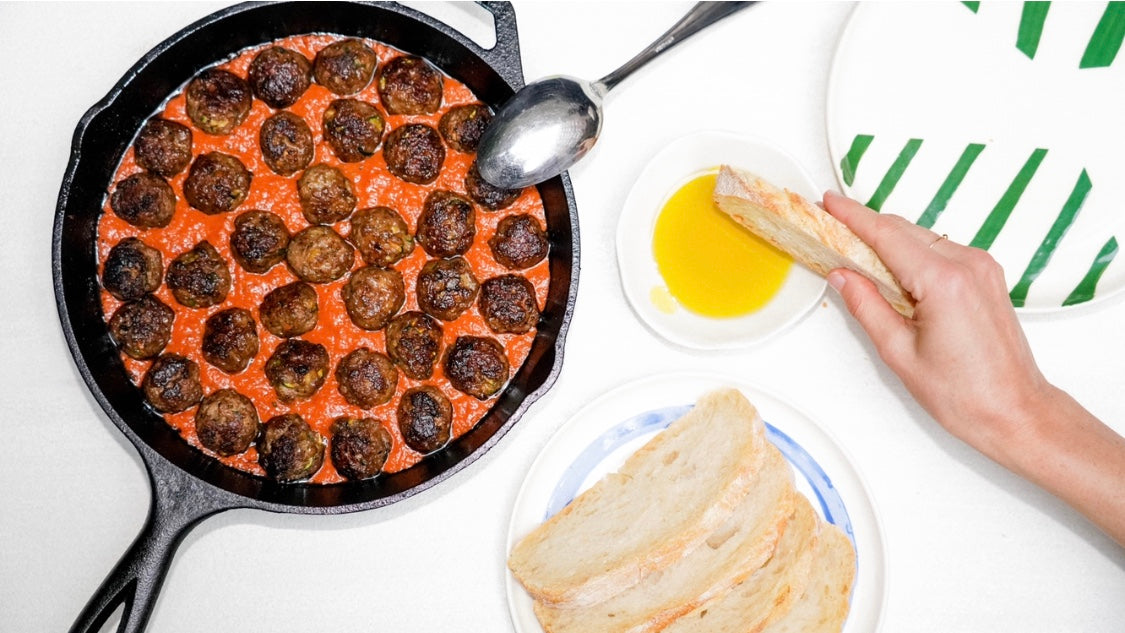 Meatballs Marinara



Serves




4 to 6




Prep Time




15 minutes




Cook Time




40 minutes
Ingredients
¼ cup black lentils
8 ounces ground beef
1 egg
1 cup onion, minced, divided
1 cup zucchini, grated, divided
3 TB Kosterina Garlic Olive Oil, divided
1 (14.5 ounces) can crushed tomatoes
1 tsp salt, plus more to taste
Directions
In a small saucepan of boiling water, cook lentils until very soft, about 30 minutes. Add more water to the pan as it reduces and the lentils cook. Strain and cool completely.
In a mixing bowl, combine cooked lentils, ground beef, egg, ½ cup onion, ½ cup zucchini and season with salt. Portion the mixture 1 TB each and shape into round balls.
In a large saute pan, heat 2 TB oil and sear meatballs until golden brown, 3 minutes per side. Transfer the meatballs onto a large plate.
In the same pan, add remaining 1 TB  oil and sweat remaining ½ cup onion until translucent, 8 to 10 minutes. Add remaining ½ cup zucchini and cook until soft, 5 minutes. Add crushed tomatoes and simmer for 10 minutes. Return meatballs to the pan, season with salt to taste and serve.
Shop Mediterranean Essentials