Kefir with Homemade Granola & Fresh Fruit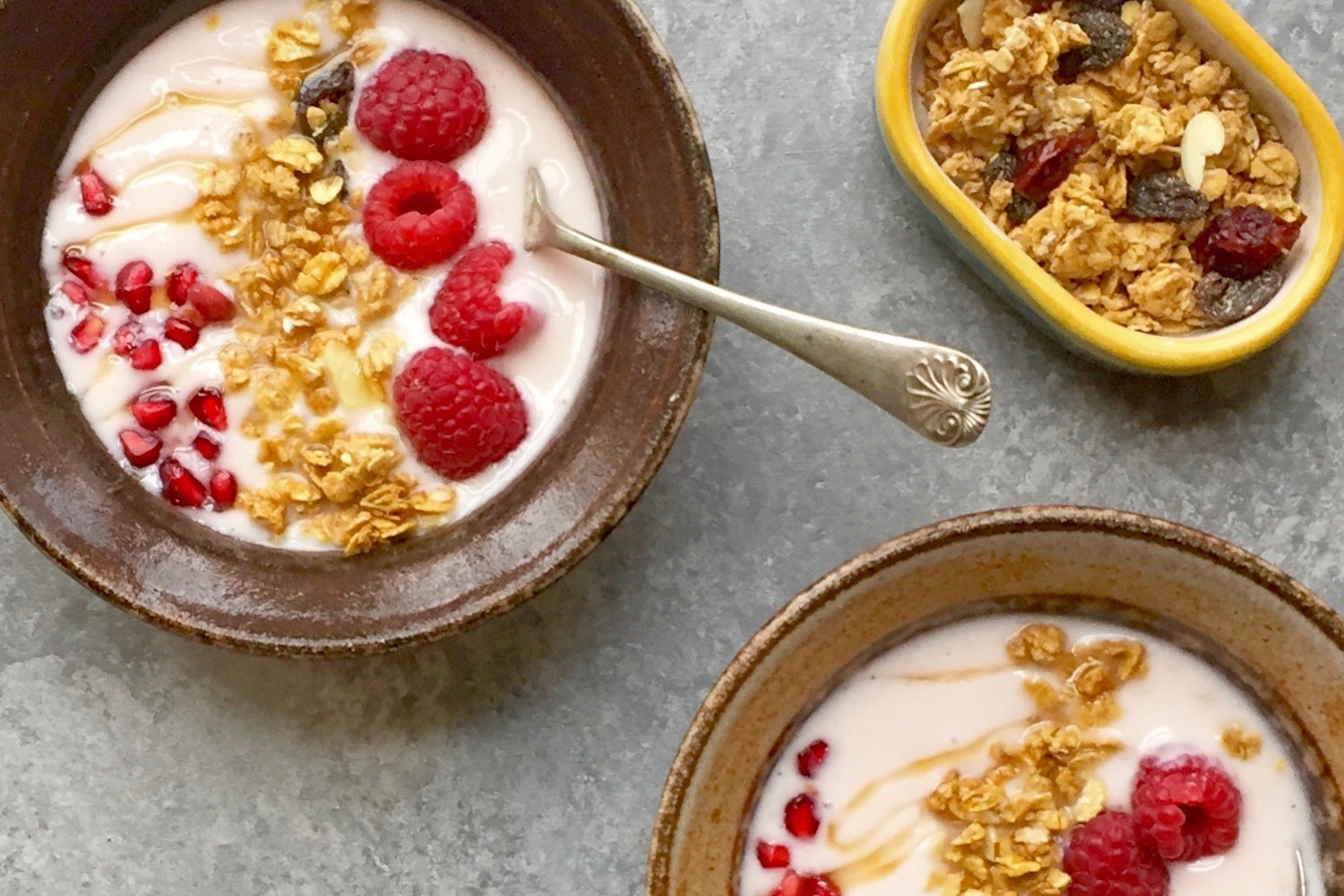 Kefir with Homemade Granola & Fresh Fruit
About this recipe:
This protein 
and
 probiotic rich breakfast is one of a kind - and oh so simple to make! Whip it up on a Sunday evening for a grab-and-go breakfast throughout the week.
Ingredients
2 cups old-fashioned, whole oats (not instant oats)
¾ cup unsweetened coconut flakes
1 cup sliced, unsalted almonds
½ cup unsalted cashews 
¼ cup pumpkin seeds
¼ cup whole millet 
¾ tsp. salt
½ cup maple syrup
3-4 TBSP. coconut oil, melted 
pomegranate kefir (or plain or your favorite flavor)
fresh berries and/or fruit of your choice, for topping
Directions
To make the granola, preheat the oven to 300ºF. Line a large baking sheet with parchment paper and set it aside.
In a medium bowl, toss together the oats, coconut flakes, almonds, cashews, pumpkin seeds, millet and salt. Melt the coconut oil and pour it over the mixture along with the maple syrup. Stir well to coat.
Spread the oat and nut mixture on the parchment-lined baking sheet. Transfer the pan to the oven and bake for about 40 minutes. Check the edges  – when they become slightly dark remove the pan from the oven. Do not stir the granola.
Allow the mixture to cool completely on the baking sheet. Slowly lift the edges of the parchment to loosen the granola. It will break into shards and smaller pieces.  Transfer to airtight container and store at room temperature for up to two weeks.
Author notes
You can use only sliced almonds if you don't have cashews, and, you can substitute the millet with more pumpkin seeds if desired.
Shop Mediterranean Essentials