Halloumi & Roasted Vegetable Salad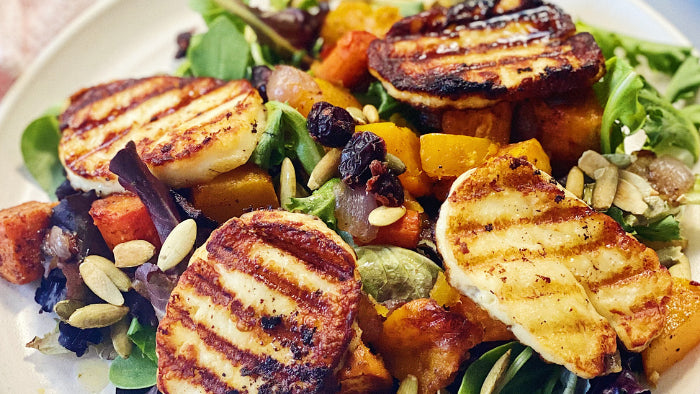 Halloumi & Roasted Vegetable Salad
About this recipe:
Roasting veggies brings out their natural sweetness and preserves their vitamins and nutrients. Grilled halloumi adds rich, salty texture and flavor and sweet honey is the perfect counterpoint, making this delicious salad a seasonal showstopper!
Ingredients
3 Tbsp. Kosterina Organic Everyday Extra Virgin Olive Oil + more for grilling
1 tsp. ground cinnamon
1 tsp. ground nutmeg
1 tsp. ground cloves
1 tsp. ground ginger
1 Tbsp. kosher salt
1 tsp. fresh ground black pepper
2 large sweet potatoes
1 medium butternut squash
2 large carrots
8 oz. halloumi
2 Tbsp. honey
4 cups spring salad mix
¼ cup roasted pumpkin seeds
½ cup dried cranberries
Kosterina Greek Herb & Lemon Extra Virgin Olive Oil OR Kosterina Original Extra Virgin Olive Oil, for drizzling
Directions
Preheat the oven to 350 degrees.
Pour the Kosterina Organic Everyday Extra Virgin Olive Oil into a large bowl and whisk with spices, salt and pepper.
Peel and cut the sweet potatoes, butternut squash and carrots into 2-inch pieces and place in the bowl with the spiced oil. Mix thoroughly to coat the vegetables evenly.
Empty the vegetables onto a large sheet pan and roast in the oven for 45 minutes, turning the veggies at each 15-minute mark.
While the vegetables roast, preheat a grill pan on medium heat.  Brush the grill with Organic Everyday Extra Virgin Olive Oil.  
Slice the halloumi into 1-inch pieces and place on the grill for 2 minutes to create grill marks.
Flip and brush each piece with honey. Grill for an additional 2 minutes.
Remove the roasted veggies from the oven.
Shop Mediterranean Essentials