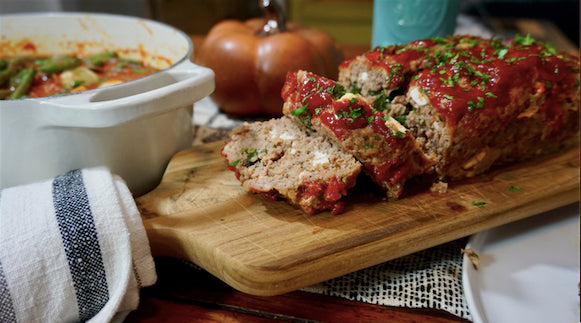 Greek Style Meatloaf
About this recipe:
Fall is here and, although I love cooking almost exclusively on the grill all Summer long, I am ready for some of my favorite Fall dishes! To me, Fall is all about warm meals like meatloaf, roasted root vegetables and squashes, and delicious soups that stick to your bones. I'd like to share with you my all time favorite Greek Style Meatloaf
Ingredients
For the Meatloaf:
¾ lb ground lamb
½ lb ground beef
1 large yellow onion, small diced
3 garlic cloves, minced or microplaned
2 Tsp dried oregano
½ cup panko breadcrumbs
2 eggs
Worcestershire sauce. few dashes to taste
3 Tsp Ketchup
2 Tsp fresh mint, minced
2 Tsp fresh parsley, chopped
½ cup feta cheese
Kosterina EVOO
2 Tsp kosher salt
2 tsp black pepper
For the Glaze:
1/3 cup of Ketchup
2 Tsp Brown Sugar
Directions
For the Meatloaf:
Preheat oven to 400 degrees
Add a 2 tablespoon of Kosterina EVOO in a pan and sweat onions until almost tender. Add garlic and stir for 1 min. Turn off heat and transfer onions and garlic to a separate bowl to let cool.
Grease or spray non stick spray on meatloaf pan and set aside.
In a large mixing bowl, add ground lamb and beef, oregano, eggs, ketchup, Worcestershire, panko, herbs and the cooled onions and garlic. Gently mix with your hands. Spread the meatloaf mix flat in the bowl and add the feta cheese. Fold the meatloaf together and carefully transfer to meatloaf pan.
Mix glaze ingredients together and spread on top of meatloaf. Transfer meatloaf pan on top of baking sheet in case of any spills and bake for 50 min.
Let the loaf rest for at least 10 min before serving and drain any excess oil or moisture from loaf.
Shop Mediterranean Essentials